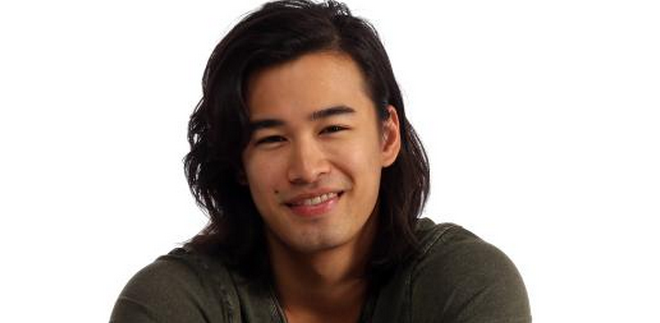 Interviews
Jordan Rodrigues – Bring It On: Worldwide #Cheersmack
By
|
By: Taylor Gates
Q) Could you start off by telling us a little bit about the movie and the character you play?
A) Well, it's about cheerleading, obviously. [Laughs] We follow the main character, Destiny (Cristine Prosperi), who's a cheer-lebrity in the cheer world. She has a crew called The Rebels and they are suddenly challenged by a mystery team. Basically, this mystery team challenges The Rebels to a cheer-off and then it ends up being extended to the rest of the world. So, a bunch of cheer teams from around the world end up competing as well on a virtual platform. I play the character of Blake, and he is part of a hip-hop dance crew that The Rebels meet and sort of compete against in the streets.
Q) Tell us how your character is similar and different from roles you've played in shows like "The Fosters" and Dance Academy?
A) The dancing element has been a big part of my career so far. I grew up dancing and doing hip-hop and doing similar things that Blake does in the movie. In Dance Academy, Christian was sort of a hip-hop dancer as well. The characters I usually play are very loving, very caring. So, there were a few similarities between them.
Q) Were you a big fan of the Bring It On franchise before you got the role?
A) Of course! It's a cult classic. I watched the first one with my sister all the time and we loved it.
Q) What was the audition process for this movie like? Did you send in tapes or go in person?
A) Actually, this was my first offer for a film. I think they had seen my work on Dance Academy and a few movies I had done before and so I think that's what they went off.
Q) Did you do all your own stunts and routines?
A) I did, actually. I've been training since I was about thirteen years old so whenever I get the chance I try to do all the dancing and so far I have been able to.
Q) Describe the training process before filming started.
A) Very intense. We had about two months of cheerleading bootcamp that consisted of like an 8-to-5 today. We would go there and warm up for an hour, run laps for an hour, start dancing and then after that we would start to learn how to cheerlead, which would involve lifting girls and throwing them up in the air and catching them. It was very strenuous, but it was such a fun process. We had all these different cheerleaders from all over the world who had come to collaborate with us. It was just so much fun. They were encouraging us and you could see the cast working so hard to learn this new style and it was sort of inspiring them to be better as well. They were long days and we would basically get back to the apartment and just crash since we were so tired. It was so much fun but very intense.
Q) I imagine you all got pretty close during that period. Do you have any favorite memories from set or any moments that stick out to you?
A) We bonded very quickly. I was probably the last to get to training out of everyone so they were already quite close, but they welcomed me with open arms. We got along like a house on fire from day one. We had a lot of moments. I think one of my favorite moments…we had a lot of fantastic singers in the cast as well who were just killing it all around. And during our lunch breaks or in between scenes there would just be spur-of-the-moment song and dance. Like "Glee," moments where we would just break out into song and dance. It was a really nice bonding exercise as well. We had so much fun together.
Q) Could you talk a little bit about the role social media plays in this movie?
A) This is what sort of makes this new Bring It On a bit different. Usually the competitors are in the same area on the same floor, but because this is a global contest people can be competing from all around the world and it's all live. I think social media is such a major part of our society right now and I think what this movie is trying to teach us is it's not what we appear to be from our social medias and what we look like. It does take going down to our core values and who we are just as human beings. I think it's a beautiful message.
Q) What role does social media play in your own life as an actor? Does having that easy access to fans make your life as a performer more rewarding or more difficult?
A) I'm starting to learn that it's really just a way to connect with the fans. I'm not very big on social media—I'm not very good at keeping everyone up-to-date with what I'm doing 24/7—but I think it's a way of giving back to the people who support your career. If they want to see what you're eating for breakfast or what you're doing that day or what your latest trends are, I think we owe it to them. I wouldn't have a job if it wasn't for them, you know? It's my way of giving back to them. I wish I could do more.
Q) I know that you got your start playing Simba in The Lion King. Would you ever want to go back to theatre?
A) I would love to go back to theatre. I have been in the TV and film world for a while, but you can't compare it to being onstage with a live audience. The energy is just unreal. There's nothing like it. I would love to do a play somewhere. Musical theatre has been a such massive part of my life and I'd love to go back one day.
Q) Is there a specific play or musical you have in mind that you'd want to do?
A) If I hadn't already been a part of The Lion King, I'd say The Lion King. But Book of Mormon I think is hilarious and genius. Hamilton has been getting a lot of hype. It's just come to LA, but I haven't seen it yet. Maybe even I haven't seen it yet, but I've heard it's magical.
Q) You're a true triple threat with your singing, dancing and acting abilities. Would you ever want to venture out and try writing, directing or doing choreography?
A) Absolutely. The thing about being an artist is it's limitless. I would love to write something one day. I am writing in my spare time. Hopefully, one day, I could shadow a director on "The Fosters." I would love to do that.
Q) What message do you hope people take away from the new Bring It On movie?
A) It goes back to the social media question. I think it's just to be true to yourself. Be kind to everyone. And teamwork. Be fierce.
Q) You have an incredibly loyal fan base. Is there anything you would like to say to them?
A) You're putting me on the spot here! There's so much I want to say to them. I really hope that everyone can find true happiness within themselves and not care what anyone thinks about them. What I'm trying to do on social media is just to be a positive light so other people can take that energy and share it with the rest of the world. That really is the power of social media. It can be misconstrued a little bit because it's social media, but any way you can do it, you gotta keep doing it.