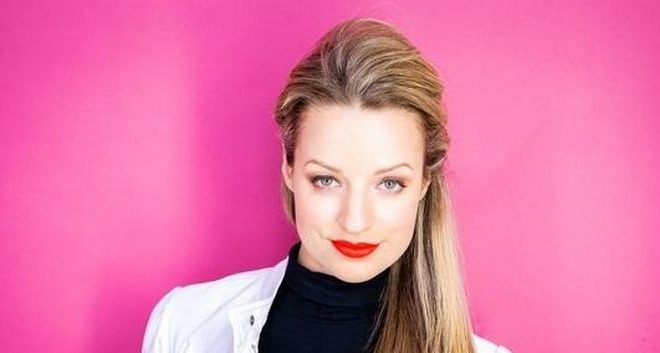 Features
Karen Knox – Barbelle
By
|
By: @freegolaw
Q:  How did you come up with the idea for Barbelle?
A: Barbelle is the creative love child of Gwen [Cumyn] and I's mutual interest in the curious world of digital celebrity and its effects on the personal/public lives of those thrust into internet stardom. We were really keen on writing a show featuring queer characters that was, above all else, accessible. Something that was as bingable as a bag of mini eggs, but also featured awesome three-dimensional queer characters that weren't just a vehicle for sexual orientation as a plot device. We dreamed up the main plot line in the back of a bar after hours one rainy night. I think we both left the bar that night, when the sun was coming up, knowing we were onto something pretty special.
Q: How long did it take to write Season 1?
A: It took us about two months of exchanging scripts back and forth to get a solid working draft in order, but after that we were doing rewrites right up until the first day of principal photography.
Q: What was your favorite aspect about writing Season 1?
A: Gwen and I traded off writing episode for episode. So, the most exciting days were when I'd come home and see a new episode in my inbox. Writers are such magic makers! They spin new worlds/characters/concepts out of thin air. It's SO exciting to get to be a part of that with someone else. It's like you're creating new life. #ArtBabies
Q: What was the most difficult aspect about creating/shooting Season 1?
A:  Barbelle was the VERY FIRST project I ever acted as an executive producer on so it was a big learning curve. I didn't know how to do SO MANY things in terms of production/ post production/ etc. etc. etc. There were a lot of days when I just wanted to give up because the idea of ONCE AGAIN having to humiliate myself, ask for help, beg ANOTHER person for a favor seemed like more than I could handle. I could never have gotten through producing Season 1 if it wasn't for Gwen. She was absolutely rock solid through it all!
Q:  How did you first get involved in acting and writing?
A: I first started acting with my hometown's theatre company. Since I've always been a complete weirdo I got cast in a lot of strange rolls. I was forever playing boys and I LOVED it. Gollum, Peter Pan, Santa (in a musical about a hockey playing Santa Claus) and Romeo are just a few of the choice performances from my early adolescence that really made me want to pursue acting as a career. I got into writing through fan fiction. I was an AVID writer of fan fiction as a teenage girl and eventually found myself creating my own worlds once the borrowed universes of Garth Nix and J.K Rowling got old for me.
Q: Would you mind telling us about your writing process that you used for Barbelle?
A: Gwen and I plotted out the arc of the whole series together. We had a basic idea of what each episode would "sort of" be like. We'd write them solo and then trade them back and forth. We'd make edits on each other's work and then have VERY LONG conversations about how to improve them – make them better. We spent a lot of time talking about who the characters were, too. I think every one of the characters in their series underwent some serious literary surgery at one point or another. You have to be willing to throw out lots of material and not be precious about it if you want to make something really great. We cut an entire character from the first season who we spent a lot of time developing – but in the end we both agreed the series would be better without him.
Q: I love that fans of the series are called "Poptarts." Who came up with that fan name?
A: We let the fandom vote on a name for themselves on our Twitter and BEHOLD: They chose SO WELL. I think it was Gwen who suggested the name in the first place. If you look back REALLY, REALLY far back on my Instagram there's a picture of a text message conversation between Gwen and I when we were writing the very first scripts and we're talking about Poptarts! I only rediscovered this recently and was so tickled by it. Foreshadowing from over two years ago!  [smile]
Q: When you and Gwenlyn Cumyn were writing and creating Barbelle, were you already intending to play the character Veronica?
A: We actually weren't sure who would play who while we were writing it. Right before we shot the pilot we almost switched characters. How different it would have been!
Q:  How would you describe Veronica to someone who has not seen the series yet?
A: "She was the kind of girl who danced harder than anyone else at the party. Not because she made love with wild abandon, but because she had something to prove and needed to make sure everyone was watching." (That's a line from a short story I'm working on). It's also important to note that Veronica loves cat videos and has a big, big, big heart – most of the time.
Q: What was your favorite scene to film as Veronica and why?
A: Probably the big fight scene with Gwen in episode eight. As an actor I LOVE the juicy emotional scenes. You really get the opportunity to put yourself in someone else's head space. For me, that is where the art feels the fullest.
Q: What aspects of Veronica's character were easiest for you to relate and which ones were the most difficult?
A: Veronica is certainly a weirdo – NO PROBLEM RELATING THERE. The harder ones came with all of her self-pity and self-sabotage. It can be hard to portray that without dipping into an over the top performance of self-hatred. I wanted her struggle to feel real – to walk the line between humor and tragedy as this is how I've experienced self-pity/hatred in my own life.
Q:  What do you think Veronica's biggest regret is from Season 1 and why?
A: Absolutely outing Lulu (Cynthia Hicks) – though it may have gotten her exactly what she wanted it was a SHITTY thing to do. Methinks there will be retribution on the horizon in season 2.
Q:   In Season 1 it is hinted at that at an earlier point Alice and Veronica broke up and Alice won Veronica back with a song. Can you tell us anymore about that? Will we find out more about why they broke up that time, in Season 2?
A: We're definitely hoping to explore a little bit more of the character's "origin stories" in Season 2. Viewers can expect to get to know the personal lives of A & V a little bit more in the next season.
Q: From watching Season 1, it is clear what pet peeves Alice has regarding Veronica, but what do you think are the pet peeves Veronica has regarding Alice?
A: Veronica, in my mind, pretty much blindly loves Alice. She's got very few faults in Veronica's eyes. If anything – I think Veronica wishes that Alice would come out of her shell more. Sometimes Veronica has to push Alice to be social, let loose and have a good time .
Q: I love that Barbelle while being funny and campy also tackles serious issues such as substance abuse and eating disorders. It is not something you see very often in web series. How important was it to you to address these issues and was it difficult to find a way to represent them in the incredibly realistic way that you do in the Series?
A: VERY important! Comedy is a wonderful medium to tackle more serious issues because it lets you look at them from a different angle.
Q: I also wanted to take this opportunity to commend you for speaking out about your own difficulties with body image and eating disorders. It is so amazing that you are bringing these issues to the forefront and encouraging everyone to have an open dialogue about them. These issues affect so many people, but so few stories address them. THANK YOU!
A: Thank You! I think it is SO IMPORTANT not to adhere to the culture of shame when it comes to eating disorders. I didn't talk to anyone about my issue as a teenager because I was scared of the negative stigma associated with my disorder. The more open we are about our struggles, the better our chances of lessening that stigma which in turn, encourages others who are suffering to seek help.
Q: I also wanted to commend you and Gwenlyn on providing such amazing and realistic positive LGBTQ+ representation. I love how in this series you get the viewpoint of different stages of the coming out process. You have LuLu who is struggling with labels and her own identity and the decision of whether or not to come out and the negative consequences that are associated with that for her character. You have Brooklyn (Kiana Madeira) who is out, but is made to feel like an outsider at her high school and is still searching for a representation of herself that she feel confident and safe in. You have Alice and Veronica who are completely out and show that your orientation is just a part of you, it doesn't define you. Usually in an LGBTQ+ web series you get to see at least one of these stages, but to have the entire spectrum is such a surprise and wonderful gift to the LGBTQ+ community. How important was it to you to have some many LGBTQ+ characters represented in this story that you are telling?
A: Again, very important! I feel like I went through all of these stages while discovering my sexual identity. That journey is a lifelong one – I hope that Gwen and I can continue to look at more nuanced aspects of these stages in season 2!
Q: What do you hope the Poptarts will take away from watching Barbelle?
A: That queer women can be three-dimensional characters who are good, bad, funny, tragic, ugly and beautiful all at once.
Time for some Quick-Fire Questions:
Favorite 6 movies?

English Patient
Show Girls
The Thief, The Cook, The Wife, and her Lover
Laurence Anyways
The Skin I live In
Homeward Bound
Go-to karaoke song?

Total Eclipse of the Heart – Bonnie Tyler
Q: Do you have any other projects coming out that you would like your fans and our readers to know about?
A: Yes! I directed a film this past fall called: THE CASE OF THE MASSEY BODICE RIPPING. Gwen acts in it and is absolutely incredible.
Q: What is the likelihood of a Season 2?
A: If I have anything to do with it 99% ABSOLUTELY! [smile]
Q: How can Poptarts help make sure that Season 2 is a reality?
A: Follow us on Twitter and Instagram and subscribe to the Barbelle YouTube channel. Tell everyone you know to watch the show! The more views we have the better! It's important for networks to know there's a big audience base out there so that they can take a larger financial risk on a project! More money means more episodes and more flash mobs! [wink]
Q: Thank you so much for your time today! Is there anything else you would like your fans and our readers to know?
A: I love you guys and thank you SO MUCH for watching the show and being such an incredible fandom! You have the best sense of humor a girl could hope for! BIG LOVE XX
WHERE CAN I WATCH?  Barbelle can be found on Kinda_Tv and Twitter and YouTube