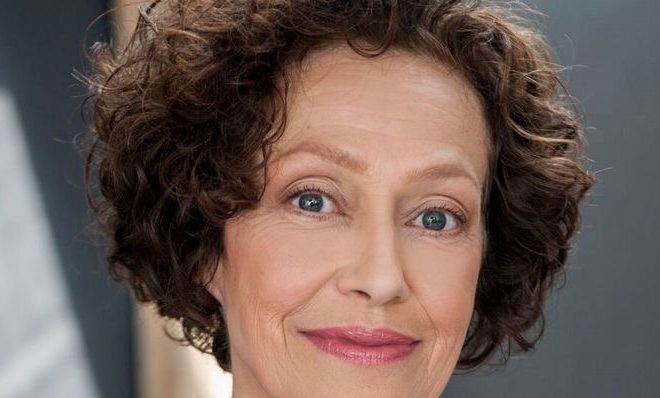 Interviews
Karin Konoval – The X-Files
By
|
By: Kelly Kearney
Q) "The X-Files" fans remember you as the disfigured amputee Mrs. Peacock, the matriarch to the inbred Peacock family that lived under the bed in the show's most infamous episode Home. Now, you're back for Season 11 with a new role or should I say roles. Can you tell the fans a little bit about what you'll be doing in the episode titled Plus One?
A) I play Little Judy Poundstone and Little Chucky Poundstone, who are twins and each also have split personalities. So, it's kind of four roles!
Q) Playing four roles certainly lets you stretch your acting muscles. Was that what made you want to sign on to this season and what, if any, were some of the obstacles you had to overcome to play four doppelgängers?
A) This was an absolute gift of a role(s) for me as an actor. Two characters, one female, one male, each with a split personality — what a lovely challenge! I didn't find any obstacles whatsoever. Chris Carter's wonderful script gave me all I needed to know about each of them and it was a joy to explore the facets of each character on my own before we began filming. I needed to find four different psychologies, physicalities, vocal quality for each. This is the kind of exploration and discovery I relish. I worked quietly at home, first memorizing script and then letting that lead me to the physical and vocal qualities of each — which led me to what they might wear, what they might each look like. I actually did a test taping for the roles before my casting was confirmed. Chris wanted to know for sure that I could convincingly transition from female to male and I was very happy to explore this and do the test tape. So, by the time I'd done that, I had a solid inner sense of Nice Judy, Nasty Judy, Nice Chucky and Nasty Chucky. And, to my delight, Chris and director Kevin Hooks and the creative team chose to build on exactly what I'd initially found and created for each of them in the wardrobe and make up. So, the whole process was organic, joyous, really quite easy. I loved it.
Q) Chris Carter said at Comic Con that you always wanted to play a man and in Plus One you get to play two! What is it about playing a man that appeals to you and did you find it more, or less, challenging the other roles you've played?
A) Here's how this came about: Glen Morgan, who wrote the script for Home in which I played Mrs. Peacock twenty years ago, began casting me in other projects of his a few years after that. I love working with Glen. I've had a wonderful time on everything I've done with him. At one point along the way, I think while we were filming his series Intruders a couple years back, I (only half jokingly) told him that I'd like to play a man onscreen. So, Glen pocketed that in his mind and obviously told Chris about it and however it came to be between the two of them that I got this gorgeous gift of a role I don't know in detail but: all I can say is, I'm grateful!
Q) Home wasn't your only episode as you also played Madam Zelma in Clyde Bruckman's Final Repose. But out of the two characters, Mrs. Peacock is by far the most memorable. What was it about that episode that horrified and delighted fans so much? Was it the fact Fox refused to re-air in until the show made it to syndication or was the topic so foreign to the landscape of 90's television that it piqued the morbid curiosity of fans?
A) All I know is that when the show originally aired it seemed to literally scare the daylights out of people. I guess you'd have to ask individual viewers what it was that terrified each of them so much, I couldn't begin to guess at that. For myself, all I can say is that Mrs. Peacock was an incredibly interesting role to undertake, but it was also one of the most terrifying and claustrophobic experiences I've ever had as an actor — simply because I literally had to film in a tight fitting box under a bed. This was terrifying to me and I had to work hard throughout filming not to panic. So, I'm pretty sure that one of the reasons the scene in which I'm first pulled out from under the bed is so scary for people is that my hollering actually contained/expressed all the terror and panic I was feeling as an actor having been under that bed! Finding Mrs. Peacock's physicality and voice for myself was also a very, very interesting thing to do — and I can call up her "spirit" as it were just by revisiting her voice. There was a line I would repeat over and over to myself to drop into character, both for the four auditions and callbacks and also during filming. It was "I'm hungry, I'm ready." That line and the "dropping into" Mrs. Peacock, has stayed with me to this day….in a fun way.
Q) What did you think when you read the script and where or from whom did you draw your inspiration for such a horrifying character?
A) Oh, it sure seemed to be quite a bizarre character, that's for sure. I approached it as I've approached any other character over the years. Learn the script, find out what the character wants, how badly do they want it (in Mrs. Peacock's case, she had incredibly strong wants and intent) and then if it's an extreme physicality of a sort, like hers was, how do I embody that? So, I asked myself before the first audition for that if I had no arms and no legs, what have I got to work with to express myself? I realized: face, eyes, voice, shoulders. So, that's all I allowed myself to work with, imagining my arms strapped to my sides, sitting down, unable to otherwise move and needing to communicate everything from the shoulders up. That's how I did the audition/callbacks and how I played the role onscreen too — when I was actually trapped in a box and had only my shoulders, face, eyes, voice to work with.
Q) One of the Peacock boys escaped that episode. Is there any chance he will make a cameo this season even though you are playing different roles?
A) I have no idea!
Q) What is it about "The X-Files" that has captivated fans for over almost three decades and keeps them clamoring for more?
A) I think it's just a wonderful show, and the chemistry between David Duchovny and Gillian Anderson as Mulder and Scully is truly fabulous.
Q) Over the years, many critics have written about the chemistry between David and Gillian as the key to the show's longevity. What's it like working with them and getting a front row seat to their Mulder and Scully sparks?
A) I loved working with them both and with our episode director Kevin Hooks and with Chris and the whole great X-Files crew. David and Gillian are just tremendous to work with and I loved being in their midst, sharing scenes with both of them.
Q) Was there any fun behind the scenes stories from filming your episode that you can share with the fans?
A) It truly was fun throughout, I can't think of a moment that I WASN'T having fun. It's such a wonderful company of people on "The X-Files" — cast, crew, creative team –a very special environment. The filming of "Dookie" throwing was pretty silly fun — I got to just watch the actual throwing from Judy's bed. I'm a terrible thrower and if I'd been flinging Dookie we'd probably have been there all night. But the wonderful props master was a good thrower and as camera needed the Dookie to land "just so" on the door and Kevin wanted it to be just so much, and then to do this "just so" dripping thing, this fine man accomplished it! I just sat in bed and watched and applauded his takes. I had an especially good time doing the Chucky scenes with David Duchovny, who has a great sense of humor and a deep twinkle in his eye that made me nearly crack up several times.
Q) From "The X-Files" to "Bates Motel" to "Supernatural" and even recently playing a male ape in the film Planet of the Apes, you seem drawn to the Sci-Fi/Horror genre. What is it about the genre and these darker characters that appeals to you?
A) Oh, it's got much less to do with me seeking out a genre than simply getting cast as these characters! I love to work. Period. I love interesting, challenging characters that call on me as an actor to stretch myself. Since beginning my study of orangutans seven years ago for the role, I've become more and more a student of them and follow and support as I can the people working so hard on behalf of their conservation in the wild. Orangutans are not monkeys, they're one of the species of great apes.
Q) Is "The Truth Out There," Karin and if it is, will the fans be satisfied with how this season ends or will we once again get a "Carter Cliffhanger?"
A) I have no idea how the season progresses, but I'm looking forward to finding out with all the rest of "The X-Files" fans!
Q) Besides "The X-Files," are there any other projects you are working on that the fans can look out for?
A) One of the other roles I've relished playing this past year is the character Frija Dengdamor throughout Season Two of the series "Dirk Gently's Holistic Detective Agency," which has just come out on Netflix two weeks ago. That's a wonderful, whacky series that was a joy to be part of. And next up on tv, I have a brief recurring role as a psychiatrist early in the upcoming season on the series "Beyond."