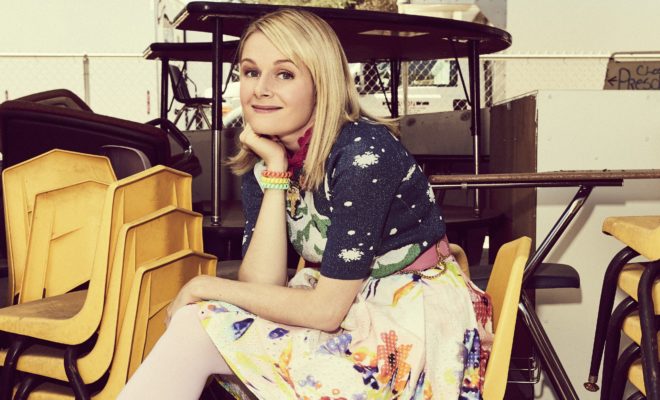 Interviews
Katie O'Brien – Teachers
By
|
By: Lisa Steinberg
Q) What are the recent projects that you are working on?
A) I'm currently writing and filming Season Three of "Teachers" and working on developing some solo projects as well! Some exciting stuff is coming up!
Q) Where did the idea for "Teachers" originate?
A) The idea for "Teachers" originated from a friend of The Katydids, Matt Miller, who is an Executive Producer on the show. Matt was listening to NPR, or some radio program, that said teaching is the most revered profession, but is also the most scandalous profession. At the time, I was performing with my comedy troupe, The Katydids, in Chicago and Matt suggested we create a web series about teaching, which is how "Teachers" started. With the help of an amazing production company in Chicago, Cap Gun Collective and Matt, we created the web series. Then, luckily, TV Land bought it… and here we are now! It's truly been a dream come true!
Q) What is new this season on "Teachers?"
A) Tons of stuff! This is a very exciting season! We're lucky to have some amazing guest stars including Jeff Ross and Andy Daly. Not to mention we have an entire episode that takes place in the 1940's! It's going to be a great season!
Q) As the season progresses, how might dynamics flip or switch?
A) This season the dynamics shift a lot. Ms. Bennigan and Hot Dad's (Ryan Caltagirone) relationship progresses, which affects her single white female relationship with Ms. Snap (Katy Colloton) and a very curious relationship blossoms between Ms. Watson (Kate Lambert) and Principal Pearson (Tim Bagley). 
Q) Where do you and your character connect, if at all?
A) When we first created the show, we decided to develop our characters based on a tiny nugget of truth about ourselves. Growing up I was very naive and religious so I decided to take those two traits to create Ms. Bennigan. Truthfully, I'm nothing like her at all. I like to think I'm a lot cooler than Ms. Bennigan. Well, I hope I'm a lot cooler, but the fact that I'm even saying that probably means I'm exactly like Ms. Bennigan.
Q) Who is the most like their character? Who's the least like their character?
A) Kate Lambert, who plays Ms. Watson, is probably the most like her character. She's very organized and put together in real life. She also has a really great eye for home decor, but she's nowhere near as particular or high strung as Ms. Watson. Katy Colloton, who plays Ms. Snap, is probably the least like her character. Ms. Snap is superficial and vapid and Katy is superficial and vapid. Just kidding! [laughs] She's very nice and down to earth! Sometimes it's hard to believe that Katy plays Ms. Snap because they're so different, but she makes it believable because she's such a great actor.
Q) Is there room to improv at all or do you tend to stick solely to the script?
A) Because we all come from an improv background, we improvise a lot in the writer's room while writing, but on set we tend to stick to the script.
Q) You have great comedic timing. Is it something that has always come naturally to you or have you had to work at it?
A) Well, I don't know. [laughs] It is something I work on all the time, whether it's through writing or performing.
Q) What have been some of your most memorable moments from filming "Teachers?"
A) My most memorable moments filming have just been creating a show with my best friends. It sounds really cheesy, but The Katydids are like my sisters and it's amazing that every day we get to create something together. We laugh together all day long. It's the best. 
Q) What makes the series such a perfect fit for TV Land?
A) We are so lucky to call TV Land home. They've been incredibly supportive of our voice and vision since day one. I don't think the show would exist or be what it is if it weren't for TV Land.
Q) What do you think it is about the show that has made it such a fan favorite?
A) I think the characters. Teachers is a very character driven show and each character is unique, specific and different, but in a relatable way. Every episode I find myself falling in love with a different character: I love Mrs. Adler (Kathryn Renée Thomas)…I love Ms. Feldman (Cate Freedman)…I love Ms. Cannon (Caitlin Barlow)…I love all of them!
Q) You are a part of social media. Do you enjoy the instant fan feedback you receive to episodes?
a) I do! I love it! I love hearing from anyone who watches the show, but the best is when I hear from a teacher. I think teaching is one of the hardest and most admirable professions and if each week we can make a teacher laugh, then I'm happy. 
Q) Is there anything else you want to be sure fans know about "Teachers" and your character?
A) One thing I don't think a lot of people know is that "Teachers" is a predominantly female driven show and what I mean by that is almost all of the writers, executive producers and stars of the show are women. This is something we're really proud of and it's really important to us to bring in female directors, female assistant directors, female camera operators, etc. It's awesome to work with so many women.
Q) What would you like to say to everyone who is a fan and supporter of you and your work?
A) Thank you for watching and supporting "Teachers!" We love our fans and cannot wait for everyone to see the new season!