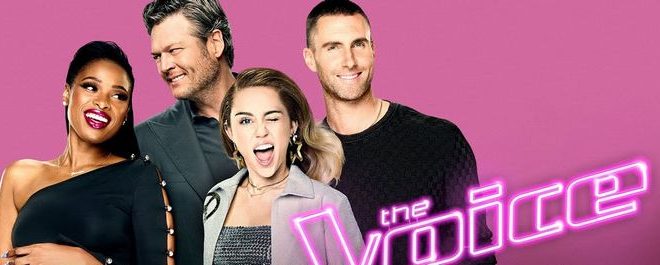 Interviews
Keisha Renee, Davon Fleming & Adam Cunningham – The Voice
By
|
By: Jamie Steinberg
Q) Yes, my question is actually for all four contestants. I was wondering after so much success on the show, what do you envision as your next musical project and what can fans expect in that regard?
Adam Cunningham:    I'm done. I give up on music now. No, man. I'm going home, you know, and strike while the iron's hot and you know, do some booking, do some recording, and get out there and put the music out for the people that got me this far.
Q) And can you be specific on what type of music fans can expect from you?
Adam Cunningham: Yes. They can expect country soul rock.
Davon Fleming:    Well, music is definitely going to remain a factor. Before this show I had just toured Italy and Switzerland and to have this career opportunity here is another part of the journey to get to where I'm going next. So I would love to continue to do music. And gospel and R&B and pop — I'm really trying to do everything. There's nothing that I can't sing, in my opinion and I think I've proven that, you know, by not just being on R&B charts but as well as the Christian and the pop charts. So I definitely want to get back into music, you know, pop soul. Still grinding for my country roots. No matter what I sing, I believe that you will feel my soul in it. And the biggest thing is to continue to inspire people. I did this show because I wanted to be an inspiration and a light to show them to follow your dreams. This process has been a journey — not just a vocal journey, but for me it's been internal to, you know, I've grown so much as a person and definitely musically and I want to be able to show that.  So music is definitely going to be important. I'm also trying to get into more acting and hosting and commercials and stuff and really expand on the brand. But as far as musically, I definitely want to stay to my roots, you know — the pop soul with a twist of gospel in there, absolutely.  I'm trying to touch everything that I can. I don't want to be limited. I would hate to be limited to just one type of music. I think I can speak for everybody when I say we just love music. And, you know, to be labeled to one specific genre. I don't think it would be fair because everybody is so great. So I like to call it soul fusion — a little bit of this, a little bit of that, you know. And that's the kind of music I definitely want to do.
Q) Do you see yourself releasing music as well as performing?
Davon Fleming:    Absolutely. I plan on releasing music as soon as I can. I plan on touring with some of these amazing people. Like I said, I plan on getting into movies and acting, everything like that. Music is definitely coming. I've had a great support system throughout the run of the show. I started out an original Team J Hud member. I left this show and original J Hud member. Not too many bad critiques.  This whole show I'm proud of what I presented to the world and, you know, to myself. I've given great performances, never bad critiques, standing ovations. So absolutely music is definitely coming. I would be selfish not to give them, you know, what they've been asking for. Especially with this platform. We've been getting love from all over the world. For me, it's not just Baltimore anymore. It's Costa Rica. It's Brazil. It's Mexico. It's the UK. It's everywhere.  So absolutely I have music for everybody who's willing to buy it, who's been a supporter before the show and definitely, you know, to the new supporters and fans.
Keisha Renee:    I have a lot of great things in store. I'm really excited to actually get my new music out because I'm been working on the country pop soul lane that I was trying to express on the show. So that's what I'm really excited about. And then I have a few shows lined up in January.  So yes, just giving my new fan base, you know, I always had a strong fan base in the soul and pop genre but my newfound love of country and the country community that embraced me so lovingly, I can't wait to give them my vision of the artist that I always saw myself as so I'm really excited about that.
Q) So you've already started working on that project? Do you have any sort of time table?
Keisha Renee:       Yes. I've actually started working on my vision of country pop soul about four years ago. So I'm revisiting some of those songs that are still great right now, just brushing up on them because we are held to a contract for a period of time. So in that down time, I plan on re-visiting those songs, making many final tweaks to that as well as recording some new ones that I already have lined up and just release great music, like a five to seven EP, shop that around for a deal. But just put music out there because I definitely want everyone to clearly get the vision of what country pop soul is from my point of view.
Noah Mac:            Yes, I am very excited to get out and start releasing my music. I have prepared an album that I'm working on. And of course, we're still under the contract so when that ends I will be on that and releasing that. And I'm super excited for that. It's going to be something that you didn't get to hear on The Voice. It's something that you didn't get to hear on my last EP that I released. It's something that's just very true to me. It's just me completely expressing emotion through music. And it almost defies a certain genre. I implement a lot into each of the songs that are on this album and I'm super excited for it.
Q)  Yes. And are you at liberty to say how long you're under contract and when fans might be able to expect some new music?
Noah Mac:    I can say that I will be in the studio recording these songs next month. And so very shortly after that, they will be released.
Q) Could you each talk a little bit about your relationship with your coach?
Adam Cunningham: Yes, okay. So I thoroughly enjoyed getting to know Adam and working with him. Didn't know what to expect but man, we got along like two peas in a pod. And we both love music. And I don't think that our relationship ends with this show. I think we're looking forward to working together from here on out. So yes, we'll see what happens. But yes, enjoyed it.
Q) Did you feel like he understood you as a country artist?
Adam Cunningham: Yes. I think he not only understood me as a country artist, but he respected me as a country artist. In fact, so much so that he let me choose my own songs. And so, yes.
Davon Fleming:    I'm so grateful for the relationship my coach and I have built up until this point. The thing I love about her, we all know that she can sing, you know? The thing that I loved about her was her genuine spirit. Before any vocals were said and done, she was always concerned how, you know, I was doing as a person first.  And I think, you know, by her being a part of a singing competition as well, she understands the ins and outs of it. She understands the disappointment. She understands the good and bad on every level. So it's good to have somebody who's experienced it firsthand to be able to give you knowledge about it and keep you encouraged and motivated and to remember that you're still human.  But the biggest thing of all is the fact that she's an Oscar winner and a Grammy winner and will say on camera and off camera how great I am, how great of a vocalist I am, how great of a person I am, that I am inspiring the world — which is what I set out to be.  Just her being who she is to say the stuff and she didn't have to. And it's on camera and it's off camera. I always appreciate that because for her it's about, you know, real talent and, you know, investing. She was very invested and I will always and forever appreciate her. And I'm always going to be, until the day I die, team J Hud. So she is amazing and I'm so appreciative of our relationship.
Q) Keisha, did you learn a lot wanting to be a country – going into the country pop lane? You know, what did you learn from your coach, Blake?
Keisha Renee:       I definitely took a lot of things away from Blake. Mainly being true to who I am, not allowing anything to change my decision. This is where my heart is. Go for it no matter what.  And that's something that I already had but to have the validation from someone in the country industry I guess gave me the extra confidence that I needed to stick by what I believe and what I'm inspired by and what type of music I want to put out there. So if anything, it would just be to, you know, stay to the plan. Stay its course, so to speak.
Q) And did you choose your songs together?
Keisha Renee:       Yes. Towards the end, I definitely started speaking up more to what I wanted to do. In the beginning I believed that they wanted to take like a more traditional country side and that's not what I was aspiring to be. I definitely didn't want to lose who I was. Soul and gospel and pop is all I've ever done my whole life, but my new love of country — the storytelling aspect, the instrumentation — is what I wanted to implement in something that I've already done. I never wanted to be a traditional country singer, so when I started getting songs that were, you know, more like Patsy Cline and even the Elvis I felt like okay, this is not the song choice. But I went along with it because I did not know everything about country, so of course I wanted to be a student. I didn't want to be a teacher in this process. I wanted to learn. So I went along with a lot of things, but around the live is when I decided to speak up for myself. And that is when we came up with Midnight Train to Georgia. From that point on, it was definitely conversations had before song choices were made.
Q) I noticed that you seemed – your coach, Jennifer, seemed to sort of take kind of a hand's off approach with you. Could you talk a little bit about your relationship with her?
Noah Mac:            Yes. Honestly, that was one of the coolest things — to have somebody like Jennifer, somebody that I respect so much as a vocalist and as a performer to really give me a lot of freedoms and give me a lot of truth and faith in what I do in regards to arranging, you know, each song for myself.  I think it's one thing to have somebody who constantly, you know, tells you exactly what to do because that's a huge part of it. And she has done that for me, too. She's taught me so much. But it's even cooler when she knows, you know, when she recognizes me as an artist and that itself has given me so much confidence throughout this process.  So I completely respect her and have loved my experience working with her.
Q) Noah, so I was wondering last night when you were waiting for the results and when Jennifer said it's hard to compete against Adam and Blake since they've been doing it for so long. Do you know specifically what she was talking about? Was she talking about strategy? But also when she said that, like what were you feeling? Did your heart drop? What were you thinking?
Noah Mac:            Throughout this entire process I never saw this as a competition. Coming into this, I really saw this as an opportunity for me to learn and get my name out there. And I think those are the two things that happened for me. So pretty much anything else besides taking in everything from the contestants around me, from my coach, and having this massive amount of support, you know, there was nothing else that I really focused on throughout the show. And so, the idea of competition itself – I never even thought about it, to be honest.
Q) Davon, how does it feel to have made it this far? And what are your biggest takeaways from this experience?
Davon Fleming:    Oh it feels super amazing. You know, we all want the record deal and the music industry but for me it was an internal journey as well as, you know, a display of a musical journey.  I came in this competition, you know, homeless, trying to figure out what I was going to do with my life, what I wanted to be. Yes, I did Italy and Switzerland. I've been singing all my life and, you know, established in the music industry. To come into this competition and see my life completely change before my eyes is more gratifying than anything in the world. I really already won. I've learned so much about myself and grown so much. I was able to spread a light on my home my home town Baltimore and to show that there are some positive things going on in the city. There are some positive people trying to make a change in this community.   I was fortunate enough to get love from all over the place — Costa Rica, Mexico, the UK — but for me it's all about home and representing where I'm from to the best of my ability. This experience has been great. I've made the charts. I mean, artists who have been in the industry for years never get a chance to make the charts. And I'm number one, two, and three on my charts. I've made the gospel charts, the pop charts, and the R&B soul charts. I have accomplished so much, you know, and I didn't even win.  I'm the last African American male standing in the competition. Out of everybody I'm the only original member from team J Hud. I'm very proud of myself. America is proud of me. I wanted to be a light and to inspire people no matter win or lose that that's my goal, that's my job. And walking away, I'm taking away so much. I'm taking away so much knowledge about the industry. I'm taking away such great friends. The people on this phone, you know, like we've been around each other for years.  I'm taking away great connections, good networking. I'm taking back everything that I've learned I can bring it to my city and bring it to other schools and continue to inspire people. So this isn't the end for any of us. If anything, it's just the start of so, you know, many more great opportunities. And for me of course, we want the contract and the star vocals but if I can just continue to inspire people, because as a kid I always felt like I haven't – nobody was there to inspire me. So now that I can give back, that's inspiration that I've never gotten, inspire people to be whatever you want to be in life and that you can achieve it. That's more gratifying than any type than just to know that I'm leaving here at this point, I'm very blessed and humbled by this experience.
Q) Noah, you may not be aware of this, but since The Voice started using instant save, we've had nine west coast contestants try for one and a west coast contestant has yet to win an instant save. I was wondering if you could tell me how you feel about the instant save process. And do you think west coast contestants are at any disadvantage because it happens on east coast time?
Noah Mac:          Man, that's a good question. I think it's possible. But in the end, you know, as an artist your job is to create art and to reach people all around. And for me, I've never actually thought the instant save processes and you know, the competitive aspects of the show. So it's not something that necessarily I've thought about a lot. But I think if you're an artist then it shouldn't matter. If you are really doing what you love and you're really starting to reach people. The important thing is that people are seeing what you do and they're seeing your art. And for me, that was the most important thing coming into this.
Q) Noah, I was wondering if you could talk a little bit about how you chose your songs. Did you have like a game plan for the season or did you take it week by week?
Noah Mac:          Honestly completely being honest I did not know that I'd make it nearly as far as I did. Making it past the blind audition was shocking to me. So you know, I didn't come in here with any kind of strategy or game plan. I just kept on telling myself I'm going to stay true to myself. So the biggest battle and the biggest, you know, competition was actually with myself. And so week by week a lot of the challenge was to, you know, pick songs that were, you know, okay with The Voice and okay with the platform I'm on. So a lot of it was about compromise — trying to stick up for myself as much as possible, you know, while staying within those limits. So each song was my opportunity to take a song that I may not have picked for myself, but turn it into a song that I can at least feel proud of. And so for, you know, every round I, you know, I arranged it differently and put my own spin on things. And I'm incredibly grateful for that opportunity to be able to do that.
Q)  Was it hard to get songs that you wanted to do cleared?
Noah Mac:            For sure. I mean, you know, you're dealing with a huge television company that, you know, streams music for all of America. And so the choices that would work for mainstream media may not always be what works for the individual artist. But it's up to you to kind of find a compromise. I think In the Air Tonight was a great song, a great compromise. River was a great song and a great compromise. Hold Back the River was a great song and a great compromise. So it's not like every song is giving up something from you. It's just your job to work with the people that are giving you this opportunity.
Q)  Yes. And was it like the producers that you worked with that maybe pushed back a little bit on some of your choices?
Noah Mac:            Yes. I mean again, it's about, you know, it is a major network television show. And some of the songs that you may want may not coincide with the show's vision. So, yes, I guess that's all I can say about that.
Q) But Adam with you especially, like is there any part in the competition where you regretted a song choice or wished that you had pushed Adam a little bit more, like swayed him to your side as far as song choices go?
Adam Cunningham: Yes, no. I have zero regrets. Zero regrets. If I had to do it all over again, I'd do it exactly the same way. And I'm happy with the choices we made and I'm happy with the songs we sang. So yes, no regrets as far as that goes.  And as far as the iTunes question, yes I think we all are aware of it, you know. But iTunes isn't the only voting method. There are a lot of other ways people can vote for us. But it is a good gauge and I think aside from the voting aspect it's cool for us to see ourselves on any chart, you know? I mean, so it's fun to follow. And yes, I mean shoot. Wouldn't you? Yes, exactly. If somebody said man, the top 100 interviewers chart on iTunes and you were on there, you'd be glued to it I'm sure.
Keisha Renee:       Absolutely. You know, in my case I didn't know everything about country music, so I definitely leaned on my coach a lot for his advisement on what songs to sing. But then when I got something that really wasn't, you know, something that I wanted to represent as far as country because I never wanted to be traditional country. I definitely want to stay true to my idea of what country pop soul is. That's why I'm really excited for my original music to come out, because I think it'll paint a better picture and connect a lot of dots for a lot of people. But with my experience on the show, I definitely enjoyed all of the new country songs that I was exposed to. But absolutely, I definitely wanted to do popular songs that would do well that were fan favorites so that they would want to buy it sure.
Davon Fleming:    Well, I always definitely look at the charts. I know it's not the only form of voting, but I mostly looked at it because just to see you know, how far we've come, how far that I've come. Looking at the charts and the billboards and to see all these great people on there and to see that I have been so successful on my charts — the R&B soul charts — is one of the coolest things.  And song choices, I wanted to do music that I knew would be popular but still always first and foremost stay true to who I am as an artist because I had to keep in mind I wanted to be authentic. I wanted the world to come into my world and, you know, not necessarily try to get into their world. I wanted to bring them in. Nobody sings like him. Nobody sings like him musically. So I wanted to bring that. And my song really wasn't to be popular, but to show my soul to the world.   As far as song choices, I had some amazing songs. I had some amazing moments. I wouldn't take anything back. The one thing I will say is that I would have loved to do a male song early in the competition because some people the assumption, you know, I was just on female songs. At the end of the day I've shown that I can make iconic, female songs great and make them my own, but I still wanted to show that I could sing a popular, iconic male song performance.   I'm satisfied with everything that I presented from song choice to where I landed at on the charts. I was higher than the person that actually sung the song, so it feels amazing. But I definitely look at the charts just to you know, say wow you've come a long way.
Noah Mac:            Yes. I know honestly yes, it's a huge thing to see yourself so high up on the charts. Like I never knew that was even a part of this process. And Brooke Simpson actually has been great at telling me and how far I made it on the charts and stuff. And it's super exciting to see your name along with all these great people that you look up to. Seeing myself as number one on the rock charts for In the Air Tonight was one of the coolest things I think ever.  And especially now. I think one of the things that I'm most proud of is seeing my EP ranked among I think it's number seven right now on the R&B charts for albums. And seeing my original music, seeing the music that I actually made by myself ranked up there too, I think that for me is by biggest accomplishment so far. And I love that. And yes, it's extremely exciting to see that.
Q) I was wondering if each of you could tell me what your favorite Voice performance was and why.
Adam Cunningham: Yes. My favorite Voice performance was probably maybe it was Memphis. So that was a lot of fun for me and I really enjoyed singing that. And it's a great song. So that was right up there.
Davon Fleming:    My favorite performance was definitely Gravity. Simply because I was able to show a side of myself that I've never shown before. I had moments with I Can Only Imagine but for me the Gravity moment was so huge. I went in just coming after, you know, being in the bottom. It lit a fire up under my butt. I definitely wanted to show the world that for a male song and still make it my own, make it successful.  But I wanted to show you know, what my soul sounded like. We caught up into vocals riffs and rhymes and tones and the musicality of it, but to be able to sing and perform as a performer and to have people feel you, like on the inside and hold onto every word, that was the highlight of my season for me because I showed America that, you know, hey I can do female songs but I can still do male songs and make it work for me.  And if I had to go home, I'm so glad that it was with that performance. I left having people wonder wow, how did he do things wrong. And that's exactly what, you know, I wanted the world to see. Win or lose, that performance was a moment for me. But that was my best performance.
Keisha Renee:       Or three. Okay. No. For me I would have to say it's a tie between I Hope You Dance because the message behind it. It was for my baby girl and all people, not even just girls. Just anybody just to know that like we have options in life. And even though like isn't perfect, choose the option to dance it out instead of feeling sorry for yourself or sitting it out. I really wanted that to be the heart behind the song, to just inspire people to give them, you know, choose them for once.  A lot of times we go through life doing things for other people, but we always often forget about ourselves. So that was one of my favorites.  And then I think it would have to be a tie between Midnight Train to Georgia and All by Myself. I mean, both are two songs that I grew up loving and the opportunity to like put a country spin on it, country you know elements to it musically, it was just like a dream come true. So out of those three, those are my top.
Noah Mac:            Yes, I think I love different elements of each performance of mine because they each meant something different to me. But for me, I think In the Air Tonight was the first time that I really just felt comfortable up on the stage and I really gave a performance that I felt like I was in control of. And that I just felt good in that moment and I felt good looking back on it. And it was kind of the moment where I told myself like okay well I did that. I'm good. Let's go. And I'm cool going home and starting to make some music after that. You know, I'm chilling. But yes, I'd say for that reason that performance was my favorite.
Q) Keisha, are you planning on moving to Nashville maybe?
Keisha Renee:       It definitely has crossed my mind. I definitely want to take a moment because, you know, the holiday season is coming up. I've been away from my baby for so long. This process has been like, you know, maybe six months or seven months going strong. So once the dust settles, I definitely would love to visit there, get the vibe, and you know, definitely take a vacation there, I would say, an extended stay to see what's happening. But that has crossed my mind a few times. But I do have a child and my village that helps me out They are LA-based. So it would definitely have to be something that I think about long and hard.
*CONFERENCE CALL*