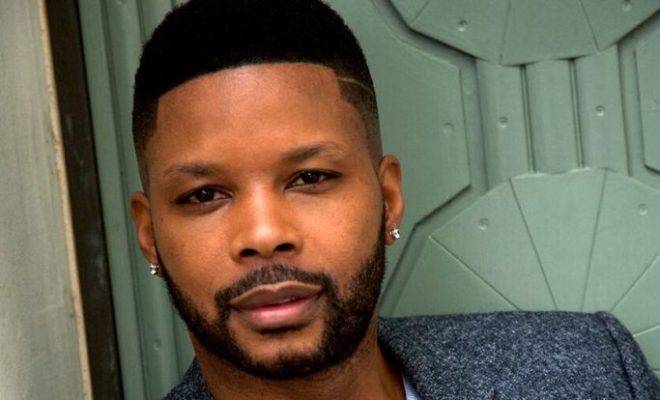 Interviews
Kerry Rhodes – Tragedy Girls
By
|
By: Jamie Steinberg
Q) What are the recent projects you are working on?
A) My TV show "If Loving You Is Wrong" is on the air now. It's on OWN Network. I have another movie that I'm in pre-production on. We're trying to get everything situated for that and it is called Streets.
Q) How did the movie Tragedy Girls come your way?
A) It was brought to me by another producing friend. He had the original script under wraps and it was pretty much on the shelf. Nobody was really doing anything with it. It was brought to me like two years ago. The way it was it wasn't ready. The name was cool and I knew from the name alone it could be a franchise move. So, that got my attention right away. Then, when we got Tyler MacIntyre on board to direct and Chris Lee Hill to do the re-writes, we got it to the point where it was fun, sexy and cool. It was to the point where we were ready to shoot. We ran with it and cast it pretty quickly. It pretty much came pretty quickly once we got the script out. Once that was done, it was a really easy process to start shooting.
Q) Tell us about your character Drew.
A) When we initially finished the script I was going to play Big Al. So, I was going to play that character and in the original script when we got it done my character Drew wasn't even in it. Once we started pitching it around and got so many people into the script, we heard Craig Robinson would be interested in playing it so my producer hat said, "Hmm. I think Craig Robinson maybe bring a little bit more value to this than unknown self, just starting acting self." It was not just myself, but a team decision. We thought he would bring more value to the Big Al role and it did. It got the attention that it needed for the project. It all worked out. For me, I was able to be more flexible. We wrote this character Drew and he is pretty much Big Al's wingman. He's Big Al's biggest fan. Everyone loves Big Al, but I'm over the top with it. I just play it like I'm his hype man and it translated on the screen. It actually made Craig and I tighter. We had so much fun shooting with Craig.
Q) Was there anything you added then to Drew that wasn't in what was created?
A) The way they initially wrote it I was just his trainer and friend. For me, when I read it, I wanted to add life to this guy and make it interesting I wanted to play it like Big Al could do no wrong. I had to play it like even if Big Al did something wrong I stood by him. I was his guy. Nothing Big Al could do was wrong. I thought having him play it that way would make it interesting and make it funny. So, that's the way I played it.
Q) Was that also what you found challenging about the role?
A) It was because I'm not anybody's "yes man" or not the person to step up and tell them they are doing something wrong or doing something right. That's not who I am. So, it was challenging a little bit, but I had so much fun doing it. We were able to just bounce it around and make it light and fun. If you could see the outtakes of those couple scenes, you'd probably laugh. The whole cast and crew were laughing. It was really some funny stuff!
Q) What were some of your favorite behind the scenes moments from filming?
A) I said, there are so many funny people. Jack Quaid is funny. Brianna [Hildebrand] is funny, even though she's this straight-laced person a lot of the time. Nicky [Whelan] is funny. The person who is really, really funny and always on the go and a ball of energy is Alexandra Shipp. She is non-stop, always on and hilarious! She's one of the funniest people on set and that I know. Behind the scenes she was always in the mix doing something funny.
Q) Is there anyone from the film that you didn't get to work with that you'd have liked to have shared a scene?
A) It would probably have been Kevin Durand. He plays Lowell, the serial killer in the film. He brought something to the character that we just didn't see and made the guy really unique. He's a really good actor and he does a lot of cool stuff. He does "The Strain" and X-Men. The day he came in I was there watching him behind the screen. So, it was cool to have him.
Q) What do you think it is about the movie Tragedy Girls that will give it a cult following?
A) I think, first and foremost, when you have a cult film that resonates with people it's usually something that is relevant. It's very relevant. It's about people trying to be famous on social media and Instagram and Facebook and blogs. That's now. It's very current. So, that catches everyone's attention right away. I think the performances give it a life of its own. When you see it, the acting is so good and the directing is so good. Everybody took these characters off the page and made them their own. You fall in love with these characters. Even though people in this film are maybe doing some bad things, you don't dislike them. Overall, you are going to fall in with the movie. You'll fall in love with the characters. It's that good! That's going to make it stand the test of time.
Q) You are a part of social media. Are you looking forward to the instant fan feedback you are going to receive to the film?
A) You have no idea! I am on the edge of my seat. I've almost had to ban myself from looking because the movie is not for everybody. Not everybody is going to like it. It seems like even some of the audiences and some people that you wouldn't think would watch it are checking it out and liking it. So, just from trying to take off my producer hat and be a loyalist of the film and as a fan of the film, I'm trying to take a step back and let it happen organically. It's very hard though! I have friends though that are hitting me up about it and celebrities. They are wanting to check it out and post about it, which is great. It's exciting! It's the first film I've acted and produced in so it's been a blast!
Q) Fans know you as a former player for the New York Jets. How did you get into acting and producing?
A) I've always been attached to it. A lot of people don't know that. I was a theater minor in college. I wrote, starred and directed my first play in seventh grade. So, I've always been in the arts to some extent, but not all the time because of football obviously. It was always in the cards and something I wanted to do and something I was going to try. As soon as my football career was over, I went straight to acting class and got straight back into that field. It's been a success so far. I'm not where I want to be or at my peak and I don't know if I ever will be since I am always striving for greatness and better things. It was something I was going to do from the beginning and it's happening. It's been great!
Q) What can the Jets do to turn around the team?
A) First and foremost, they are doing really well now. They are exceeding expectations. I recently talked to the team. I gave them a lot of encouragement and told them they still had a lot of fans out there. I think, ultimately, they are on the right path. I think they are doing the things they can be better right now. I think even ten years from now they'll still have that longevity of success down the line coming up. They could get a nice young quarterback that could come in and guide and change the whole thing right away. I think they need a young quarterback first and then to continue down the path that they are.
Q) Is there anything else you want to be sure fans know about Tragedy Girls?
A) Go to tragedygirls.com and they can find information on all the theaters the movie is showing at and buy tickets. Also, they can follow me on Twitter and Instagram at @Kerry25Rhodes.
Q) What would you like to say to everyone who is a fan and supporter of you?
A) I would just like to say thank you to the people who are my fans and already following me along this interesting ride. Keep rocking out with me. I have a lot more in store. This is just beginning. I am going to keep putting out good films and being a part of good films for years to come and TV. So, just stay tuned!