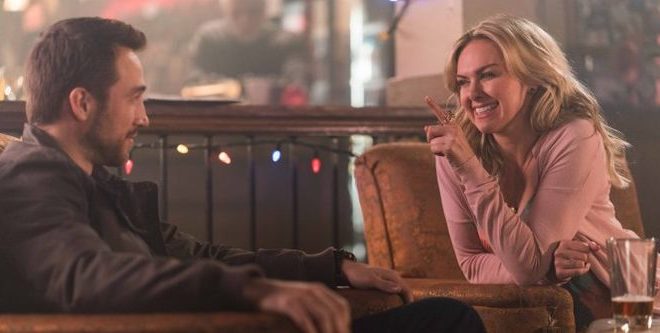 Interviews
Laura Bell Bundy – Christmas Calendar
By
|
By: Jamie Steinberg
Q) What are the recent projects that you have been working on?
A) I've been doing a musical called "Honeymooners" that is in development for Broadway. It is based on the classic show with Jackie Gleason. I play Trixie. Hopefully, we'll be on Broadway in the next year. Then, I am currently on "Good Behavior" on TNT as a reoccurring character who gets herself into trouble with Letty (Michelle Dockery). Then, I just did a women's rights and health concert that I produced and directed in New York City at The Town Hall, which was called "Double Standards." It was essentially pairing up Broadway stars, recording artists and comedians to do jazz standards all in the name of women's rights health. All the money went to the ACLU, Planned Parenthood and The National Breast Cancer Coalition.
Q) Please tell us the premise for your film Christmas Calendar and about your character.
A) I play Emily who is a struggling baker in a small town. She acquires this bakery from her grandmother and comes back home to run it. When she does, she receives this homemade Christmas calendar from a secret admirer. The whole town is trying to figure out who it is from. So, it's really funny. Then, she simultaneously has a competitor move into the mega superstore grocery store across the street that might put her out of business.
Q) Was there anything you added to the role that wasn't originally scripted for you?
A) I'm always a person who reads a script several times and creates a backstory for the character. I'm constantly investigating the script to make sure that it all makes sense storywise. I do remember saying, "Can we change this? This doesn't make sense," or "Wouldn't it help to develop their relationship if there was another scene here?" But as far as her character is concerned, she was pretty straightforward. I just kind of had to put myself in that scenario to see what that would be like for me.
Q) What made you want to be a part of the movie?
A) What really made me want to be a part of the film was the director, Alan Harmon. I had worked with Alan before on another UpTV movie and I loved working with him. So, when he called me and said, "Hey, I've got a movie that I'm directing and producing. Can you be in Vancouver by the end of the week?" I was like, "Yes, because I love working with you." It wasn't necessarily a role that I had to do, but I love working with Alan and I think he makes great movies. The people he had involved – he had an incredible DP who got beautiful shots. So, it was an opportunity to flex my muscles and get to work with Alan again.
Q) Was there instant chemistry when you began working with your co-star Brendon Zub or did it take some time to develop?
A) We just kind of started right off the bat. We're both naturally friendly people. We got to know each other pretty quickly and he's such a grounded real actor. He doesn't have an ego so he was super easy to work with and get to know him. I think there was instant chemistry, for sure, because of the way we worked. We both take our jobs super seriously. We just had a good time and we paid attention to the work. So, the work process was quick, in terms of getting the scenes done. We rehearsed before we got to set so the crew didn't have to wait around for us to figure a scene out. We were both very proactive in terms of working with Alan to make the blocking make the most sense for the characters at the time. Brendon and I definitely work the same way. We think about character a lot. We do a lot of our homework before our first day of work. So, that made it such a pleasure to work with him.
Q) What were some of your most memorable moments from filming?
A) I liked any moment where I got to eat. [laughs] So, as a baker they asked me to try the truffles and try the cookies. Unfortunately, I have Celiac Disease so I can't have gluten, but they found bakeries for me that made gluten free stuff for me. They had like boxes and boxes of baked goods for me! So, that was my favorite part. [laughs] Brendon Zub who plays my romantic interest in the movie is such a phenomenal actor. I really loved working with him. He's French in the film and he does such a perfect French accent. He has great comedic ability. It was just such a joy to work with him. When we were actually making truffles it was super fun. We were doing a bowling competition and everyone was really bowling. There is a part in the movie where we start getting a bunch of strikes. When we were filming it we were actually getting strikes! Our reactions were honest because it was the pure joy of getting strikes for real. We had a lot of fun moments and we had a fun cast. I loved the crew. So, it was fun. And it was cold! We were shooting in Vancouver in January.
Q) What do you hope viewers take away from watching the movie?
A) I hate watching myself. I have a hard time and scrutinize myself a lot. So, what I hope I take away is that I hope I like my performance in this. [laughs] I hope that others take away that it is a very sweet, romantic and touching film. It's sweet and emotional, too.