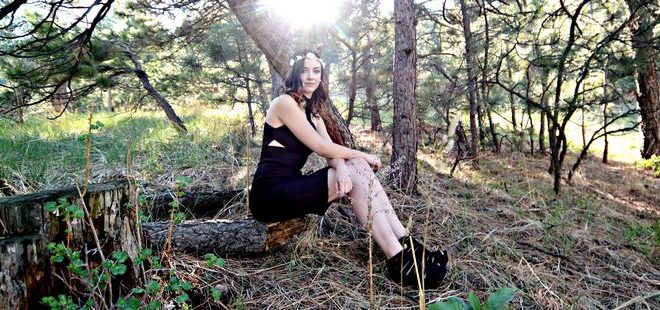 Interviews
Laura Brehm – Breathe
By
|
By: Jamie Steinberg
Q) How would you describe your sound?
A) Overall my sound is folk/electronic.  I also experiment with different EDM genres as well as alternative and pop.
Q) Who are some of your musical influences?
A) My top six influences are The Beatles, Radiohead, Imogen Heap, Ellie Goulding, Bon Iver and Royksopp.  However, there are so many others to list and it's hard to choose at times because it depends on what I'm listening to at the moment or if there are new artists that I've discovered.
Q) Talk about the story behind your new song "Parallel."
A) "Parallel" is a song about true friendship/love.  It was inspired by a relationship in my life where the other person and I always feel like we are on the same page about everything and that just comes naturally.  The lyrics unfolded from that idea.
Q) What do you think it is about the song that fans connect to?
A) The song "Parallel" is very much about the vocals – it has tons of harmonies and vocal processing that makes the track what it is.  Based on the comments I've seen my fans post so far, my voice resonates with them and keeps them listening to it – which makes me very happy to hear.  I also hope that fans connect to it because style/structure/production wise it's different from anything I've released before.
Q) What is your song writing process? Do you need music before you can create lyrics?
A) I usually write melodies first and then find the lyrics that seem to fit with the music.  However, sometimes melodies and lyrics come to me at the same time.  I prefer to write songs while playing the acoustic guitar, even if I'm writing a top-line for an EDM track.  Sometimes I'll change it up and write with the piano, but something about the tone of the guitar blending with my voice and the folky sound helps my ideas to move along quickly.  I'm also learning banjo at the moment and I'm excited to start writing songs with it.
Q) How much of hand do you have in the production of your music?
A) It depends on the project.  For my solo work, my first two albums (Day to Day and Dreams) were produced by Nick Cocozzella (Kill Paradise) and then I released my first self-produced solo single after that – "Cosmic Gravity."  I had Evoke produce the single "Don't Wait" last fall, but for the Breathe EP I did all of the production.  I've recently become more interested in learning that aspect of music and I'm finding it very interesting and enjoyable.  For my collaborations, I have co-produced some of them such as the Future Holds EP with Evoke.  I prefer to do this – sitting in the room with the producer making the songs from scratch and completing it together. But most of the time, I've focused on the singing/songwriting aspect and either created a top-line for someone else's already composed instrumental or had someone produce around a vocal I had already written as a song and then released it as a collaboration.  For the foreseeable future, I want to be more and more involved with production.
Q) What can fans expect from a live Laura Brehm performance?
A) I have done many live performances before, but for the past few years I have mainly focused on studio work, writing and developing my craft.  I can do acoustic performances as well as singing with a DJ/producer for an EDM show. However, I would really like to combine both of these elements and start to develop my live set that way.  It is a work in progress!
Q) Where are some of your favorite places to perform and what makes those locations so significant to you?
A) I have performed at Red Rocks Amphitheater for Global Dance Music Festival and that was a dream come true.  It meant a lot to me because the legendary venue that is a milestone for many artists is in my home state of Colorado.  I have also opened for Heart at the Paramount Theater in Denver with a solo acoustic set and that is one of my favorite memories.  I'm looking forward to experiencing more places to perform in the future as well as doing more events around the United States and internationally as well!
Q) Will there be an EP or full album coming in the near future?
A) Yes, I'm releasing the Breathe EP on July 28th on my record label, Electric Bird Records.  I have already released a single from the EP titled "Parallel" and the remaining three tracks will drop on release day.  It's less electronic and more of an experimental, alternative, ambient folk sound.
Q) Who would you most like to collaborate with on a song in the future?
A) There are so many people that I would love to work with in the folk scene, the EDM scene and in the pop world, too!  I think at the very top of my list though would be to write/sing a vocal for Royksopp.
Q) What album/band are you currently listening to and why do you dig them? 
A) I discovered a female artist from the Netherlands, Sofie Letitre, and I'm really into her sound.  You can tell she's doing her own thing and it's inspiring.  I've also recently been introduced to Stephanie Dosen, The National and London Grammar and they've become some of my favorites.  I'm constantly looking for new artists/songs. It depends on my mood really – whether I'm working out, relaxing, hanging out with friends, looking for inspiration, etc.
Q) You are a part of social media. Why is that such an important way for you to connect with your fans?
A) It lets me communicate with my fans and show them a glimpse into my creative processes, travels, studio time and just every day life.  I think it's cool how in touch everyone can be these days – sometimes it's a lot and feels like you always have to maintain it, but if I find inspiration to post something that I think my fans would appreciate I do!  My favorite platform is Instagram.
Q) What would you like to say to everyone who is a fan and supporter of you and your work?
A) I would like to say thank you and that their support means the world to me.  I am not able to respond to every comment on YouTube, but I do see a lot of them and it's so great to know that my fans will click on a new upload right away and then go out of their way to say something nice! I wouldn't be able to do this without them.