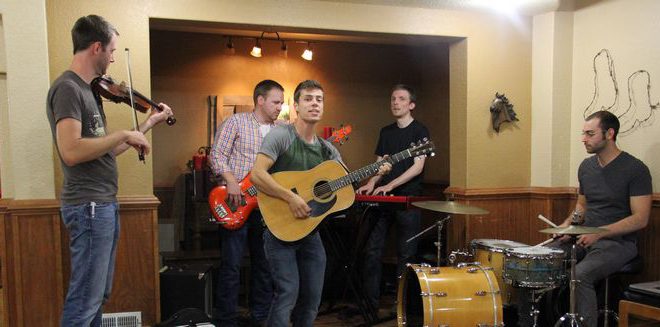 Interviews
Lawson Bates – Bringing Up Bates
By
|
By: Jamie Steinberg
Q) What is new this season on "Bringing Up Bates?"
A) Wow, that answer could take up the page! [laughs] There's so many new storylines in Season Five! To highlight a few, my sister Tori is progressing in her relationship with her boyfriend Bobby and we all are so excited to see where this leads. You'll also see me working hard on my new tour and album release! Of course, there's always quite a bit of drama mixed into everything [laughs], but we sure have a lot of fun together.
Q) Were there certain parts of your life that you deemed off limits to the camera?
A) When we first let cameras into our home, I think everybody was a little nervous about everything. Of course, there's the dirty laundry or little squabbles that no one is proud of. But the crew has kinda become family now and it seems like it's easy to relax – showing the good, bad and ugly. [laughs]
Q) This season we are watching the family expand and go in different directions. How do you manage to keep in touch?
A) That's been one of the toughest things for us all. Everyone has lives of their own now, which is great on one hand, but also sad since we don't get to do as much as one big group like we used to. As often as we can we'll have a family FaceTime call with the ones who've moved away.
Q) Have the kids gotten used to having cameras on them all of the time?
A) Since the crew is like family; we sometimes forget when they're in the room. However, when you're being interviewed or the camera is right in front of you, it's hard to not be a little nervous.
Q) You have a begun a country music career. Who are some of your musical influences?
A) It's pretty diverse; from Frank Sinatra and Dean Martin to Josh Turner, George Strait and Johnny Cash. I also love a lot of bluegrass and southern Gospel.
Q) What did you find the most challenging part of creating your album?
A) I think one of the most challenging things for me was not micromanaging. I'm very thankful for my producer, Andy Leftwich, who is great about focusing on the right details and keeping the whole process in perspective.
Q) You duet with Emily Ann Roberts on the song "I Have Decided." How did the two of you come to work together?
A) I first heard about Emily while she was on "The Voice" and thought it was pretty neat that she was from the same area and had a lot of the same country/gospel music influences. We met at an event in Knoxville and exchanged info. At the time, I was in the middle of preproduction for the new album and I thought she'd be a perfect fit for the duet! I asked her to be a part of it and it turned out to be one of my favorites on the new album!
Q) You created your own tour for your album What Country Means to Me. What did you learn from the process?
A) Overall, the tour was an absolute blast! One of the many things I learned was to delegate, delegate, delegate because it's really easy to quickly get in over your head.
Q) Who would you most like to collaborate with on a song?
A) This is too tough of a question! Josh Turner or maybe Tori Kelly.
Q) What do you hope listeners take away from listening to your music?
A) I feel like a lot modern country music has lost its realness. I hope people can find something they relate to in the stories/songs that inspire them and helps them through tough times.
Q) You are a part of social media. What kind of fan feedback have you received from being a part of the show?
A) Social media can be a little scary sometimes [laughs], but the fans have really been a great encouragement to us all! When you get a positive message from someone telling you how the show helped them with a relationship or through a tough time, that's really what it's all about.
Q) What were some of your most memorable moments from filming this season?
A) For me, the most memorable moment by far was during a charity concert I had For East Tennessee Children's Hospital. I had a group of the kids come up during the show as a surprise and we sang ("Jesus Loves Me") as a group. Just thinking about all they go through every day makes me grateful for what I have and makes me want to do more to give back. It was definitely a moment I'll never forget. We were able to donate all of the proceeds from the concert to the hospital.
Q) What do you think it is about the show that has made it a fan favorite show?
A) I think a lot of people see "Bringing Up Bates" as a throwback show to a simpler time. Even though there's so much going on in our lives, it's our faith that keeps us so close as a family. My parents have always been great about helping us to focus on what's really important: family and relationships vs. temporal things.
Q) What would you like to say to everyone who is a fan and supporter of your family and your music? 
A) Thank you! I know it sounds cliché, but we truly do appreciate ALL your support and know we couldn't do it without you. I hope somehow our show and my music encourages people to value the little things, to realize that faith and family are most important and that looking to Jesus is always the answer.