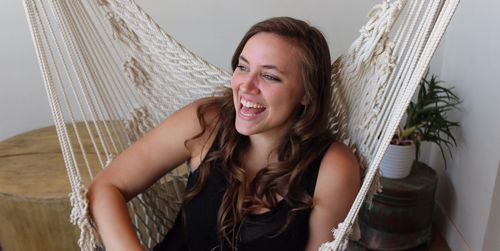 Liz Laub
Interviews
Layne Morgan: Let Your Voice Be Heard
By
|
By: Krista Ann Freego
"Be the change you want to see in the world" – Ghandi
This has always been my favorite quote, and in the end of May, I had the pleasure to talk to someone who truly embodies this goal. In my research of Layne Morgan, one of her writings that resonated most with me was the essay she wrote in support of her fundraising campaign for RAINN (Rape, Abuse & Incest National Network). After the question and answer portion of the interview (which can be found below) I took the opportunity to talk with Layne about this article and thanked her for giving me a voice. I shared with Layne that I too am a victim of sexual assault and once I read her words, for the first time, I truly felt like there was finally another person who understood exactly how I felt and still feel. In that instant, Layne Morgan was my voice, when she shared her story it gave me the strength to share a part of my story with all of you. For her strength, for her honesty, her courage, her vulnerability, for her voice I can never thank her enough.
I normally do not title my interviews, other than to say interview with so and so. However, this time, in order to truly pay homage to all that this person has done and no doubt will continue to do, I titled this interview "Let Your Voice Be Heard." By sharing her voice on the topic of sexual assault, she gave me the strength to share my voice; to let my voice be heard.
Layne not only does this for me on the issue of sexual assault, but also in her support and positivity that she dedicates to the LGBTQ+ community. Layne has devoted her efforts, her social media platforms, her time and her influence to causes such as hunger, youth suicide awareness, LGBTQ+ equality and positive representation, sexual assault survivor assistance and resources and mental health awareness. Layne Morgan has been a voice to many and always encourages others to let their voice be heard.
Q) For those of our readers who may not know who you are, please tell us a little bit about yourself?
A) I have worked on some TV shows. I work in television and I am an aspiring writer, I guess. I don't know when we get to use the words "I am a writer" or "I just want to be a writer." I am a writer. I've been involved in fandom for years and years and years. On top of that and interwoven with that, I have spent a lot of time trying to channel both fandom and creative stuff towards doing charity things and helping people. I live in Los Angeles. I have a cool cat. I'm from Boston originally. Yeah, that's about all I've got.
Q) You do an amazing amount of charity work. To name a few you have raised money and awareness for Fight the Stigma; The Trevor Project; RAINN; The 100 Project; GLAAD Spirit Day. Can you tell us a little more about these projects?
A) Let me try to go back in time like you just did. You may know even more about me, than I do. [laughs] The 100 Charity Project was properly my first real dive into this sort of thing. It was not an organization on its own. It was sort of a megaphone to kind of direct what I saw as a really large and really vocal fandom toward different charitable organizations. Every month we did different themes and it was all really unofficial. It was really us just telling people, "Hey this is a really good cause go be a part of it." It was really my first time really giving anything like that a shot. Every month we had different themes. So, we raised money for a good number of different charities and it ended up totaling about $40,000, in the couple of months that we did it. That eventually stopped once I started working for the show "The 100" because it was a weird conflict. After that, I did stuff for GLAAD and the Trevor Project. GLAAD and The Trevor Project are both really lovely because they are LGBT specific organizations. I did GLAAD for Spirit Day last year. Spirit Day is really about positivity and being proud of yourself and that was really fun to do last year. This year, a couple of months ago, I did stuff with The Trevor Project kind of just out of the blue. With both The Trevor Project and Spirit Day, it was sort of this thing where I had just woken up in the morning and said, "I think I'm going to do this today" and I do it. For both of those, that is what happened.  I chose The Trevor Project, this past couple of months ago because it was also Mental Health month, and The Trevor Project is geared towards preventing LGBTQ suicide and has a lot of hotlines and that seemed to tie into Mental Health month. RAINN was one I did as well. RAINN works with sexual assault survivors and I had just watched the pilot of "Sweet/Vicious" on MTV. It is a really great show and I really loved it. I had an experience of my own in college that I don't often talk about or address and I thought "this doesn't need to be a part of my internet life."  After I watched that show, I was like "you know what, yes it does." I did a RAINN campaign and I think we raised $3,000 in a day for that. So, those have been sort of the flash fundraisers, that have been faster, smaller efforts.
Q) What fundraisers or charities are you currently involved in?
A) None at the moment. I have been wrapping up May with Mental Health month. For me, it was really about talking about stigma and things that are going on and promoting other people's conversations about Mental Health. So, I have been focused on that. Once we get into June, I will do something for Pride. We are kind of in a weird interim couple of weeks right now. I am also leaving for Boston soon. I am wrapped up in some things, but I am hoping to get something together in June for Pride month.
It's not something I have planned or in the works yet, but it's always been a dream/goal of mine to host a benefit concert or charity benefit event of some kind, which is something that's on my mind a lot. I do a lot with fundraising over social media and that's definitely my focus but I've always just really, really wanted to get people together and host something that's personal and community driven like a benefit concert. So maybe someday that's something I'll be getting together if I can find the right folks for it.
Q) You've posted a few times on your Twitter page "Fangirl over you friends. Be noisy in your support and enjoyment of fellow creators. Playing it too cool is boring. Love shit loudly." Is there anything that you are currently fangirling over?
A) Oh God, so much! So many things. I am always fangirling over a million things, because that is sort of my existence. "Wynonna Earp," which starts soon. I am always fangirling over. I am really excited about that! They are starting the second season and I am stoked. My wonderful friends up in Toronto just started filming the Carmilla Movie, which is really incredible. I am really excited about that because they are wonderful! When I talk about fangirling over your friends and other creators, it is so important to me to look at people who are out there making things that don't get all the hype and all the recognition of all the other really popular things in the universe. So, I really try to look out into my peer group of people who are trying to make their way through their industries to really talk about their work. Let me think, my good friend just put together a podcast that I am actually on called The Umbrella Podcast. There have been so many people that are on board with that, with us. My friend Riley is a YouTuber who I am like very aggressively fangirling over lately. [laughs] She is fantastic and has really good things to say. I accidentally wound up fangirling over "The Voice" for no reason because I watched that when there was nothing else on TV. [laughs] "Riverdale," that is a whole other mess. [laughs] That would be like my pile of fangirl things, at the moment.
Q) You mentioned The Umbrella Podcast would you mind telling me a little more about that?
A) It was created by my best friend Dawson. He was kind of joking around about it like, "It would be kind of funny if there was a podcast for people of varying identities within the LGBTQ community who got together to talk about the intersectionality of that." So, he put together a sort of board of people to do a panel about different topics. It is really cool because it is basically a safe space to have conversations and even disagreements in a place where we are all there to discuss those disagreements and learn from one another. There is sort of this diverse range of queer folks and various races and various gender identities. This last one, that I was not on, was very interesting. The one we did before that was me and a couple of people talking about vocabulary and identity. So, every couple of weeks we do a different panel with various different regulars and talk about just different issues that face us as a community under the umbrella of LGBTQ.
Q) Tell us about Buy Me Coffee on Ko-Fi.com?
A) There is not much to tell you about that. It is just my sort of "if you like me and what I do and you want to support me" page. You can do that. That is for me, just as someone who is working in this industry and is tired.
Q) Another way to support you is Patreon?
A) I do periscopes and video chats with people. They are both just sort of ways for me to say "as much as I love this blog and my Twitter and doing all of this, it's time consuming and sadly in this universe time is money." They have been really wonderful people, so supportive, and it has been really rewarding. I got a chance last week to have a private video chat with some of the contributors on my Patreon page and it was really, really lovely! So, yeah, it's a lot of fun.
Q) One of the many things, in my research about you that has really impressed me is all the charity work you do and the way you use your platform; how you are a marvel at harnessing the power of fandom, queer media, Twitter and television to send out such a positive message. I just wanted to take this opportunity to thank you for that, for the positivity you send out into the world!
A) Thank you. I really appreciate that. I sort of…I hit this point, back several years ago, before moving to L.A. where I started The 100 Project where I sort of started to feel like I had been spending all this time cultivating a presence and I was running various blogs and projects. I was feeling like, part of the reason I am a creator and a writer is because I feel strongly about the ability to impact people (be that through telling stories or music or whatever). I started building this huge social media following, which for me was just about talking to people. It happened kind of on accident. Next thing I knew I had x-number of followers and then it got bigger and bigger and bigger and I sort of hit this point of "okay, what do I do now? What do I do with this?" 15,000 followers is just a number, it doesn't do anything. It was really frustrating for me, especially looking at causes that you want to help and charities and I was kind of always going, "Well, I'm broke. I can't help anyone. And what is my $20.00 really?" I mean not much. So, I looked at myself and asked "Well, what do I have?" And what I had was an x-number of followers so I was like "okay, this is what I can do." So, it was kind of about…For me, it was about finding something concrete that I had that I could give to the causes that were really important to me. What I realized is with all those followers, I was sort of rallying people, saying watch this TV show or go to this thing or hey check out this project. So, I could do that for causing as well. Once I started The 100 Charity Project, I was really shocked at how willing people were to do that. So, I was like, "Well, okay, now that I know this I can do this again and again and again." Now it is like second nature. Like I already said, now I will just wake up and say "oh I think I'll do a campaign today" and do it, which is exhausting and tiring and really not quite that simple, but it is really cool. I did a campaign recently where I was raising money and I was talking to my mom while I was doing the campaign and I said, "I wish I could have dropped like $40.00 myself. I feel like I am asking other people to donate and I can't because I have to be able to afford my groceries this week." My mom was like, "You always say that you do this because what you can give is your followers. That is fine. Give that." I think it is an important to get people to realize that what you can give is not always necessarily monetary. It doesn't need to be monetary. It can be your time, your voice, your platform – whatever you have.
Q) In an article you posted in 2014, you stated your favorite shows are "Buffy The Vampire Slayer," "Charmed" and "Veronica Mars." And that these shows helped form your television tastes and what you look for in entertainment. You stated that "Charmed" is one of your favorites because of the interaction with all the girls and relationships as friends and sisters; because it told "the story of a woman's adventure beyond the ability to fall in love." I was just curious what you thought about the sister relationships in "Supergirl" and "Wynonna Earp?"
A) I love "Wynonna!" I have loved "Wynonna" since it started. Oddly, I found out about it the day that it premiered. I quickly got on board and I have spent a fair amount of time with some of the actors on that show and with Emily [Andras] the showrunner who is wonderful and brilliant. I am a sucker for any show about sisters. I have two younger sisters. I was raised with my older sister, who has since passed away. I grew up with three sisters. "Wynonna," the core of that show is Wynonna's (Melanie Scrofano) relationship with Waverly (Dominique Provost-Chalkley), which to me is an immediate selling point. I think that show is fantastic and the relationships on that show are brilliant! The show is campy and fun and it's about girls who are smart and capable. And sometimes, not capable, and that is okay too. I think it is really fantastic!
As soon as you said sister show I was thinking to myself, "Oh, 'Wynonna' and 'Supergirl.'" "Supergirl" is great. Again, "Supergirl" has a special place for me because my whole life growing up, I was really drawn to Superman and Supergirl. I watched "Smallville." I have always loved it. When I found out that the show was coming out, I was over the moon. At the time I was writing for IGN. I remember I did an article that was about Claire Holt almost being cast as Supergirl. I was shaking at just the prospect of the show. I was in a hotel with my parents. I don't even remember where we were. The trailer came out. I am a grown ass adult. I mean, this show is not that old. And I am watching the trailer and I just started crying. And I don't cry. I am not a crier. And my mom was just like "Are you okay?" [laughs] I was like "IT'S SUPERGIRL! IT'S SO IMPORTANT TO ME! [laughs] It was a whole thing. Of course, they throw in this like, sister relationship. I mean I was already sold and then I was triple sold, especially Season One. It focuses so much on Kara (Melissa Benoist) and Alex's (Chyler Leigh) relationship. Also, I have three younger adopted siblings and Kara and Alex are not biological siblings and I think that is really fantastic to have a show that is about family, and sisterhood and have it be that Kara is adopted by the Danvers. Chyler Leigh can be my sister whenever she wants. [laughs]
Q) What are you currently working on?
A) I just broke for hiatus on "The Shannara Chronicles." So, I am currently not officially employed anywhere. I was employed there for over a year. Now I am working on my own stuff, which is basically me trying to take a few months to be a creator. It is hard. I've got a couple of pilots I am in the process of working on. A digital series that I am writing on, but it's not mine, so I can't talk about it. I'm writing a feature with my best friend who is also now my feature writing partner. We are also writing a novel adaptation for that. I am also writing a series of queer YA novels. There are a lot of things. None of which I can get into too much detail about right now. Just trying to get my stuff done and out there so that it is useful and not just sitting there in journals.
Q) What are your top five favorite movies?
A) Oh gosh. Never ask me that question. No one should ever ask me that question. [laughs] Here is the problem, I love bad moves. I mean, I just love bad movies. I really love lifetime movies and really ridiculous, like all the Nora Roberts adaptation films. [laughs] Bad slasher movies. Top three movies that I love are, in no particular order, Pan's Labyrinth, Big Fish and Donnie Darko because I am a weirdo. They are all pretty weird and whimsical. I am a fan of fantasy, especially dark fantasy that comments on life. And also, Imagine Me & You, which doesn't fit in the whole dark fantasy genre, but I love it. Such a great movie. It's a paradox, you can't have an unstoppable force and an immovable object. That is why I always tell people "if you are an unstoppable force, then there is no such thing as immovable objects."
Q) How can our readers and your fans find you?
A) You can find me on Twitter/Tumblr/Instragram/Patreon @laynemorgan.
So, in closing,  take Layne Morgan's advice: go out into the world; let your voice be heard; "fangirl over your friends. Be noisy in your support and enjoyment of fellow creators…Love shit loudly" and be an unstoppable force!