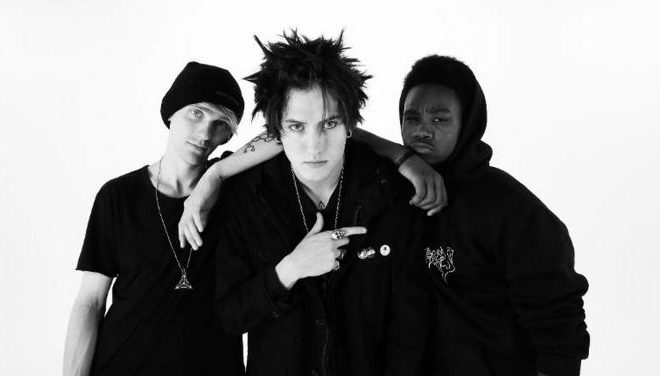 Interviews
Leave the Universe – N.W.O.
By
|
By: Jamie Steinberg
Q) How would you describe your sound?
Cameron: The sound on this ep is very raw and aggressive.  There are elements of our punk and alternative roots, while at the same time having a foot in the modern hip/hop world.
Q )Who are some of your musical influences?
Cameron: I grew up with a lot of rock and pop influence anywhere from Nine Inch Nails to Michael Jackson and more recently have gotten into the hip/hop world taking influence from artist like Kanye West and Kaytranada.  I also get a lot of influence from movie score composers like Hans Zimmer.
Kalin: I've been really loving Post Malone lately, along with big name stadium bands like 30 Seconds to Mars and Coldplay. I've always been inspired by minimal piano pieces from artists like Oskar Schuster, and modern ethereal soundscapes and Celtic inspired music like Aurora.
Jorden: To name a few influences growing up it would have to be Usher, MJ, Kirk Franklin and Tye Tribbet.
Q) Talk about the story behind your new song/album "N.W.O."
Cameron: This song started out with the line "Burn the money machine."  I was thinking about how we live in a world entirely built on a system of imaginary credit and debt and how people are completely enslaved to it.  People often kill and die for it. I thought if we literally destroyed money and destroyed the ability to make more, it would set us free.  Of course, it's not that simple, as that would probably lead to complete chaos. But the idea was so intriguing to me and thus the song was born.  I had always heard the term "New World Order" growing up from so many different places from religion to government.  It was the idea that some sort of greater power would bestow a new order upon society.  I started to think, "What if everyone as a whole new generation dreamers in the world could create our own 'New World Order' instead of leaving it in the hands of a government or a god?"
Q) What do you think it is about the song that fans connect to?
Kalin: The world is in a state of chaos, it seems, and there's so much change happening that is causing mayhem. I think the song really speaks to the anger and desperation of a generation trying to grasp what kind of world they're inheriting. I think "N.W.O." really represents the action we all want to take to get out of this chaos and fear and into a more peaceful world.
Q) What is your song writing process? Do you need music before you can create lyrics?
Cameron: So far, we always start with the music.  I approach a production in more of a hip/hop or movie score way.  Usually stating with some sort ambiance or loop as the canvas to build a song. As soon as the music reaches a point where it starts to invoke emotion and imagery in my mind, I'll start writing the lyrics. Since the music is always a direct reflection of how I am feeling in the moment, it creates the perfect platform to write really genuine lyrics.
Q) How much of hand do you have in the production of your music?
Cameron: 100 percent. We have been able to maintain 100 percent control over what we do through staying independent so what you hear in our music is completely authentic. I do all of the production in our own studio we created with the Dead 30 Collective. This has been a great opportunity to really find a unique sound.
Kalin: Cameron produces all of our music so I'm usually around and helping with the general ideas and soundscapes. If I have an idea I'm able to relay it to him there on the spot. So, I do have hands in the production whenever I feel I have an idea worth contributing.
Q) What song did you fight the hardest for to stay on the album and why?
Cameron: We didn't have to fight to keep anything.  We get to decide what we release.
Q) What do you hope listeners of your new album W.O. take away with them?
Cameron: In the end, I hope this song will light a fire within people that they can use as a positive force in the world.
Kalin: N.W.O. should serve as a reminder that despite how hopeless it may seem the point is not to win, but to fight for what you believe in, what you need and the betterment of the world.
Q) What can fans expect from a live Leave the Universe performance?
Cameron: My favorite part of a live show is being able to connect directly to the people in the audience.  At a live show, one can expect a lot of energy, passion and connection to the fans. We want to always create an environment to let go.
Kalin: If you come to a LTU show, you can expect a close knit, intimate crowd of people who can really delve into the event with each other and being led on by the energy that we all want to carry onto the stage.
Q) Which songs are you most looking forward to performing for fans?
Cameron: As far as a hype song to let a lot of energy out, I'm definitely looking forward to playing "N.W.O.," but on the other hand there is a song called "If You Find Me" that will be on our EP that is very emotional that I am really excited to experience live with the fans.
Kalin: I'm really looking forward to performing "If You Find Me" for fans because that song relates to me on a level that breaks through what I would normally be afraid to say to people. It's raw emotion and I tend to keep such heavy feelings from spilling because there's really no good time to talk about it except with music or art in general.
Q) How do you plan to celebrate your album release?
Kalin: Livestreams all the time, lots of coffee and lots of work to keep the ball rolling for the next release!
Q) In this current political climate, what can all artists of entertainment be doing to push boundaries and share in the support of resistance?
Cameron: There is such an open platform in today's world via the internet to get music directly to fans which means you don't have to be filtered.  I would encourage other artists to write honest music that reflects the way they truly feel in these times even if it is ugly or aggressive.  If it's genuine, people will listen to what you have to say.
Q) Who would you most like to collaborate with on a song in the future?
Cameron: I personally would love to collaborate with xxxtentacion on a track.  I really appreciate his raw aggression and I feel like if we would create a killer track together.
Kalin: There's a long list of artists I would love to collaborate with. I'm not aiming for anyone in particular, but anyone that can bring their artistic perspective to the table and make something with us sounds good to me!
Q) What album/band are you currently listening to and why do you dig them?
Cameron: I've been listening to Vic Mensa's The Autobiography and Logic's Everybody albums lately.  I really love those two albums because not only is the production and music great, but the lyrics are extremely genuine and unfiltered.
Kalin: I have been listening to a lot of different artists lately, but I always seem to come back the album Save 6lack by 6lack. It's an album full of emotion, laced with desperation but somehow hopeful despite its dreary vibes. The lyrics are brilliant and it has given me songs to fit the feelings inside of me that felt lonely before.
Q) You are a part of social media. Why is that such an important way for you to connect with your fans?
Cameron: I love the fact that nowadays there is a platform to talk directly to fans.  Instagram is where we do most of our interacting with fans.  I've really enjoyed doing lifestreams as of late and getting to interact with fans on a personal level. The best thing about this whole journey for me is getting to connect with fans and it's awesome knowing I can do that whenever I want now.
What would you like to say to everyone who is a fan and supporter of you and your work? 
Kalin: I'm so glad that you enjoy what we make. It means the world to me because I never know what others are going to think about our music, I only have my own perspective. We work passionately every day to bring the world of Dead30 and Leave The Universe into existence and the fact that others want to be a part of this world brings me nothing but joy. I'm so glad they're a part of the Dead30 family.
Cameron: I want to tell our fans thank you from the bottom of my heart!  It means so much to all of us in Leave The Universe to see people truly connecting with what we have to say and wanting to be a part of the Dead 30 family.  We literally couldn't do this without the fans support and as long as our fans keep supporting us, we will keep supporting them in any way we can.
Jorden: If you only do what you can do, you will never be more than you are now!