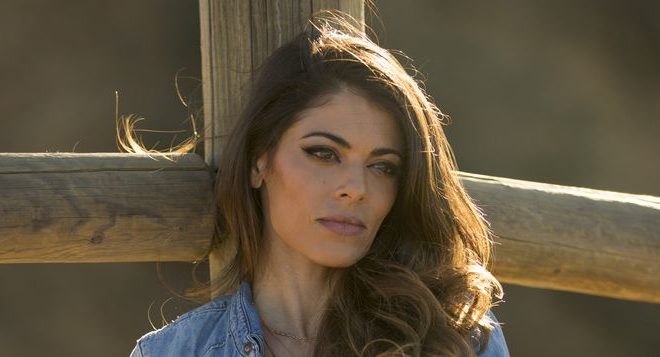 Mark Mercury Photography
Interviews
Lindsay Hartley – Deadly Exchange
By
|
By: Jamie Steinberg
Q) What are the recent projects that you are working on?
A) I just wrapped two films: Romance on Reindeer Lodge, which I shot in November in Connecticut that just aired on Hallmark Movies and Mysteries channel. I literally returned last week from Vancouver, Canada where I filmed A Sister's Obsession. That was a pretty awesome experience because I played TWINS – Kendra the good girl and Amber the bad girl.
Q) Please tell us the premise for your film Deadly Exchange and about your character.
A) My character Samatha is a devoted mother daughter to her surviving daughter Blake (Victoria Konefal). They open their home to a foreign exchange student, Chloe (Valentina Novakovic), for Blake's senior year of high school. Things aren't all what they seem, however.
Q) How did you and Jason-Shane Scott come up with the concept for the film?
A) We had the idea about this foreign exchange student moving in and all is going great until Blake's boyfriend is discovered dead in the family pool. We developed the story from those two main ideas.
Q) Obviously, the two of you also star in the movie, but how invovled were you in finding the cast and director?
A) We worked closely with the director, Tom Shell, prior to filming.
Q) Often with Lifetime movies the cinematography and setting play a role in setting the mood of the film. In what ways does that carry through with this movie?
A) Well, we hope the pool scene is impacting!
Q) What were some of your most memorable moments from filming "Deadly Exchange?"
A) Overall working with the cast and crew who made the story come to life! It's a pretty awesome experience to watch actors' take and understanding of the characters written.
Q) Did you always have Lifetime in mind for airing the film and if so, what makes the movie a great fit for them?
A) We are fortunate to work for a company that mostly distributes thrillers. So, we hoped it would land at Lifetime and we are grateful that it did!
Q) What did you take away from working as writer and star of the movie?
A) Really how exciting it is to create something and see it come to life! I love writing and acting. I am blessed that this opportunity came about and there are more to come. We have sold three movies this year!
Q) You are a part of social media. Are you excited/nervous for the instant fan feedback you're going to receive?
A) Always excited to receive the feedback and instantly, right? Of course, there is a bit of anxiousness, but we just want people to enjoy the ride and the story! We hope they do.
Q) Is there anything else you want to be sure fans know about the film?
A) Just thank you always for your support. We appreciate you very much!