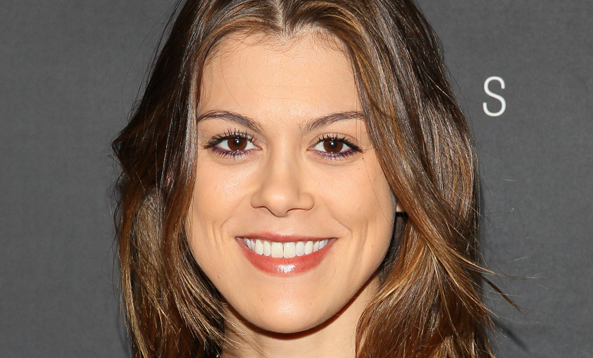 Interviews
Lindsey Shaw – Pretty Little Liars
By
|
By: Lisa Steinberg
Q) What are the recent projects that you are working on?
A) I'm just doing a bunch of auditions and meeting with people about some dark little things. I shot this dark little short film and a film called 1/1 that is premiering at a film festival in Germany on August 30 through September 2nd. So, that movie is going to be playing the whole time.
Q) Will you be touring to promote the film?
A) Yeah! I'm actually trying to book my ticket. I'm really stoked!
Q) Like a lot of Paily fans, we were excited about Paige's return. What drew you back to this role?
A) The illustrious writing crew over at "Pretty Little Liars." Then, I'm right back in Rosewood after being gone for such a long time. It was really a blessing to get that call because I really love it over there. Reprising this character, she has been one of the best parts of my life, career and journey. So, to step back into her shoes is fun at a very different time in my life.
Q) What have you learned or taken away from your time playing Paige all this time?
A) What I have learned the most from Paige is the power of persistence and to be courageous you have to be really persistent time and time again. She faced her shame head on and didn't run from it. She continued to show up and grow and didn't shrink from that. She really had courage in her ability to show herself and show herself at first and then how that evolved. Then, to come back and play this now…I just think it is a further evolution of who she is and she has just gotten stronger. I really admire that.
Q) What has surprised you the most about this role?
A) What has surprised me the most about this role is the depth I continue to experience with this character. Whether it be the depth of anger, happiness, sadness or love. I feel like she is taking these emotional turns that I wish I could sort of emulate in my life. But I think she has been willing to choose herself and that surprised me that she sort of became her own hero. I think that is supported in these episodes coming up. If we could all be our own hero…
Q) We watched Paige share a glass of wine with Emily last week. What kind of backstory were you given to what she has been doing up until her return to Rosewood?
A) I think a lot of that scene where they are sharing wine and dinner a lot of the backstory was shared. I learned about it right when we were reading that script and it was so full and rich. I had to picture them going through this the whole time. I think the comfort between Shay and I really supports what these characters have been through and that they really do know each other even more so than the last time we saw them together on screen. I think everything was sort of in that scene where their hopes and dreams of the Olympics and living together…I think everybody can imagine that they had that white picket fence little moment and were happy and summer lovin' and that kind of thing in Cali. I think they shared nothing but love and forgiveness with each other.
Q) There was a flash-forward with them and it seemed like there was a missing puzzle piece. Will we get any kind of flashbacks or more information about that?
A) I think there is just a road forward from here on out with Paige and Emily. I think they are writing the stories. So, whether the past will creep in, that's always a maybe. I think they have their sights on the future.
Q) They do say "the past is never far behind you."
A) Right?! That's probably why they seem to be stuck in this loop. [laughs]
Q) In Rosewood, nothing ever dies and neither does the past.
A) That's exactly it! There is always a main character trying to shake that shadow.
Q) Both of them are up for the same Swim Coach position. Will there be a friendly rivalry over it or is just "may the best woman win?"
A) I am proud to say that it stays pretty friendly in the lockeroom, but even so that doesn't come without tension – obviously. I don't think they have anything against each other at this point. I don't think they ever really had that towards each other – this malicious intent. I think that circumstances are what sort of drove them a part in Rosewood. But I think that there is nothing that they would ever hold against each other or try to work against each other. So, I think it is a really interesting way that this whole thing resolves. We'll just have to wait and see. But they are head to head thus far.
Q) Will Paige get to reunite with anyone else in Rosewood?
A) I definitely come back in the picture and put a strain on other relationships that Emily has. I think that there are some especially poignant moments with Alison, which were wonderful. I love the sort of triangle that they make. I can't say anything more… But we have some scenes together, the three of us.
Q) Paige and Alison have this deep rooted animosity towards each other. Does Paige seek revenge or now that everyone is back together will she use it to her advantage towards Alison?
A) She has her sights set ahead. Paige isn't there to rehash anything. Unfortunately, the atmosphere is still wrought with conflict like trip wires everywhere. So, I think inadvertently a lot of emotion does get brought up, especially with that triangle. But I really, really like the way Paige handles things this time. It was nice to play sort of an evolved version of that, but it is still pretty dicey.
Q) Will we get to see some resolution to the Paige and Alison animosity?
A) I think that there is some really good closure between the characters of Paige and Alison (Sasha Pieterse). I foresee that. But it takes a lot to get there. I think it is good. It is an honest portrayal of their relationship because obviously they are not super cool with each other. Seeing them grow up and smooth that over is fun to watch.
Q) Have you kept in touch with Shay [Mitchell?]
A) Shay is one of the most amazing people I have been in contact with so reuniting with her was just a dream as always. Her energy is so uplifting and vibrant. We just have a comfortability with one another and once the cameras start rolling that's very obvious. So, it is just so great to be back in her presence.
Q) The Anchors were very excited to have you back. How do we get you to stay in Rosewood?
A) You know what, just like be on the journey. Know what I'm saying? Paige will be here when you need her. She's got to dip, but enjoy the journey! It's hard enough to get attached to these characters, but we all want the best for these characters no matter what. So, I don't think you'll be disappointed with this go-around. I think Paige will have a huge amount of screen time. I think fans will be very satisfied.
Q) What kind of message would you send to people who have been dealing with social media and internet hate? I know a lot of people put the Emison fans against the Paily fans. How do you keep a good message and a good head about it all?
A) I have a very open relationship with social media and how it has affected me. I've been really honest on my Twitter with certain hot topics. I think that was hard for me to get feedback on my opinion and my perspective. But I also think it was a huge growing point. It's hard to grow in such a cosmic scale in front of everybody on social media able to see it. But it's great and I'm just a person like you're just a person. I'm wrong and I'm certainly not infallible. My modes of expression are exactly like yours, experimental. They are being created. Just honor everyone's creation and try to leave the judgment out of it. Know that sometimes you have to be the teacher. Sometimes you are learning the lesson and sometimes you have to teach the lesson. Be gracious and compassionate enough to do that. So, I think that I am trying to keep that in balance and do what I can to give back. I know that I am learning in equal measure. I hope people understand that it is their right to learn and their right to be wrong. It's their right to teach. I am humbled and grateful for a lot of feedback I've gotten. I just think we can leave the hate out of it. It really does hit me to my heart. It's just unnecessary.