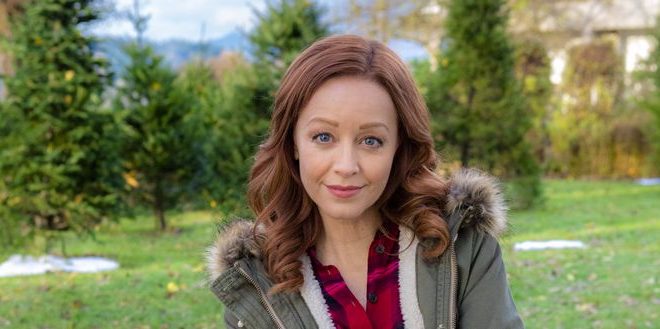 Interviews
Lindy Booth – Rocky Mountain Christmas
By
|
By: Lisa Steinberg
Q) Have you been working on any new projects lately?
A) In between shooting the fourth season of "The Librarians" and Rocky Mountain Christmas, I also shot an independent film that I'm really excited about called The Creatress. It's totally different than either of those parts and was a real challenge for me. Hopefully, it will come out in the new year.
Q) What is new this season on "The Librarians?"
A) the new season is big this year. It's a lot! It's a lot of action and drama. I think it's going to be really fun. I think fans are going to be really excited about it.
Q) What do you find challenging about your role as Cassandra?
A) Part of the challenge is also part of the joy of it. We have two more episodes this season than we have had in the past. We're doing twelve episodes this season so we've got a little more room to breath yet somehow we have managed to pack them. By the end of the season we're all kind of spinning from shooting it. [laughs] I'm excited to be able to watch it and actually see what we've done.
Q) Please tell us the premise for Rocky Mountain Christmas and about your character Sarah.
A) We meet Sarah at the beginning in New York and she's a very successful big city girl, but we quickly learn her life has taken a terrible turn. She's not had the greatest year as her beloved Aunt Beth has passed away and it's really affected her. She's also been dumped pretty horrible and, sadly, pretty publicly. She had been dating a pretty successful internet mogul who dumped her and it is now all over the front pages of gossip magazines. This is not the attention she is looking for so she decides to escape back to her family's ranch, which has always been this home and center of her heart. So, she goes back to it for the perfect Christmas that she always remembered having there. Of course, she finds out this too has been turned upside down. There is drama at the ranch and her uncle is thinking about selling it. Her favorite thing about Christmas is this Christmas parade her aunt always organized and there was a tree lighting ceremony, but none of that is happening this year. TO make matters more confusing, a very handsome movie star shows up in town. For someone who is trying to escape the limelight and just live a normal life. So, he throws another wrench into her entire cool, calm and collected Christmas plans.
Q) In what ways did you connect with Sarah?
A) I think we all sort of idealize the holidays and look forward to it. I certainly do after a long year of work and chaos – things going your way or not going your way. To go home and have that perfect family Christmas is something I always dreams about it. I think I can really relate to Sarah in the fact that half the time I go home and it's not the Christmas I was hoping for, but it ended up being the Christmas I need because I think when you're with family you always sort of get what you need, one way or another, even if it's not exactly what you thought you were bargaining for. [laughs]
Q) There is always this great balance of heart, humor, love and lessons with Hallmark movies. How did that play into this film?
A) One of the things we love about Hallmark movies, especially at Christmas time is that there is where we meet our heroine who is suffering from some sort of strife and drama she's been going through. Through the lessons she learns in the movie…Sarah just needs to learn how to let go of the expectations that she has and the preconceived notions that she has. Once she starts letting go of those and opening her heart and working for what she really wants, she does heal and she does have this great romance. It's not the romance she wanted or was planning for, but it's so sweet, so wonderful and so real that she really can't deny it anymore. I think though she starts out with a ton of heartbreak and that's really hard to get over – a little love and Christmas magic are pretty good healers.
Q) The setting also can feel like a character as well. With this being A Rocky Mountain Christmas, how does that setting really end up feeling like a character in itself as well?
A) That's a great question. I think for this, the real setting is the whole town and it starts sort of from her family's ranch. It's this beautiful place and an incredible location that we shot in out in Vancouver. It's a beautiful horse ranch and just the mountains, trees, horses and the house we shot in was so homey and cozy. Then, the town we shot in was so quaint and beautiful. You really get a sense of who this girl is through meeting the different people in the town and seeing her connection to it. The town actually becomes a part of Sarah and you really see why this girl is the way she is and this ranch she was raised on is all a part of her family and who she is. There is a very sweet message in it that no matter where you go you always take that with you. Even though when we first meet her she's this big city girl and put together and in control, you see the country girl. You see the ranch girl who just wants to be riding a horse through the snow with her best friend. You see that different side of her open up. I think the town, the setting and the ranch – though they are their own character in the movie they are also such a huge part of who she is that they really become a part of her as well.
Q) With this being set on a ranch, you get this "home is where the heart is feeling" as well.
A) Exactly! That really is one of the messages of this movie and the setting was so beautiful and the horses. All of us, just being out there in the cold…We were one of the lucky Hallmark movies that actually got the opportunity to shoot in the cold. We actually had snow one day that was real snow and it was beautiful! [smiles] So many of them are shot in the summer and you're pretending it is cold and pretending it is Christmas. This was actually freezing cold and did feel like Christmas a lot of the time. That opportunity to really bundle up and being up on the horses was so beautiful. It really did set the mood. I was ready to come home and decorate the house for Christmas after the movie.
Q) How were you able to get in the holiday spirit while filming?
A) We really did just finish shooting so the holidays are right around the corner. I'm a big Christmas fan and it is part of the reason why I love doing these movies. I love Christmas! It's my favorite time of year so I'm always willing to be in the Christmas spirit. The fact that it is just around the corner and I am booking flights to go home and nervously checking to be sure I have all my gifts purchased – doing this movie helped them. I'm always willing to be in the Christmas spirit though! [smiles]
Q) What are some of your favorite holiday traditions?
A) I always spend Christmas at home in Toronto with my family I've told everyone when I'm coming home. Much like a character in a Hallmark movie, "home is where the heart is" for me at Christmas. So, I'm looking forward to seeing my sister, my mom, my dad and my whole extended family. Christmas is so much fun for me because I get to home and see everyone. My girlfriends from high school and best friend all live back there so it is a busy, busy time of year for me. My favorite traditions just involve a lot of travel ad a lot of good food and drinks with people that I love.
Q) What was it like getting to work with costars Treat Williams and Kristoffer Polaha?
A) Kristoffer Polaha is such a gem to work with. I would work with him on everything I work on from now on if people would let me. We hit it off from day one. It was super easy to pretend fall in love with him. He's such a wonderful actor and such a funny guy. We laughed multiple times so hard that we both started crying. They had to bring makeup in to fix our faces because we had cried all of our makeup off. We could not have had any better of a time shooting this movie. He was definitely my partner in crime on this one. Then, Treat showed up and he sort of gave me a big hug on Day One. One of the interesting things about this movie (just as a side note) is that this is not a traditional family. Treat doesn't play my father. He plays my uncle. So, he has basically adopted me as a child and raised me since my mother wasn't able to. Treat turns to me that first day and says, "I don't care if I'm not really your dad in this movie. I think I am your dad and I think we should play it that way." From the second he said that and gave me that big warm hug, I just knew it was going to be so easy. And he's so easy, so wonderful, such a pro and had so many incredible stories about Hollywood history. It was just so wonderful to have him there and then to act alongside him…Every time I looked into his eyes I was just so comfortable and felt so loved by him. He was just such a dream to work with. It was really, really amazing.
Q) What do you hope viewers take away from watching Rocky Mountain Christmas?
A) I hope people watch this movie with their families and extended families – the families they chose or were born into. I hope you have as much fun watching it as we did making it because this one was really special and I we really did enjoy. I hope that people just remember that the most important part of the holidays is being around the people you love and let them know that you choose them and you love them.
Q) With "The Librarians" and this film, you play such fierce yet vulnerable women. What is it about these characters that you relate to and resonates with you?
A) I was raised by my mother and she's the toughest, smartest, sweetest, kindest, most loving and vulnerable and ferocious, crazy and silly – she's just the best! So, I was raised knowing that those women were out there and those were women I wanted to be. Now that I have nieces, nephews and little kids running around my life I want to set that example for them as well. So, I search out those parts. I think people search me out to play those parts. And I think I try to find those elements in characters that I can bring out and add to what is on the written page and develop. I think we are all of those things. To deny any one of those things and just play a character who is tough or just play a character who is weak is not as interesting to me as playing characters who are like the women I know in my life – which is multilayered, funny and interesting.
Q) How does it feeling knowing that your role on "The Librarians" has become such a powerful symbol for girls, disabled people and LGBTQ individuals?
A) Playing Cassandra is one of the great sort of honors of my life. There is something so amazing about playing a woman who has all of these different facets to herself and who is strong and independent and doesn't care what people think about her. She is just living her life and working through so much with her sickness and the way people judge her. I like to think we do it in a very honest and weighted way that we're not making fun of any of her issues. But I also like to think we bring a real lightness and joy to character as she is a woman who loves her life, despite all of these things that some people see as negative or different. This is a woman who loves her life and wants to do and wants to be better. The fact that this character is out there as a role model for young girls is an incredible honor for me to play her. I feel a real privilege about it and I hope I can continue to play her because I do feel it is important to have those characters out there. I get such sweet tweets, letters and people stop me on the street and say what the character means to them. It means so much to me and I love her just as much as they do.
Q) Is there anything else you want to be sure we share with our readers?
A) I'll be live tweeting the premiere of the movie. So, if people want to follow along I usually have a ton of fun doing that along with the fans. If people are interested in following that, I'll be doing that.