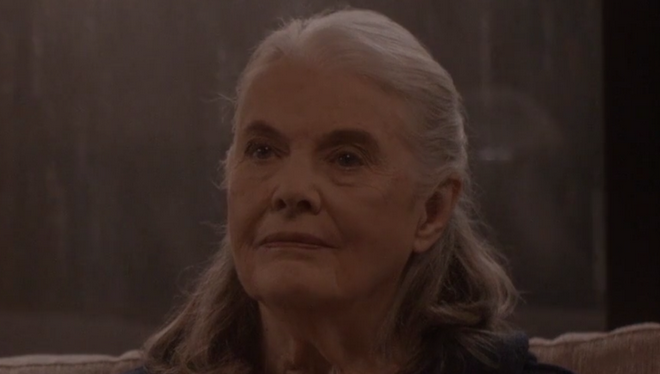 Interviews
Lois Smith – Marjorie Prime
By
|
By: Lisa Steinberg
Q) What are the recent projects that you are working on?
A) I'm promoting the film Marjorie Prime. Last week I did a little bit, two episodes, on "Sneaky Pete." I'm going to a play next Spring at the New Group. It's a new play called "Peace for Mary Francis." In a week or two we're going to do a little workshop on it. After that, I'm going to do a new Craig Lucas play called "I Was Most Alive With You." We've begun to workshop that too and I've been learning sign language for it.
Q) What was it about the film Marjorie Prime that made you want to be a part of it?
A) I loved it the minute I read it. It was given to me as soon as Jordan Harrison had finished writing it. I don't know if I ever liked a new play as immediately as I liked that one. I've probably been living with it for about four years since that first introduction and I've spent a lot of time with it. I've done readings, two productions and a film by now. It's a very unusual and unique experience, especially for me, to have such a journey with the material. I love it because it is smart. The play more than the film, is funny, though that's not it's largest point. It's so human and so thoughtful. I love it.
Q) What have you found challenging about your role?
A) By the time we did the film, I had done one production of it – rehearsals and a run in it in Los Angeles. We shot the film just before the New York production. It was an odd scheduling. I wouldn't say there was something particularly new in preparing for the film. It's very different to be up and about in the house, on the beach and in the pool. For the play, I was almost always in a large reclining chair. It took place in one room and that's basically where Marjorie lived. That was interesting and an interesting departure. Lots of things were challenging about making the film, but in a way I was so fortunate to be so well acquainted with it.
Q) Who were you most looking forward to working with in the film?
A) The lovely cast made us so lucky. That came together rather quickly – to finish the casting. Geena [Davis] and Tim, in particular. Tim [Robbins] was very last minute to be settled. I was thrilled with the cast though, I must say. Jon Hamm was the first of the actors to come to it and that was just the best news. It was thrilling! To have Jon as Walter Prime sort of made it all possible.
Q) What do you hope viewers take away from watching Marjorie Prime?
A) For me it is the experience of the great complication of being alive and remembering – making one's way through the course of one's lifetime is so much about family and memory. Although there is a technology and sci-fi component to the story, that doesn't seem to be really what it is about. It's about humans and how we live and function and speak and think to each other and understand and remember our lives. I think the author and the filmmaking – all of them – have done it so interesting that it makes us consider those things in a new way. The idea of AI with humanity and memory and then to engage with it and have it multiply – I think it is a fascinating way to think about it.
Q) We loved seeing you as Gran on "True Blood." What did you take away from working on the series?
A) Again, it was such a part of such a lovely cast. The character was really fun, smart and warm and lovely. Then, she came to such a quick and terrible end, which I knew about ahead of time. It was interesting to see how beloved that character was. She was only basically in the first half of the first season once in a while. It was mostly flashbacks and I believe I came out of the grave once near the end there. But that was a great pleasure.
Q) Is there a role you haven't not taken on yet that you'd like to star in?
A) That's interesting. I've never been really great about saying, "This is something that I really want to do." I once really wanted to do "The Cherry Orchard" and told that to Irene Lewis, who at that point ran the Center Stage in Baltimore. And we did do it and I got to play Madame Ranyevskaya. I also had mentioned to Irene that I had never done Shaw. When I was in school I really liked Shaw plays, but I never had done one. Then, she produced "Mrs. Warren's Profession," which I got to play in on the Baltimore Center Stage. Now, I'm really embarrassed and ashamed to say that there isn't one. I really ought to have one to be able to say, "This is it. This is what I really want to do." I know I've been really fortunate to be in new plays that only I know about until they appear. So, I guess maybe I'm just waiting for a new one.
Q) What would you like to say to everyone who is a fan and supporter of you and your work?
A) Oh what a lovely question! I want to tell them to get themselves to the Quad Theater to see Marjorie Prime because it's a little indie so there isn't going to be a great publicity campaign. This is when it is on. So, I'd love for people to see it on the big screen rather than some iPhone. Go to the Quad and see Marjorie Prime.