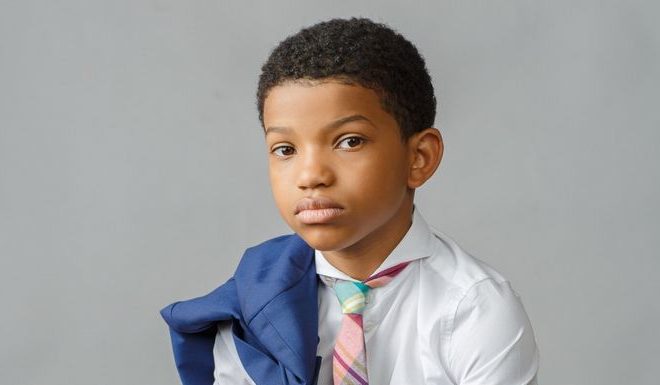 Interviews
Lonnie Chavis – White Famous
By
|
By: Jamie Steinberg
Q) What are the recent projects that you are working on?
A) I've wrapped on Season 1 of "White Famous," which is currently airing on Showtime on Sundays at 10pm. I'm still shooting "This Is Us" and it is also currently airing on NBC at 9pm.
Q) Please tell us the premise for "White Famous" and about your character Trevor.
A) White Famous is about a standup comic Floyd Mooney played by Jay Pharoah trying to cross over into Hollywood and become "white famous." Trevor is Floyd's son and he's smart and curious. Oh he asks a lot of questions!
Q) What made you want to be a part of the show?
A) I really love comedy and I knew this would be a great opportunity to learn about comedy.
Q) Was there anything you added to Trevor that wasn't originally written for you?
A) There was a lot of improv going on and I kind of just caught on and started throwing in things. Sometimes it worked, sometimes it didn't.
Q) What is it like working with comedian Jay Pharoah?
A) Fun! He's really funny and a really cool person he made it really easy to do my job.
Q) What do you hope viewers take away from watching the series?
A) I hope that they laugh and communicate more with their kids.
Q) We're also seeing you on "This Is Us." How was Randall originally described to you?
A) Randall was described to me as the 9-year-old version of Sterling K. Brown who was adopted.
Q) What have been some of your most memorable moments from filming the show?
A) Probably that scene about racism in Episode Four this season. I learned so much that I didn't know and I think it really touched some hearts. Last season Episode Nine meant a lot to me to know that there are people who will have your back or carry you through life.
Q) What have you taken away from working with on screen parents Mandy Mooreand Milo Ventimiglia?
A) They are true professionals and by watching them I'm learning how to be one. They are also really good people.
Q) Did you think the show would become such a fan favorite so quickly?
A) Yes! Because are show is based on real life issues.
Q) Have people started recognizing you from your time on the show?
A) Yes! A lot of people do now.
Q) You are a part of social media. Do you enjoy the fan feedback you receive to episodes?
A) Yes I do. The feedback inspires me to keep giving it my best shot. My character Randall seems to really touch people.
Q) What would you like to say to everyone who is a fan and supporter of you and your work?
A) I would like to say thank you for supporting me. I'm really giving it my all and I hope I can continue to play characters that people enjoy and relate to. I'm very grateful thank you!