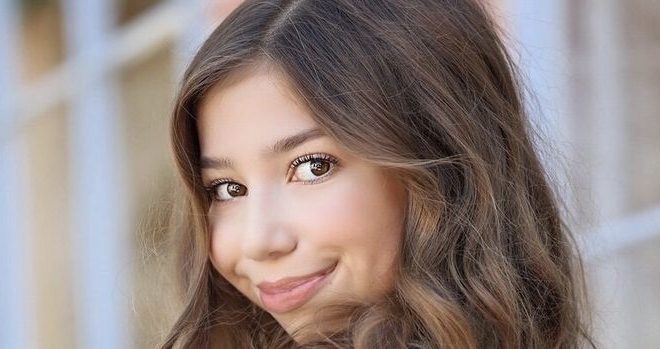 Shea Anne Photography
Interviews
LuLu Lambros – Stuck in the Middle
By
|
By: Jamie Steinberg
Q) What are the recent projects that you are working on?
A) It's an exciting time! "Stuck in the Middle" was renewed for another season. So, we are filming season three now. It really is a dream job with a dream cast and crew. I can't think of a better place to work. I'm grateful every day to the producers, writers and Disney for the opportunity to create with them, entertain with them and learn from them. My character, Ellie, has been a true gift!
Q) Please tell us how your character Ellie on "Stuck in the Middle" was originally described to you.
A) The original description of Ellie was actually pretty much what you see on the show now! Obviously, the producers and writers had a clear idea and it was up to me to bring their vision to life, with a little bit of me thrown in.  Ellie was said to be the only child of Bethany, who is overprotected and innocent yet eager. She is fascinated with the Diaz family, wanting to be a part of the family, always looking for a way to hang with them and Harley's (Jenna Ortega) best friend and biggest fan.
Q) What made you want to be a part of the show?
A) OMG, I had been watching the Disney Channel since I could remember! I grew up watching "Hannah Montana" and "Good Luck Charlie." This was an opportunity to be a Disney kid on a new show. I was twelve years old at the time and the thought of working with seven other kids on the set of a Disney show…Well, it's every kid actor's dream. Then, there was the character of Ellie, so sweet and quirky. I couldn't wait to get started!
Q) You play Jenna Ortega's best friend on the show. Did you guys spend much time together before the show started to bond?
A) Actually, no because I was cast just before the pilot was set to shoot. As a recurring character though, I felt fortunate to be part of the pilot episode. Being there from the beginning did give me a chance to bond with Jenna and the other actors. Also, it was a location shoot which means we were not in the studio, which is always fun – kind of like a field trip. Jenna, the other actors and I had an awesome time together filming the pilot.  It was a great start to a great show, and it didn't hurt that Ellie had a fun storyline from the get go!
Q) What have been some of your most memorable moments from filming "Stuck in the Middle?"
A) Well, the first would be the premiere episode viewing party! It was a surreal experience to come together with the cast and crew and our families to watch the premiere episode of "Stuck in the Middle." We watched in real time, along with the rest of the country, live tweeting with fans. The love and support we got from the fans that night was mind blowing. Even today, three seasons in, I'm blown away by the show's fans.  I'm thankful every day for their loyalty, support and enthusiasm. My other memorable moments, honestly, are the little moments with my set family – the laughs, the meals we share, the learning moments and the feeling of being part of a creative team working together toward one goal.  It's cool to be in an industry where adults and kids work side by side!
Q) What makes the show such a perfect fit for the Disney Channel?
A) I think of the Disney Channel not just as a kids' network, but as a family network. The Disney shows I grew up watching were shows about families – "Hannah Montana," "The Suite Life," "Shake it Up," "Good Luck Charlie," "Jessie," etc. I watched these shows with my mom and dad, as a family. The family setting makes the shows very relatable to kids and parents because. after all, kids and parents are a big part of each others' "Stuck in the Middle" is a perfect example of a show about a family for families. It's fun, it's real and it's relatable!  Disney has had other more recent examples like "Liv and Maddy," "Girl Meets World," "KC Undercover" and "Andi Mack."  Like "Stuck in the Middle," these shows are about families, but the cool thing is that these Disney families are all different – two parents, single parents, different ethnicities and different economic backgrounds. Just like real life!
Q) You are a part of social media. Do you enjoy the fan feedback you receive to episodes?
A) It's the best! Social media allows me to connect with the show's fans in a way that wouldn't be possible without it. I have received so much support and encouragement from fans around the world. It's all about the fans. We do what we do for them and wouldn't be where we are without them. They make me smile every day. I read every post and every comment from fans. Please keep them coming! And if you see me out and about somewhere, please say hi! I'm very friendly and love meeting you guys.
Q) What originally made you want to be an actress?
A) I told my parents when I was three years old that I wanted to be on TV just like the kids on my favorite shows and asked how I could do that. My parents told me I would have to have an agent so I said, "Great, let's get one!" But it wasn't that easy. My parents wanted to be sure that I was serious so they put me in community theater.  I did that year round until I was ten years old. At around that time, I was scouted by my current agent in an acting showcase at my acting school.  I started going on auditions and soon started booking commercials and a few guest starring roles on shows. I booked "Stuck in the Middle" at about the two year mark.
Q) What advice would you give to others who want to start out in the acting business?
A) My best advice is to get into an acting class. Always train so that when opportunities come your way you are prepared and confident. And be yourself. You are unique, embrace that and rock it! Every audition is an opportunity to practice your craft in front of an audience, have fun. Even if you don't book that one, you are now more experienced, you've probably learned something and are ready for the next one!
Q) What have you taken away from your time working on the show?
A) Whenever I'm on set I feel fortunate to be doing what I love to do and what we as actors work toward every day, being a working actor. The people make the experience. I want to grow as an actress and every cast and crew member I work with teaches me something or touches me in some way. These are wonderful relationships and my hope is that others feel the same way after working with me!