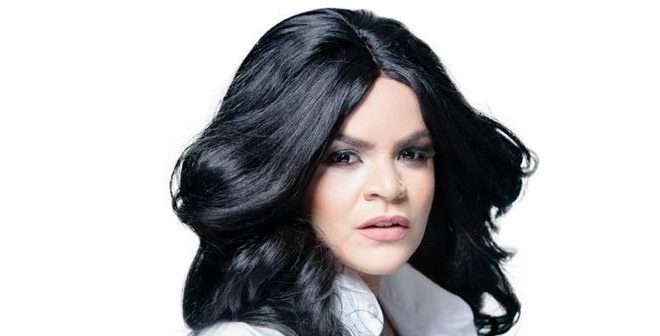 Interviews
MARi – Have Yourself a MARi Little Christmas
By
|
By: Jamie Steinberg
Q) How would you describe your sound?
A) My sound is just like me…fun, Latin, gaudy, fabulous, dance, Spanglish music. It will ever evolve and have different sounds, but you will always know it's MARi.
Q) Who are some of your musical influences?
A) I love my fellow Cubana and legend Celia Cruz for her passion and fashion and old school Mariah's chops.
Q) How did you narrow the song choices down to just five for your EP Have Yourself a MARi Little Christmas?
A) This is my favorite project so far. I love everything about Christmas. I am a walking shiny Christmas tree! I honestly didn't narrow down on purpose. But I wanted quality and not quantity so we settled with an EP for this year. I have originals and some more classic twists up my sleeve for next year. But on this EP, it came down to picking some of my favs that gave a taste of everything I love about Christmas with some classics done in MARi style.
Q) What songs off your EP are you looking forward to performing live?
A) I am excited to perform "Feliz Navidad" because it's such a fun dance track and one that is very commercial and universal that everyone can sing along to. And even though we have heard "Mary Did You Know" a million times, I don't think it's been done like this and I think people will love it.
Q) Why was it so important for you to make the EP bilingual?
A) I am all about staying true to my roots on every level, fashion, culture, etc. I think we should be secure and confident in who we are and where we come from. I wanted everyone to be able to understand so I did not cater to just one audience in lyrics or melody. I think people appreciate much more when you are just true to who you are.
Q) How much of hand do you have in the production of your music?
A) I am Latina, so probably too much. [laughs] I am very hands on and vocal about what I like and feel, but am also humble and open enough to want to create true art and that comes with letting the rest of the team to do their jobs and have their say. I will come up with an initial idea and, though it sounds absurd, I hear it finished in my head and it's like a game of charades to get what's inside come to life. I am especially hands on with vocal production as I feel I want to make sure they get the same quality and authenticity as a live performance.
Q) What do you hope listeners take away from listening to your album as a whole?
A) I truly hope this Christmas music makes people laugh, dance and dance some more! Christmas is a hard time of the year for so many and I would like to lighten the mood a bit for a moment and bring some joy and peace. It's also freezing and for those of you that are not able to travel to Puerto Rico or Cuba or somewhere deliciously warm then I will bring the heat to you. I would like it played on every station, every Christmas party. It literally is for any scenario and every age. I love people and this is my gift to everyone this year.
Q) You'll be performing at the Dunkin Donuts Thanksgiving Day parade. What can fans expect from a live MARi performance?
A) The parades are my absolute favorite because I get to see so many new faces and this is why I do music is for the people. You will see me runway ready (as always) with lots of fierce dancers on a float and it is just a super fab time! I will also be in the Nashville Christmas parade so if you are in the area, I would love to see you!
Q) Where are some of your favorite places to perform and what makes those locations so significant to you?
A) I know this will sound funny, but I love to do churches and bars. They are really both one in the same, with a lot of broken people that need love and good music and I feel like I mold to both environments without losing myself. I like to meet everyone where they are at and this is part of staying true to who I am in life and my art.
Q) Who would you most like to collaborate with on a song in the future?
A) I would love to collab with Luis Fonsi or Marc Anthony. They are classy, but true to the times.
Q) What album/band are you currently listening to and why do you dig them? 
A) I've actually been listening to the Latin Top 40 and comparing to where it's evolved from. And seeing where we can find a healthy balance because we went from powerful and meaningful songs with maybe an older school melody to now hot beats, but just a few lyrics that don't even need to be sung well. And that goes for music as a whole.
Q) You are a part of social media. Why is that such an important way for you to connect with your fans?
A) Honestly, thank God for social media because we are able to reach the masses and let them in on as little or as much as we need to from our profession to our personal lives. It's a way to be real, up close and personal. Especially for those that aren't able to make it to a live show and don't want to just listen, but to see and get to know each other a bit more.
Q) What would you like to say to everyone who is a fan and supporter of you and your work?
A) Please stay connected guys! I love meeting you all and I am so thankful for all your love and support! Each and every one of you are vital and important. Find me on all social media outlets @mariburelle or mariburelle.com