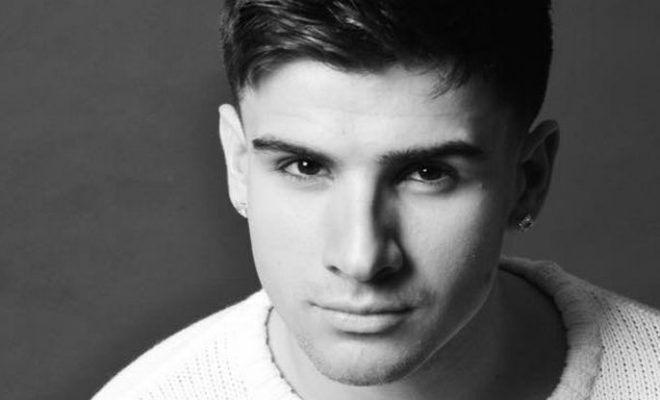 Interviews
Matt LeGrand – All Good
By
|
By: Jamie Steinberg
Q) How would you describe your sound?
A) I would put my sound in the pop realm for sure, though I don't like boxing my sound into a specific word. I think that is for my audience to have fun with! I have many different facets and I'm proud of all of them. There is always so much opportunity to branch out into different things!
Q) Who are some of your musical influences?
A) My musical influences are Ed Sheeran, The 1975, Chris Martin, Bono. These people have completely set a fire in my soul and I really, really enjoy listening to each one of them!
Q) Talk about the story behind your song "All Good." What do you think it is about the song that fans connect to?
A) I think the fans connect with the fact that it's a story about self love and self care, which is something so many people overlook. We must look out for ourselves before anybody else because we only have us for the rest of our lives. I think the song is a great portrayal of that idea. I now love saying the phrase "All Good" because it's a positive statement that can be used at any moment!
Q) How does the video for the track play into the message behind it?
A) The video shows me having fun on my own. I really love to run, hang out on the beach and try new experiences like surfing! The video is a reminder that it's ok to have fun on your own! It was really as fun as it looked!
Q) What is your song writing process? Do you need music before you can create lyrics?
A) It's kind of a different process every time, but I usually write with my acoustic guitar. I will play around with my instrument eventually making some sort of riff that makes me feel good. Then, I'll just start humming along. Most of it is just awful, but if I'm lucky something amazing might come up! I use my voice memo a ton as well! That is one of the best songwriting tools out there! I hope to release my acoustic music soon!
Q) How much of hand do you have in the production of your music?
A) This early on in my career, I'm doing lots of developing and observing. I'm learning from the best on how the business works and how to become a professional! I would say that I have a hundred percent control on the direction of my career and when it comes to doing things that I may not be so experienced in, I let the people I trust help me. Let's just say I wouldn't want a stockbroker to perform eye surgery on me! [laughs]
Q) What made you decide to cover Stevie Wonder's song "What Christmas Means To Me?"
A) I had heard the song so many times in classic movies when I was growing up. I never knew it was Stevie until this past holiday. I just lit up when I figured out it was him! When I was listening to the song I kept asking myself the question "What does Christmas mean to me?" And, so, I answered it. To me it simply means being present with those you love and create memories that you can have forever! I also think Stevie is a remarkable figure that will stay alive in our hearts forever.
Q) What can fans expect from a live Matt LeGrand performance?
A) I can assure you that they can expect one hell of a good time! I want people to have an experience that they can talk about for a while. I want my fans to be taken away from there daily normal lives for an hour or two. My goal is to turn a bad day into a great one and a great one into an amazing one! They can expect to see and feel an energy that they may not have experienced before.
Q) Will you be releasing an EP or full album in the near future?
A) We expect to do it this year! We have an amazing year looking ahead! If you haven't hopped on the Matt LeGrand train yet, I'm telling you that now is the time! So many exciting things coming!
Q) Where are some of your favorite places to perform and what makes those locations so significant to you?
A) I recently just performed live on TV for the first time just before the holiday. That whole experience was so much fun! The energy and the behind the scenes of a TV program is very entertaining to watch. We were treated so well from the moment we walked in, to the moment we left. I would go back to WCIU anytime!
Q) Who would you most like to collaborate with on a song in the future?
A) I'd love to collaborate with Matty Healy and The 1975. I think what they're doing is so cool and original! They really have built up a cult of really loyal fans, which is what I hope to emulate!
Q) What album/band are you currently listening to and why do you dig them? 
A) Believe it or not, I am actually listening to a lot of musical theater. I have a deep passion for it that I never knew about. The Hamilton musical is one of the best pieces of art ever created. It hits all the right points and more. It's funny and serious. It's modern and old. It's contemporary and historical! It's a phenomenon that has completely changed the game that it's a part of. I really do enjoy this and I hope to one day be able to make a name for myself in the musical theater world.
Q) You are a part of social media. Why is that such an important way for you to connect with your fans?
A) It's important because my supporters are everything. Without them none of this happens. Without them my dream isn't achievable. Without people to share what we as a team have created, what is the point of it all? It's very important to speak with my fans and ask their opinions of my latest releases or projects. With social media I have the unique opportunity to do that!
Q) What would you like to say to everyone who is a fan and supporter of you and your work?
A) First of all, thank you Starry Constellation Magazine for giving me the opportunity to be a feature! I thought your questions were fantastic. Thank you from the bottom of my heart for just giving my music a listen and giving me your humble opinion about it. It truly means the world! Let's make this new year, our year! Here we go!