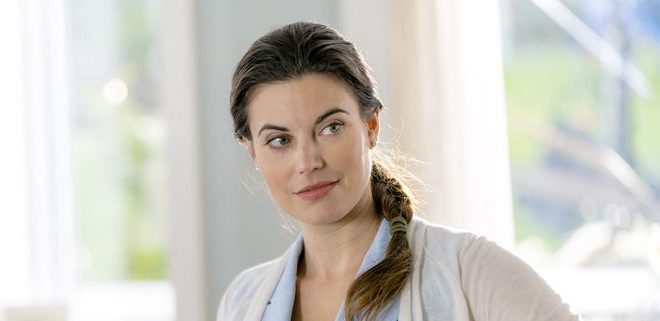 Photo credit: Copyright 2017 Crown Media United States LLC/Photographer: Ricardo Hubbs
Interviews
Meghan Ory – Chesapeake Shores
By
|
By: Lisa Steinberg
Q) What are the recent projects that you are working on?
A) I am actually taking some time off now that Season Two is done, which has been so nice and relaxing.
Q) What was it about "Chesapeake Shores" that made you want to be a part of the series?
A) I loved that it was an ensemble show about a family. It allows us to tell all sorts of different stories and really get to know the characters intimately.
Q) How was Abby O'Brien originally described to you?
A) As a career driven single mom trying to keep it all together.
Q) What have you found challenging about portraying her?
A) It was really important to me to do justice to Abby, particularly in her experience of being a single mother of an eight and ten year old; both of which I have no immediate experience with. I think our writers have consistently been great about following that storyline in a truthful way however, hopefully the audience agrees.
Q) Are there any similarities between you and your character?
A) I have definitely been described as a workaholic which I, like Abby, am trying to rectify. Hence, my current vacation time!
Q) Was there instant chemistry when the cast began working together or did you spend some time together to bond as a "family?"
A) Some of the cast knew each other before we began filming so that certainly helped. However, we do a lot of cast dinners and I think that helped us bond early on.
Q) What can you tease is in store this season for Abby and Trace?
A) Trace (Jesse Metcalfe) and Abby are at a very interesting point in their relationship in Season Two. They have this rich history and know each other so well however now they need to get to know each other and their relationship as adults, which is so different. Needless to say, things are a bit more complicated now than they were as teenagers. It may not always be smooth sailing.
Q) What have been some of your most memorable moments or favorite episodes from filming "Chesapeake Shores?"
A) I love filming the breakfast scenes at the O'Brien house. They are a lot of work and take a long time to finish because there are so many aspects involved, but it's also one of the only times (mostly) the whole family is together so it's pretty rowdy and fun as well!
Q) What have you personally taken away from your time working on the series?
A) I have loved working with our cast and crew, everyone puts a lot of heart into their work on "Chesapeake Shores" and I think it really shows in the final product. Hopefully, we will be doing it for years to come.
Q) What would you like to say to "Chessies," fans of the show?
A) Chessies! We love the Chessies and are so happy that they are loving the show and liking Season Two so far. I think they are in for a treat this season, it's going to keep them on their toes!