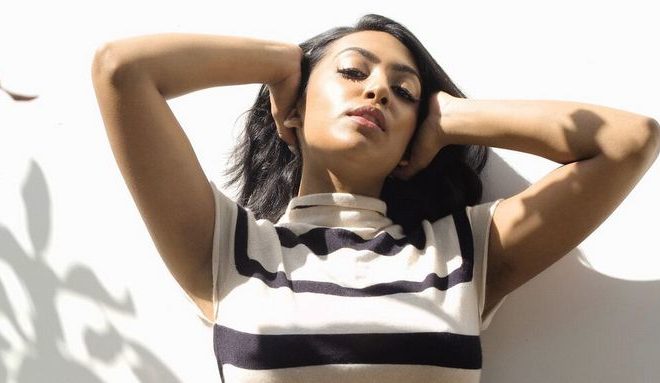 Interviews
Melinda Shankar – Slasher: Guilty Party
By
|
By: Jamie Steinberg
Q) What are the recent projects that you are working on?
A) This year has been really exciting for me because I've had four projects on the go keeping me busy! Most recently a G-rated Christmas Wedding movie, which was a welcomed change after my R-rated season on "Slasher!" "Mooom" and "Filth City" were digital series released this year along with Darker than Night, a horror film releasing by end of year.
Q) Please tell us about the premise for "Slasher: Guilty Party."
A) "Slasher GP" is about the aftermath of a secret kept by five summer camp counsellors who ran Camp Motega five years prior. The counsellors return to the camp site now turned into a spiritual cult to continue their pla, but things don't go as they expect when they discover that someone may have found their secret.
Q) How was Talvinder originally described to you?
A) To be honest, I was given the most general, vague character description for Tal. They said she was "popular, friendly and loveable" (which is ironic if you have seen the show). My audition scenes focused a lot on body physicality and vocal chord power vs dialogue. I had just finished filming another project in the horror genre so I was strangely used to crying and screaming.
Q) Did you add anything that wasn't initially scripted for you? 
A) Since early on in my career I always valued the idea of a collaboration when creating a character. If a phrase didn't roll off my tongue naturally I'd offer an alternate line or if I had a fun idea for Tal then I'd pull inspiration from moments of my personal life that I'd want to lend to her. Like how she ties up her button downs, I always do that because it's better for my proportions so I asked the wardrobe department if that could be her style.
Q) How much of a departure was Talvinder from other roles you have played?
A) Bringing Tal to life was very different than my other work. Pretending to be murdered and hated by your real life best friends requires serious separation of self and continuous focus on fictional figments of my imagination taking reign over my natural state of emotions. We filmed overnight in the freezing cold. I had to wear thin summer attire and pretend not to literally freeze to death so that helped to heighten the uncomfortable energy of the storyline. I often play mischievous, boy crazy, fun party girl, but this girl had mental depth to her that exercised my personal ability in a challenging way. I really enjoyed my experience putting myself out of my comfort zone. I hope you all liked the series!
Q) Was there a motive for all her scheming or was it just a game to her?
A) Call me biased, but I have a soft spot for Tal. As the new girl to the group, I believe she just really wanted to fit in with the veteran counsellors. Whether her state of mentality differentiated between her inappropriate or desperate efforts, I think her intentions were to belong and secure some stability in her life. Of course, my opinion is my own perspective on the situation!
Q) What were some of your most memorable moments from filming "Slasher: Guilty Party?"
A) The scenes with five people ganged up against me were memorable in that I felt an uncomfortable level of sadness, confusion and bullying that I had not felt as Melinda, helping me to grow as both a character and actress having to expand my range of emotional reserve I allot to acting. While filming the heavier scenes I would purposely isolate myself from my amazing crew/cast just to stay in character. I usually wear contact lenses in real life and I had to take them off to fit the prosthetic piece over my face. To feel really impaired, losing one of my major senses while filming in the pitch black cold forests overnight added to the frightening experience. I couldn't stop crying after the director called "cut" because I was feeling so much for Tal. When you see those scenes, know that the struggle was real!
Q) Was there anyone in the cast you didn't get to work with that you would have liked to have shared a scene with?
A) I would have LOVED to have had a scene with the spiritual cult. I wasn't in that part of the production since it was in another time frame, but after seeing a couple of the episodes I think it is cool to hear them talk all about "Talvinder." I think she would have had interesting conversations with them.
Q) What did you personally take away from working on this project?
A) Personally, I took away so much after filming this project. I feel a sense of accomplishment showing the world a real, raw version of myself very different from the one they're used to. Having my first filmed hookup scene was also notable as I think it's exciting to still have "firsts" after being in show business for over ten years! I learned to connect my real memories to a character to give authenticity and I feel grateful that I had the opportunity to play it out for the world to see!
Q) You are a part of social media. Do you enjoy the instant fan feedback you receive to your work?
A) I really do enjoy reading the messages and love notes from fans. I am lucky to have some of the same people supporting my career since I was sixteen years old and they have grown up with me as much as I have them. It's humbling and grounding to know that the choices I make with my life impacts souls I have yet to meet. I don't take that type of societal connection for granted.
Q) What would you like to say to everyone who is a fan and supporter of you and your work?
A) THANK YOU FROM THE BOTTOM OF MY HEART for following this wild journey called LIFE with me. I appreciate those who spend their TIME and ENERGY investing in me. I feel strong and loved. I hope to take this charge and continue making projects until the end of Melinda.