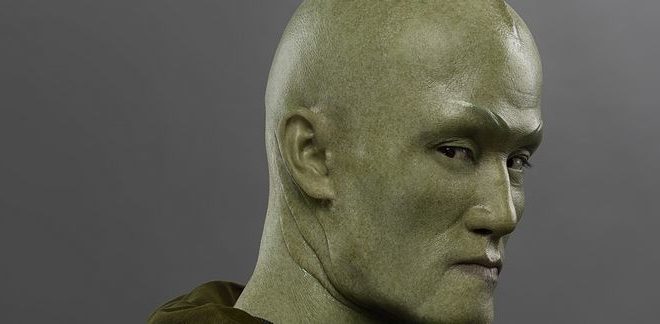 ABC/Michael Muller
Interviews
Mike Moh – Marvel's Inhumans
By
|
By: Jamie Steinberg
Q) What are the recent projects that you are working on?
A) Currently working on writing/developing a slate of action films with my team. Looking forward to bringing heart-pounding action and engrossing story-telling to viewers all over the world!
Q) Please tell us the premise for "Marvel's Inhumans" and about your character Triton.
A) "Marvel's Inhumans" is a one-of-a-kind TV series about a family fighting for survival in the time of their greatest crisis. My character, Triton, is sent to Earth from his home on the Moon to locate and rescue other "Inhumans" that have turned up on Earth. Triton is green and has the fish-like ability to live underwater.
Q) What made you want to be a part of the series?
A) It's MARVEL! As a fan of all things Marvel, I was excited to bring the Inhuman Royal Family to life. Not only that, but a chance to work with a stellar cast that ended up being so much fun to work with!
Q) What have you found challenging about your role?
A) Acting in prosthetics was not something I had done before. It's definitely difficult to emote with a full-face prosthetic on, but I eventually got used to it!
Q) Talk about the process for getting into character with the body make-up.
A) There are multiple stages to the make-up. There are three prosthetic silicone pieces for my head: the cowl and fin, the faceplate and the chin. After that, many layers of different colors give my face the textured green look. And, finally, my fingers and gills. All in all, it is a process that took three to five hours each day!
Q) What were some of your most memorable moments from filming "Marvel's Inhumans?"
A) If I answer this, we may go into spoiler territory…I may have already said too much! [wink]
Q) What do you think it is about the show that will make it a fast fan favorite?
A) Lockjaw. Beyond Lockjaw, the relationships of all the Royal Family members and how they respond in times of crisis is what excites me the most. Oh, and the action and special effects!
Q) You are a part of social media. Are you looking forward to the instant fan feedback you'll receive to the series?
A) Yes, I've already received an outpouring of support of the series. Marvel fans are the best and Inhumans fans will always have a special place in my heart! Can't wait for everyone to see more of the show and trust me when I say it will keep on getting better and better! [smile]