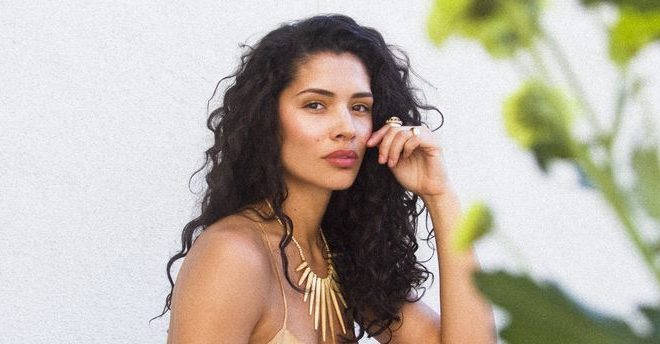 Photographer: Kenny Wormald/Styling: Lauren Bennett
Interviews
Miranda Rae Mayo – Chicago Fire
By
|
By: Jamie Steinberg
Q) What are the recent projects you have been working on?
A) I taught a workshop for the Jr. Company Foundation in my hometown Fresno, CA over the Winter break. My best friend and fellow Fresnan Michael J. Willett and I created the class together and produced a concert to raise money for the program.  The JCF is a volunteer based group dedicated to funding and running a series of classes and workshops for a group of young performers called the Junior Company. Michael and I are alumni and were thrilled to get to collaborate with the kids and volunteer members who taught us when we were kids. We raised over $5,000 for the program and were so moved by the whole process of putting it together.
I've also been collaborating with a bunch of incredible artists on new original music and a pilot that I look forward to sharing with everyone in the upcoming months!
Q) Please tell us what you can tease is new this season on "Chicago Fire" and with Stella.
A) I honestly can't tease much, but things become very clear about where Stella and Severide (Taylor Kinney) are headed in the last half of the season.
Q) What continues to challenge you about playing this role?
A) Winter. And the wind.
Q) The inspiration for Stella came from a firehouse that only had two female fire fighters. How does that make you feel?
A) I am grateful they were there! Had they not, Stella might not have been created!
Q) After Severide's pursuit of Anna last season, has Stella moved on from him and started looking for love again?
A) Stella would say yes, she has.
Q) With such a large cast is there anyone you haven't filmed with yet that you'd love to work with?
A) I've done scenes with just about everyon, but I would love more scenes with Boden (Eamonn Walker) and Mouch (Christian Stolte). I've gotten to work with everyone else pretty regularly. And Platt (Amy Morton)!!!
Q) The cast gets along so well! What have been some of your most memorable behind the scenes moments from filming "Chicago Fire?"
A) I remember earlier this season we shot an incident right outside the Adler Planetarium for two days. It was on this grassy hill that led down to Lake Michigan. The weather was gorgeous and everyone was in a great mood. That was probably one of my favorite set days, ever.
Q) What do you think it is about the show that has made it such a fan favorite?
A) I genuinely think it's the team of people putting it together. The positive energy is palpable and it's not just the cast you see on screen! The crew, our producers, our creators – everyone does their best to look out for one another. I think there's something special about that and it affects the final product more than most people realize.
Q) You also very generously donate your time to a number of charitable organizations. In this current political climate, what can all artists/actors be doing to push boundaries and share in the support of resistance?
A) It doesn't feel right to speak on behalf of all artists. I think everyone is doing the best they can. I do know that in my own life authenticity and compassion are game changers. I'm a big proponent of being bold and stating how I truly feel while also being able to listen and value people who view things differently than I do.
Q) You are a part of social media. Do you enjoy the instant fan feedback you receive to episodes?
A) Of course! There's no show without the fans! It's a lot of fun to see Chihards cheer the fire family on. It's also interesting to see whose side people take when members of 51 are feuding with one another.
Q) What would you like to say to everyone who is a fan and supporter of you and your work?
A) What a rebel rouser you must be. Thank you for your love and support. Your positive energy fuels me and I appreciate you more than I can put into words. Don't get crazy and think that we are different because I'm on a TV show. I don't deserve anything more or less than anyone else. Please keep on saying the things that you feel are right and true and be willing to listen to others compassionately when they do the same. I think that's one way we can change the world; operating from love, even when it's challenging. Oh! And don't be afraid to slow down and take deep breaths every now and then if you need to. It helps me so much. That's all 🙂 Love you xoxo