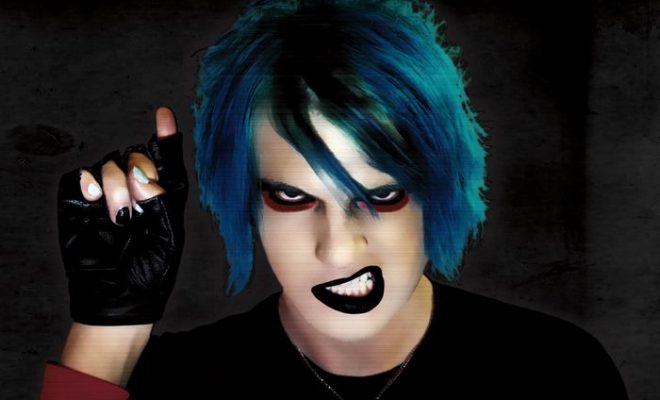 Features
MK Ultra Causes A "Hollywood Holocaust" With New EP
By
|
By: Arlene Allen
MK Ultra (not to be confused with the band of the 1990s) is an on-the-edge independent artist out of Los Angeles who just dropped his latest five song EP entitled Hollywood Holocaust.  As the self professed "Evil One" (in the name of art), this EP is not for the faint of heart. MK is "a product of corporate America" and he has produced an in-your-face musical journey into the phoniness and narcissism pervading modern culture today.
Sex, drugs and grinding rock and roll await those who travel into MK's dark world. Opening with song "Grade-A Hooker," MK tells us right off he "feels no shame, shame shame/Know that I'm insane, sane, sane." He's "every parent's worst nightmare" in the incredibly catchy "X-Rated" (which still gets stuck in my head and I find myself bopping around to). This is the current single released from the EP and its accompanying video has caused quite a stir on the internet.
The dark underbelly of Hollywood is exposed in title song "Hollywood Holocaust," a track full of angry, grinding guitars that skewers narcissism, consumerism and the loss of soul to corporate America.  The song was released late last year as the first single and EP teaser. This is the hardest rocking song on the CD and it could easily be right at home on hard rock stations across the world. "The New Sexuality" encourages listeners to "set your mind free" as MK "brings new meaning to androgyny." Again, the guitar work absolutely soars, but we have a bit more of a techno background that makes this another one that gets stuck bouncing around in your head.
The EP concludes with the surprisingly wistful ballad, "Way Back Into Love."  "I've been lonely for so long," MK pines, "trapped in the past/I just can't seem to move on."  MK hopes "you'll be there for me in the end" and this listener hopes so, too.
While this explicit CD may not be everyone's cup of tea, MK Ultra is a gifted artist with something to say – and catchy rock tunes to keep that message firmly planted in your head.