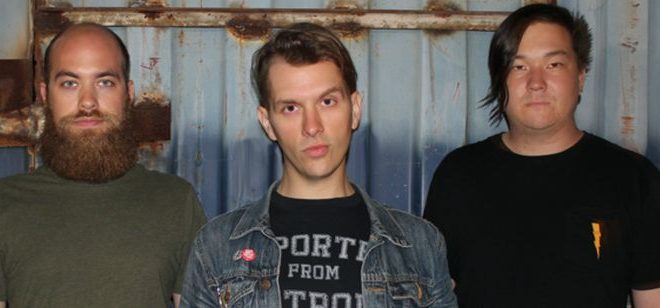 Features
Music by the Speed of Film: Filmspeed Band
By
|
By: Lindsay Flanagan
Thirteen years ago, two high school kids from the outskirts of Detroit met while working at the same grocery store. These two kids Craig Broomba and Nick Stout, now grown men, are still working together, but they are a long way from stocking shelves and bagging groceries. Broomba and Stout are the foundational members of the indie rock trio Filmspeed. But they didn't go from grocery store to rock stardom in a short time. No, the two musicians moved to California ten years ago to pursue music, worked hard, played live shows and toured, had some drummer lineup changes and then got burned out. However, Broomba and Stout weren't quitters. They soon got back together to write, proving that their commitment and passion to the music is more powerful than any setback.
That hard work and dedication has culminated to their recent signing with the Seal Beach, California-based indie record label Awfully Good Records, whose founding goals were to create opportunities for local artists. It was formed by Eric Walden, who started in the music scene by writing about and interviewing bands and who wanted to help bands in Southern California be successful. And that turns out to be perfect for the Detroit-born, but now California-based band. The three members – Craig Broomba (vocals, guitars), Nick Stout (bass guitar, backing vocals) and Oliver Dobrian (drums, backing vocals) – released their newest single "I Feel Alright" the same day they announced they had signed with Awfully Good Records. "I Feel Alright" was released exclusively to Substream Magazine and its release will be closely followed by the release of their new LP, Hexadecimal, on October 13th. Hexadecimal is the first album to be released since 2014's LP Heavy Decibels.
The reason for the length of time between the two LPs was due to a myriad of reasons. After Heavy Decibels they got to work and wrote and recorded a handful of songs and then began discussing who to release the music with, in addition to if they should release it as an EP or write a few more songs for a full-length album. It was also during this time that their drummer, James Mozina, left the band to pursue other interests (the split wasn't due to tensions in the band; it was an amicable split and, in fact, Broomba says that he and Mozina recently collaborated on a side project). Of course, they couldn't continue as a rock trio without a drummer so they began to search for someone who would fit the band's already-established dynamic. They connected with now-drummer Oliver Dobrian via social media and, as luck would have it, found him to be the perfect fit. Having a new team member also meant that they had to record some new songs and, to top it all off, Broomba and Stout both suffered two major personal losses with the passing of Broomba's mother and Stout's father. And yet, they've shown yet again that they aren't quitters. Ninteen tracks later, whittled down and compiled into an eleven-track LP, Filmspeed's Hexadecimal is ready to be released into that wild unknown—otherwise known as the indie music audience.
The newest release includes eleven tracks that showcase the band's wide-ranging genre. Yes, classify them as rock, but their music includes new wave, grunge and pop as well. Filmspeed aren't ones to be pigeon-holed into just one genre, which is fine because the band doesn't want to connect to just one audience. When defining the genre that they belong to, Broomba said to Punchland, "As much as we love to fly the Rock and Roll banner, it's always defined by the listener and which influences they gravitate towards. Some have pointed out new wave influences, others funk, punk, soul, etc. As we get more used to the post-Spotify world, genres seem to get blurrier or 'less important.' At the end of the day, we don't care if it's 2017 or 2077, we're just looking to get folks out to a Rock'n'Roll show. That's where the real magic happens." This is also evidenced by their varied list of influences: Muse, The Black Keys, Butch Walker, Grand Funk Railroad, Band of Skulls, Gavin Degraw and Supertramp. But maybe the best definition of the type of music they play is the one they have on their Facebook page: "Unapologetic, loud and soulful."
Perhaps their broad list of influences is one reason why Filmspeed's sound is so unique: described as energetic, uplifting, anthemic with heart and soul. Filmspeed strives to reach out and move their listener, but also to move themselves. Filmspeed's music can be therapy for the listener, but it serves that same purpose for the band, too. Frontman Craig Brooma explained to MetalNerd, "We want to be a voice out there for someone who's having trouble making sense of their own words and invite them to scream out loud with us whether it's right in front of us live or in their car blowing out the speakers." Playing live is one of the things that really drives this band to do what they do, which is to write and play music that allows them to interact with the audience.
Both Broomba and Stout have shared what playing music to a live crowd means to them. Stout explained to Hit the Stage, "My parents always played music around me. I guess after seeing Mick Jagger live I've always had that daydream of being in a band and being on stage. I went through life just collecting music and playing music, but yeah, I've always saw myself being in a band." And Broomba adds, "There's nothing more exciting, more satisfying, more energetic and fulfilling than having a band and putting on a live show. To be loud and move people…to have those changes, those dynamics, just a massive wall of noise out to an entire crowd of people. It's completely irreplaceable."
It's that lasting resonance of the live show that inspires the band to continue making music. And lasting memories even inspired their name. "Filmspeed" comes from the idea that memories come in spurts like scenes from a movie and the more the events go on in life, the more they move by at the speed of film. But those events are immortalized in each track the band writes, which, by the way, are all written, recorded and produced by the band themselves. Also in Hit The Stage, they shared their songwriting process and explained that it's usually the music that comes first, and that the band's goal isn't to write a catchy song and get a paycheck—rather, Filmspeed's agenda is to express themselves through their music and hope that others feel it, too (there's that connecting-to-the-audience thing again!). Broomba also stated again how important the live shows are: "When we're playing it live, we want to be able to feel it, to have those moments in the songs where it's like, oh, I can't wait for this part and then it comes and it's like boom, yeah, that was killer."
If the single "I Feel Alright" that is leading the release of Hexidecimals is any indication as to what the rest of the record will be like, then it will certainly be "killer" for listeners (and show attendees). It's a song that almost any listener can relate to—because almost everyone has come up against that hurdle called life—and "I Feel Alright" is a perfect theme song. It's the "you got this" mantra in song form. Speaking to Substream magazine about the creation of "I Feel Alright," Broomba said , "For years now, I've maintained a few personal twists on a cliched statement. 'When life hands you lemons, squirt the juice in the eyes of your enemies. If you find yourself without enemies…it's Martini time.' Whether it's fueled by powerful intoxication or pure spite of the universe, this song is about keeping it cool while it's all burning down."
And this song is cool (pardon our own cliched statement)—and so is the band. They are more than worth checking out. They are a unique band that crosses all the broad rock genres who, according to fans, sound just as good live as they do on their records.
You can find out more about Filmspeed and their upcoming live shows at the following sites:
Website: http://www.filmspeedband.com/
Facebook: https://www.facebook.com/Filmspeed/
Instagram: @filmspeedmusic
YouTube: https://www.youtube.com/user/FILMSPEEDMUSIC
ReverbNation: https://www.reverbnation.com/filmspeed
Bandcamp: https://filmspeed.bandcamp.com
Twitter: @FilmspeedMusic
You can also follow the band members' individual Twitter accounts:
Craig Broomba: @CraigBroomba
Nick Stout: @LessThanStout
Oliver Dobrian: @ODobrian
Track Listings
Hexadecimal (due to release October 13, 2017):
Anywhere But Here
Just My Luck
There's A Way
Why Don't We
I Feel Alright
Love Me Like Tomorrow
Media Driven Sheep
The Rule of 3's
Going For Broke
Everything Is More Fun In The Dark
Bye Bye