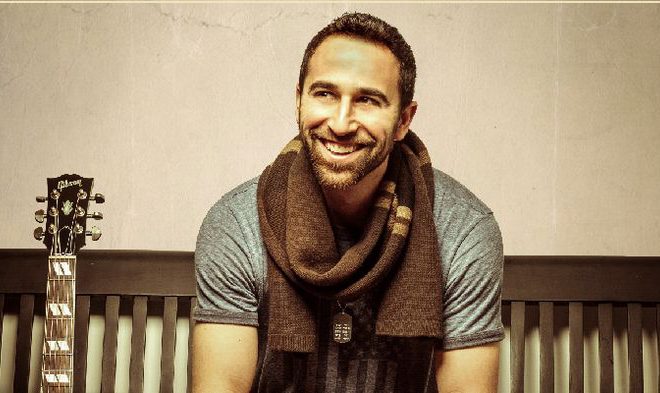 Interviews
My Silent Bravery – Breakthrough
By
|
By: Jamie Steinberg
Q) Your new album is called Where does the title come from?
A) The album title comes from the title track. I chose Breakthrough as the album title because I felt it very much represents the My Silent Bravery brand and mission of inner strength, perseverance, persistence and ability to overcome obstacles.  I hope listeners can relate to it with their own boundaries that they are trying to breakthrough. This message has become louder and more pivotal to me as an artist the longer I keep doing music. The music can't be just about me, it's about the listeners.
Q) What has the fan reaction been to latest song "Warning Signs?"
A) The fan reaction to "Warning Signs" has been amazing. I think it's the most popular MSB song to date, but sometimes it's hard to tell as the artist. To me, it feels like its resonating and the reaction to the music video has also been awesome as well.  I think it's added a whole new component to the song and got people talking.
Q) What is it about the song that fans are connecting to?
A) I think they are connecting with the lyrics and the overall idea of the song. I think we all have been in a relationship that maybe we knew in the back of our head wasn't going where we wanted it to. It could be one of mankind's oldest dilemmas in deciding between the head the heart! I think many of us favor our heart as most want to be in love and feel loved. The question lies there in is it a healthy love?! Not always. Hindsight is 20/20 as they say and you can usually see the reality of the situation when you are out of it.
Q) How does the video play into the message of the song?
A) Picking up where my last answer left off, hindsight is 20/20. You can see the situation more clearly when you are out of it, but when you are "in it" it's harder to see. My video producer Vassili Shields and I wanted to present this idea. We also wanted a surprise ending to go along with the concept. I love how the video is filmed backward and there is the twist ending and no one seems to see it coming!
Q) How did you come to partner with Paste Magazine for the premiere of the "Warning Signs?"
A) My wonderful publicist Jen Appel at Catalyst Publicity made the magic happen so to speak. I was really proud of and humbled by Paste's review as well. It's not every day that one of the best music publications around says, "Boston artist, My Silent Bravery may be the best-undiscovered artist around".
Q) The video for your first single "Drunk off the Sun" has already surpassed half a million views on YouTube. How does that make you feel?
A) It's always a good feeling when you feel like your music is resonating. I think timing played into this one a lot. I waited nearly a year for the summer to release the song and the video and I can say that seeing the fan reaction was worth the wait. As they say, good things come to those who wait!
Q) What do you hope listeners take away from listening to Breakthrough?
A) I want to create music that inspires, helps and motivates others to overcome their challenges. When I write songs or go out and play shows, I have learned that it's not about me, it's about the audience. I hope they'll feel more uplifted than when they came. I want fans to walk away inspired knowing they can achieve what they set their heart and mind to. I called the new album Breakthrough because I hope listeners can relate to it with their own boundaries that they are trying to breakthrough.
Q) How do you plan on celebrating the album release?
A) I felt like I wanted to do something to celebrate the release where many of the Bravehearts who have been supporting me day in and day out could be involved. I have been doing more online performances lately, mainly Periscope performances, and the feedback has been so positive. I thought why not just do an online CD Release show?!  This way fans can tune in from all over the world. I wanted to give back to the fans that support and make it affordable for anyone who wants to join and participate so the cost of admission is only $1! Fans can tune in on September 28, 2016 at 8 EST at: concertwindow.com/mysilentbravery.
Q) You'll be touring with Eric Hutchinson, Elliot Yamin and Blake Lewis. What song on Breakthrough you are most looking forward to performing?
A) That is a tough one! I am looking forward to playing a bunch of them. At the top of my list are "Drunk Off the Sun," "Warning Signs," "Endless Ecstasy" and "Pick it Up!"
Q) Is there anything else you want be sure fans know about Breakthrough?
A) I think it's my best work to date. I dug deep on this one. This album has more songs on it than any prior records. The album was originally 10 songs and I thought it was finished. However, I got more feedback on this record than prior ones and the general consensus was that I needed a couple of singles. I was a bit frustrated at first thinking I already had a few, but I am really glad I was pushed as the last three songs added to the album were "Warning Signs," "Drunk Off the Sun" and the title track "Breakthrough." They have all been getting great feedback as some of the album's strongest songs.  I think digging deep and doing more work after I really thought I was finished also added to the concept of Breakthrough.
Q) What would you like to say to everyone who is a fan and supporter?
A) As always, I would like to thank all the Bravehearts out there that continue to support me. I couldn't ask for better fans!  I am looking forward to seeing you on the road this Fall! If you can't make it to a live show, I will be doing a live broadcast on Concert Window which starts at 8:00pm EST on September 28. Wherever you are in the world, you can tune in! I'll be taking requests and answering your questions. It will happen at https://www.concertwindow.com/mysilentbravery. Hope you can join me!