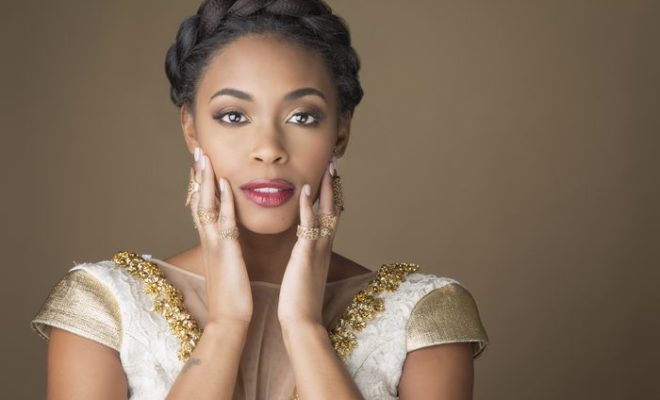 Bobby Quillard
Interviews
Nafessa Williams – Burning Sands
By
|
By: Kelly Kearney
Q) What are the recent projects you're working on?
Nafessa: I have Burning Sands that's due out on Netflix on March 10th and I'll also be in the upcoming reboot of "Twin Peaks," which I can't say much about.
Q) What do you think makes Burning Sands so different to what the other things Netflix is bringing?
Nafessa: What I think we need to do and what I think Burning Sands is going to accomplish with the film is bring awareness to the hazing with fraternities and sororities when it comes to pledging. I think Burning Sands is going to shine some light on that.
Q) What can you tell us about your character Toya?
Nafessa: So, Toya is like your fun friend. She's the friend you want go out and party with. She's the friend that rides or dies – the one you can count on to be there through whatever. She's bold and she's tough. She knows what she wants and she doesn't apologize regardless on if people agree with them. She is who she is and she's very assertive and not afraid to go out and get what she wants. And she doesn't actually go to the college, but she's really good friends with everyone who does.
Q) Burning Sands is going to be making its world premiere at the 2017 Sundance Film Festival, are more excited or nervous?
Nafessa: Oh my god! Well, um, I think I'm more excited than anything because I've been dying to go to Sundance. It's always been a dream of mine. I always wanted to go with a film in the competition and the film having it premiere there and it's like a dream come true so I'm really excited. I'm always nervous when it comes time to look at some of my work it's an actor thing. I'm just really excited. It's a great way to start off the year and it's Sundance.
Q) The reboot of "Twin Peaks" is premiering May 21st on Showtime, what can you tell us about the new Twin Peaks?
Nafassa: Without giving too much away, there is nothing I can tell you. (laughs) I'm so sorry I wish I could but I can't other than I'll be in it.
Q) How was your character Jade originally described to you and how did it evolve to what we see on screen?
Nafessa: David Lynch was enough to say yes to! It's always been a dream to work with him so that pretty cool. Just reading the script and it was just a fun character, but David Lynch for sure was a no brainer. I'm a huge fan of his work and I went back and watched all the old "Twin Peaks." It was very fun and mysterious and thrilling so it was pretty cool. It was something different from what I've done before.
Q) Are you looking forward to the reaction fans will have when they see the reboot?
Nafessa: Oh yeah, that's going to be really exciting. Especially because it already has a huge fan base already so it's going to be cool to see what they think. I know what it's like to love a show and it's always a cool thing. Oh my God I'm a huge fan of "Full House," how exciting was that for me to see. So, I can understand being a fan of a show and see how it's going to be and what characters they are going to bring back and how much of the storyline you're going to stick to. So, yeah, it's quite exciting to see what their feedback is going to be.
Q) How will the reboot differentiate itself from the previous version?
Nafessa: I really can't get into that. Honestly, outside of my scenes I really don't know too much.
Q) How is working with Netflix different than working with Showtime?
Nafessa: This is actually my first time doing a Netflix original and I really appreciate all the cool new content that Netflix is open to showcasing. This is actually my third film that will be on Netflix so I have been working with Netflix for some time now. So, it's just really cool to have up and coming artist to be able to showcase on Netflix where Showtime is a network that has been around forever and you know they are always going to have that good strong classic content so it's pretty cool.
Q) You also host VIP Happy Hour on YouTube, what caused you to start this and how important is it that women know their #girlbosses?
Nafessa: Oh my God, so I'm like the ultimate advocate for #girlbosses. I think it's very important just to know that we can do whatever it is we want and that was the main goal of the TV show. To inspire and empower women that they can do whatever and be whatever and kudos to YouTube for giving us that platform that you can create whatever kind of content there is that you've been working on or dreaming of doing. But it's very important, I think we are in the years of the woman and I think it's for all of us women it's our responsibility to step up and inspire other women whether they be artists or entrepreneurs whatever the case is the women that are coming up behind us I think it's just our duty to give back and that's that VIP Happy Hour means to me and to my girls and those are like my real life best friends. So, it was just cool to inspire women and let them know that team up with your best friends and create content together and I believe that if we work together and help each other we will get there quicker. Kind of what VIP Happy Hour is about.
Q) You also have an online fashion boutique "Saturday Dreaming" how did that come about?
Nafessa: So, I am a fashion lover. I have been playing dress up since I was about four years old hints why I'm an actress. My best friend since we were about thirteen years old we just love fashion and my dream was to have a Forever 21. My thing was as a college student, as a new artist and inspiring actress sometimes your budget is low when you need to go shopping and I appreciated that I could go to Forever 21 and have fifty bucks and come out with an entire outfit. So, that's what Saturday Dreaming vision was – to create that outlet that's budget friendly and where you can come and get cool pieces. It's for the girl who is following her dreams, but wants to look as if she's already succeeded. And it's again really cool to team up with my best friend since we were thirteen years old and come together and create something cool for women and inspiring artists and it's very affordably priced. It's not about labels, it's not about how much money you spend it's about who you are and how you express yourself through your fashion.
Q) What would you like to say to everyone who is a fan and supporter of you and your work?
Nafessa: I would just like to say "thank you" to everyone who has been following my career since the beginning or if you're new appreciate the encouragement I get on social media and the support and the love. And I would also like to say, follow your dreams and I think that when life begins. When we follow our dreams and encourage others to follow theirs and just to be fearless about whatever it is you want. I feel like I'm in this position as an actress so that I could inspire other people and give back and encourage other people to follow their dreams. I think that is the most important thing, just live fearlessly and take risks and do what makes your stomach bubble. Those butterflies, go after those.