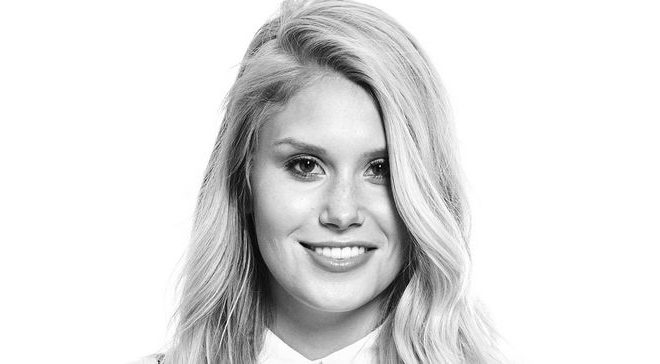 Ryan West
Interviews
Natalie Sharp – Hit The Road
By
|
By: Kelly Kearney
Q) You play the rebellious Ria Swallow in the Audience Network's upcoming musical comedy "Hit the Road." Tell the fans a little bit about your character and how she fits into the show.
A) Ria is the eldest child of Ken (Jason Alexander) and Meg Swallow (Amy Pietz). She is definitely not the best example for her younger siblings. She is daring, witty, very outspoken and bold. She is constantly challenging her father, which makes her so much fun to play! Ria's dream is to be a young, hot, pop singer. The last thing she wants to do is be crammed into a disgusting tour bus with her "annoying" family, go city to city, singing lame songs and wearing matching outfits.
Q) How did the role of Ria come to you and what was your audition process like?
A) It was actually pretty funny. It was casting out of Vancouver so I sent a tape because I was in LA completing my third year of university. My agent watched it and told me to change everything I did and re-tape. Thank goodness! From there, I got a callback in LA and Jason Alexander was there (which didn't phase me because I never watched "Seinfeld"…Oops!). I was maybe in the room for twenty minutes working on the scenes with Jason as if he was my acting coach or director. He pushed me to really go for it. I left the room having absolutely no idea how it went. Then, two days later I was racing back for another callback! They had added scenes, which I did not memorize (it was finals week and I was in a staged reading AND play)…But it was the first time I got to act with Jason, as his daughter. It was probably the best audition experience I have ever had. A couple weeks later I got the part!
Q) What made Audience Network the right home for the show?
A) Audience Network doesn't have to follow the rules of cable. So, we can push the boundaries on our show and tell the story the way we want it to be told! Also, there are no commercial breaks, which gives us even more time to focus on story, character development and relationships. It definitely gives us more freedom as well a more enjoyable experience for our audience!
Q) "Hit the Road" was co-created by and stars Jason Alexander. What was it like working alongside the legendary "Seinfeld" star and did you learn anything from him that you will take with you to other projects?
A) That's funny that you use the word "legendary" because when he sent an email welcoming me to the "Swallow" family, I replied with something like, "I am so excited and honored to be working with you… a total legend." He said, "Legend is out, dad will do." He is the most amazing person on and off set. He is so warm and gracious and made everything so much fun. We never stopped laughing. He took us kids all under his wing and really helped guide us through the process, as it was all of our first time being series regulars.
Q) When you mix comedy and musical numbers with stars like Alexander and Richard Dreyfuss, there's bound to be a lot of fun on set. Are there any behind the scenes stories that stick out in your mind that you could share with the fans?
A) I remember the first day Richard was on set, he was filming an…interesting…scene (don't want to give too much away) and he walked up to an extra and started licking her hand and put her fingers in his mouth! This was a total surprise to everyone, even the extra! She had to be upgraded to an "actor" role because of it! Richard is hilarious and so incredibly talented; you never know what he will do next.
Q) Between network, cable and streaming platforms, the television landscape is saturated with quality shows for just about everyone. What is it about this particular show that's going to ignite fan's interest and make them want to watch?
A) As described by Jason, it is the "Partridge family on acid." It is a hilarious and endearing show about this incredibly selfish and dysfunctional family that are forced to have zero privacy (talk about conflict). It is twisted, yet incredibly relatable. It has real emotional depth, and beautiful moments. It is unapologetic and unfiltered, which I think people will find very refreshing. Yes, it is a comedy, but at the end of the day you see a family and you will absolutely fall in love with them.
Q) Besides the fact you both sing and have a desire to be in the spotlight, are there any similarities between you and your Ria?
A) I am now twenty-one years old in my final year of college. When I was in high school (Ria's age), I was a different person, going through different things. I definitely had an attitude! I have had more experiences and opportunities since then to learn who I am as a person. Ria is right in the midst of all of that. She is growing up, as we all do, trying to discover who she is.
Q) Congrats on landing your first major feature Live, Like, Line. Can you talk a little about the film and how you feel about working alongside Academy Award winners Helen Hunt and William Hurt? Were you familiar with their work prior to booking the role?
A) The film is a true story following a high school volleyball team in Iowa. Losing their team captain and all-star setter, Caroline, in a motor accident, the team comes together and starts a movement to play for 'Line.' To "Live Like Line!" They go on to do the unimaginable. It is an inspiring sports movie focusing on strong female athletes. I have played volleyball my whole life so it was a dream for me to authentically tell this story by being part of the team and actually playing. Helen played our coach and William played Caroline's amazing father, Ernie, who we got to meet on set. I had seen Helen in the movie Twister and Cast Away and William in the movie adaptation of one of my favorite books The Host. Helen is like a mentor to me. She has such a beautiful soul and I am so happy to call her my friend!
Q) Between the TV series, the film and going to college, how do you find time to decompress? What's something you do to keep yourself centered?
A) Great question! It is definitely a lot. Keeping in touch with my family and friends from Vancouver is really grounding. I walk to and from school every day, which gives me time to think and decompress!
Q) Do you have any advice for young women looking to get into acting? Maybe something you wish someone would have told you when you were first starting out?  
A) To get into class right away! Acting is hard and it is easy to get down on yourself. But focus on the process instead of the finish line. Never stop wanting to learn, and trust yourself.
Q) Like most people in your business, you use social media to connect with your fans. Do you enjoy getting instant fan feedback on your work? 
A) It is definitely cool to be able to connect that easily. After my episode of "Supernatural" aired I would get a lot of messages…including some "interesting" ones…So, I guess it depends!
Q) Besides "Hit the Road" and Live, Like, Line are there any other projects in your future that the fans can keep an eye out for? 
A) Thinking about what could come next and where it could take me is very exciting. But right now the next step in my life is…GRADUATION!