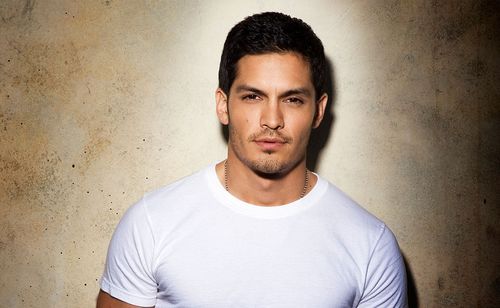 Interviews
Nicholas Gonzalez – Pretty Little Liars
By
|
By: Jamie Steinberg
Q) What are the recent projects that you are working on?
A) You can see me in a small way in the new season of "Bosch" on Amazon. I reprise my role of Detective Ignacio Ferras. There is talk about me going back next season for a possible task force, but my schedule keeps getting more and more packed so we'll see if that actually happens. For the new season of "Narcos" I was flying back and forth to Colombia to shoot that. So, that will be coming out soon. I'm really excited about an independent film I did last year called Pray For Rain. I did it with a lovely actress named Annabelle Stephenson who is from Australia, who is now an LA resident. There is also Paul Rodriguez, Jane Seymour and more to this great cast. It's just a really wonderful film based on the water crisis going on in the Central Valley and the fight for water rights between farmers and conservation groups. It's torn from the headlines type of story, but a really heartfelt one. It's going to be in limited theaters this June and then also on VOD platforms.
Q) What made you be a part of the film?
A) It's the script, the heart of it was dealing with a real issue that the nation needs to know about. We're growing food in the Central Valley. It's grown there for the entire United States, not just for central California. Most of the food grown in the United States is from the Central Valley. A lot of it has been turned into a dust bowl by the water being turned off. It's something I felt strongly about and something I felt like speaking about. It's not often the projects we get to do have a message.
Q) For your role on "Pretty Little Liars," how was Detective Marco Furey originally described to you?
A) He was described to me as the one honest cop that Rosewood has ever had. He was described to me as a guy with a strict moral code. I guess the only person who could really erode that is Spencer. [laughs] But he's a good guy and a good police officer with the best of intentions.
Q) We last found Marco in bed with Spencer. What kind of fan reaction did you receive to that scene?
A) It runs the gambit. You have fans of certain "ships." Some fans are disappointed because it takes them further away from "Spoby" and other people are really excited because they think Spoby (Spencer/Toby) should remain friends. Spencer really needs someone more of a relationship outside of all the stuff that has been happening to her all these years. When you have a show like this you have such strong rabid fans and I am a new person. For some reason I don't think the fans can really distinguish the reality. Some of them get so worked up and get angry towards you. I'm like, "I'm an actor." They'll say, "You really want them to end up together," but I don't have any skin in the game. [laughs] I say what I'm told and do what I'm told. I enjoy the people I work with, but it's not our real lives. I'm happily married with a baby. Troian [Bellisario] is happily married. That being said, there is a lot of rabid support for Toby fans and a lot of support for Marco fans. That being said, I would probably venture to say that there a lot more of fans that want to see Toby end up with her. It's completely understandable because there is a lot of history there. People have invested a lot of their time wanting those two to end up together. We'll see what happens.
Q) Rosewood is a dark, mysterious place. What does Marco make of the town?
A) I think anything he discovers something it's chalk full of more discoveries. It's kind of that Russian Nesting Doll where each time he opens it there is more and more inside. It's strange because I asked them as an actor, "Is it weird that there has been all these homicides in this little town under strange circumstances and is the appearance of the dollhouse something my character would know about having read about the past of what is happening in this town?" With all that is going on, you have to feel like there is some anomaly like the Bermuda Triangle where all these weird things go on.
Q) Marco is getting deeper into the mystery of A.D. since a finger was just delivered to his desk. But he's also just slept with Spencer. Does Marco notice the secrecy surrounding her?
A) Yeah. I think audiences were just recently in the previews that I tell Spencer "the more and more I keep finding back the more it keeps circling back to you."
Q) Last you and I spoke you noted that Marlene [King] was the person with intentions for Marco, but as far as you knew he had honorable interest in Spencer. Now he has a real idea of the mystery surrounding her it must be conflicting for him.
Q) Exactly. Because you have a guy with such a strong moral fiber who already kind of acted against that with having a sexual relationship with her. I think he really likes her. This is all very honest feelings for him. It's very tough to then be faced with every lead he gets circling back to her. It's a real tough one to handle. It's complicated. Also, there are a lot of good looking people in Rosewood. How about that? [laughs] That's the other anomaly.
Q) The two seems to also play another character in the series. Talk a little bit about that.
A) That's an interesting one. Again, I think it goes back to what I was saying about to that Bermuda Triangle and "Twin Peaks" feel. You are left wondering if it is because these characters are all strange and all these motives, or is it something about this town that drives the drama. It's a straight up soap opera. Opera is the operative word there! With such high drama and strange twists and turns it has to be something about the longitude and latitude with this town and the energies coming off the moon because there are always strange things going on in Rosewood.
Q) How do you approach this role differently than the vast number of roles you have played before like Dante on "The Flash" or say Orlando on "Being Mary Jane?"
A) This is maybe the first one that I just don't know as much as I normally would about what is going on because it almost just seems impossible. You even talk to other people on the show and they can't tell you. Everything has gotten so convoluted. Hopefully, when everything is finished and the finale things will come full circle. But you ask a lot of regulars they'll say, "Who's that again? Oh yeah. Who killed them?" It's a lot to kind of remember. So, as a new cast member coming on that was kind of different for me. But I chose to discover along with Marco and the things that I was supposed to know I would of course inquire and start to get to know those as they came along. Everything I kind of had to have explained to me and the function of Marco was almost like this expository character. There was a lot of exposition, which also made it hard since a lot of things were coming out of my mouth about a bunch of characters you might not know about made it difficult.
Q) Are you in on who is AD or waiting to find out?
A) I don't know if I can really answer that.
Q) That's true. Maybe you are A.D.
A) Wouldn't that be disappointing?
Q) What have you taken away from your time working on "Pretty Little Liars?"
A) To be honest, I really enjoyed the group of people. There are people that really stick out to me, of course. Troian is probably one of the more talented people that I was not only able to work with, but to watch in action and the way she handles herself as an adult growing up in this industry (with her family in the entertainment industry). She has a great head on her shoulders and is a consummate artist. So, it was really exciting to be a part of when she was directing. That being said too, Keegan [Allen] is tops. Ian [Harding] and Lucy [Hale] – they are all such really nice people. If anything, I've also taken away the power of fandom. This show which they continually acknowledge and I hope the fans really understand it is all due to them. The interest level and the way the show has gone on for seven seasons is really a function of the fans. That's no small feat these days. Shows that have a lot more advertising and a lot more network dollars behind them fail so much quicker and never even get to a full season – much less seven seasons! So, there is a lot to be said for that. I have to say, I've been on so many popular shows throughout the years from big hits like "The O.C" to flashes in the pan like "Sleepy Hollow" who were really big at the time and then teetered off – but nothing has compared to the fandom of "Pretty Little Liars." It's the kind of thing where an episode airs and I'll have 5,000 new followers on Instagram. It's crazy! [laughs] And it's exciting. It's fun to be a part of something like that, but at the same time I'm just a hired gun that's just come to spend a little bit of time.
Q) Is there anything else be sure fans know about Detective Marco Furey?
A) The last episode I saw was me taking her to the community center that I grew up in. No matter what your feelings are for Spoby, Sparco, Spurey, Mencer or Fencer…All the different ones…I was still very moved by that. I'm not trying to say my work, but I mean that storyline. I thought it was a nice turn. You really get a nice idea where Marco is coming from. I think it is hard for fans because they think everything is a rouse. They are waiting for the other shoe to drop. With Marco I think what you see is what you get, which is very unusual for that show.