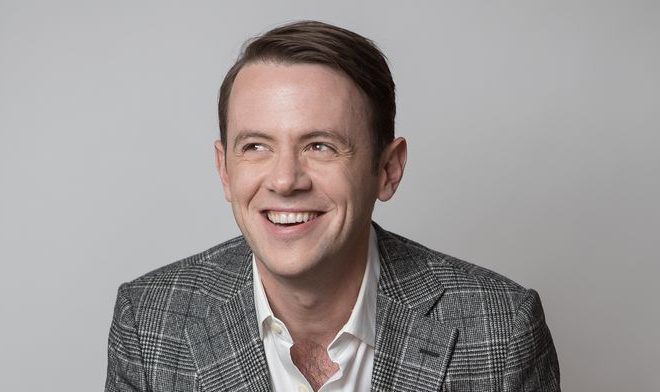 Hunter Canning
Interviews
Nick Westrate – Turn: Washington's Spies
By
|
By: Jamie Steinberg
Q) What are the recent projects that you are working on?
A) Currently I am filming a little bit on a television show for Amazon called "The Tick." It's a comedy about a superhero and it will air on Amazon in August. I have been doing that since I wrapped "Turn" at the beginning of May.
Q) Was this an audition for you or something you were offered?
A) I auditioned for it I think in Fall of 2013. I just made a tape here at my apartment in New York. Craig Silverstein, our creator, had been looking for someone to play Townsend for a while. He swears when he saw the tape he said, "That's him." They offered me the role to join the cast in Season Two and I didn't have to meet anyone. I didn't even meet Craig until after Season Two had finished shooting. It was very flattering. He had a lot of faith in me, which was very nice of him.
Q) Were you able to do much research on Robert Townsend for the role?
A) Most of the research on Townsend is in Alexander Rose's book, in which the series is based. There is not a huge amount of material out there on him so Alexander's book is pretty great. I'm also lucky that my father is a historian. So, whenever I would get a script and something was going on with the show that I didn't understand or needed a little background on I had an excuse to call my dad.
Q) What have you found challenging about your role?
A) Townsend is such a reserved man and a closed off man. He does not express himself very well. So, it's always a challenge within that reserve to convey to the camera what he is going through or what he is thinking. As a spy, that's another layer of hiding on top of that. It's a fun challenge and I love playing him. I usually don't get to play characters this quiet and brooding. It's fun!
Q) Do you connect with him at all?
A) Absolutely! He is incredibly principled and I think I am as well. He's very close with his family. The real Townsend was very, very close with his family and I am as well. He was also, which we don't explore a lot on the show…Something I found really fascinating about Townsend and it's in my mind and in my portrayal that he struggled a lot with depression. He would sometimes not open the store and stay in bed for days on end. I think that's such a fascinating part about him.
Q) What can you tease is in store for Townsend this season?
A) There is great conflict coming up. It started in episode four between Townsend and Rivington (John Carroll Lynch). Their relationship gets deeper and darker than any of the fans could even anticipate.
Q) Is there something this season that we won't see portrayed that you wish you could have explored?
A) I think what I mentioned before about his depression I would have liked to explore. We don't really get into that. For a television show to show someone laying around depressed – I would have loved to explore that. That's such a good question. I wish we would have had more time to explore more of his family life in Oyster Bay. A funny story, his sister was actually courted by Simcoe (Samuel Roukin). Simcoe stayed at the Townsends and took up residence there as an office and wrote Valentine's to Robert's sister Sally. So, I always thought that would be a fascinating thing. So, maybe if we have a spinoff show we can explore that. John Carroll Lynch and I always joke about doing a spinoff that is just about Rivington Tavern. It's just going to be an awkward buddy comedy.
Q) Who did you not get to work with that you would have liked to have shared a scene with?
A) Yes, I didn't get to work with Seth Numrich and he is one of my very close friends. We went to college together so we've known each other since we were very young. So, Talmadge and Townsend never get to meet. They never met in real life. There is a spoiler – I never get to shoot with him.
Q) What have been some of your most memorable moments from filming "Turn?"
A) Gosh, that's tough. So many great moments! I got to learn how to ride a horse. If you want to rewatch Season Three of "Turn" you can see my horse riding skills. That was pretty fun. I really loved getting to punch Dan Henshall in the face. That was fun. Also, our epic Thanksgiving scene because I got to work with so many people I never get to work with on the show like Angus Macfadyen and Heather Lind. That was a lot of fun and it was a very, very long shoot because there were so many characters around that very big table. But that was one of the most fun days shooting of the show.
Q) Were there any momentos or souvenirs that you kept from your time on the series?
A) I absolutely did. If you rewatch the premiere from this season you'll see in Townsend's bedroom there is a lovely upholstered chair and that chair now sits in my office in my apartment in New York. I also took a couple little trinkets from Rivington's. The guys in the props department gave me coins from my lockbox there and my coffee mug. If you notice, Townsend only drinks alcohol one time on the show and that's in Season Three. The rest of the time he drinks coffee at the bar. So, he drinks out of the same mug all the time. My buddies in props sent me that mug after we wrapped as a gift, which was pretty nice.
Q) Do you keep in touch with any of your costars when you are not filming?
A) We do! I spoke with Sam Roukin and then saw him recently in Portland, Oregon where I was out there visiting and he was out there working. We had dinner together. I watch every episode live, just about, with Heather Lind. She's a good friend of mine from even before the show. We live tweet together every Saturday night. I got to see Ian Kahn at the "Turn" premiere, which was fun. I'm going to see Dan Henshall later in the summer when he comes to visit New York and I'm going to watch him in his movie Okja. I'm going to go to London and see our friend Kevin McNally as King Lear at The Globe. He's going to be brilliant!
Q) What do you hope viewers take away from watching this series?
A) The thing I love about this show is that it is about ordinary people doing extraordinary things. And I hope that people take away the idea that no matter who you are and what your job is that you can contribute to this democracy. It's a big, messy, daunting task, but everyone has to be a part of it if it is going to work. And I think the times we see it not working the most is when the fewest normal people are involved. So, I hope they take away that people fought and died so that they could have a say in how they were governed and that they could find a way (even a small way) to be involved in this democracy.
Q) You are a part of social media. Do you enjoy the instant fan feedback you receive to episodes?
A) [laughs] Yeah, I do enjoy it. It's sometimes very daunting to do social media during the episodes. I definitely have to pre-watch the episode beforehand so that I'm able to actually enjoy it. When we're live tweeting there is so much going on. But the fans of the show are terrific and bighearted and kind and smart. So, it's always fun to watch and engage with them.
Q) Is there anything else you want to be sure fans know about Robert Townsend?
A) Sometimes on the show we make a lot of jokes on the show that Townsend was a Quaker. But the Quakers were a persecuted religious minority who fled England so they could worship freely. They were seen as strange and they wore strange clothes. They had particular rules and kept to their own in the community. So, they were ostracized Americans as well. I think it's something Americans can and should think about more these days – the way we treat people with religions that are seen as different, weird or strange because we're all Americans. And we all want the same thing, which is the freedom to express ourselves, speak, worship and live freely. So, I think that as often asked of the character that I love to play if people don't know about Quakerism they should read up on it.
Q) What would you like to say to everyone who is a fan and supporter of your work and the series?
A) Thanks for watching and tell a friend! [laughs] The fans have kept us on the air for the last four years. They are a great support and a great support of Charlie Collier and AMC let us not only start to tell the story, but finish telling the story. It means so much to us that we got to take it from beginning to middle to end. We're just really, really grateful for all of the engagement and involvement. We hope that millions of more people will get to enjoy it on whatever streaming platform it ends up on for years to come.