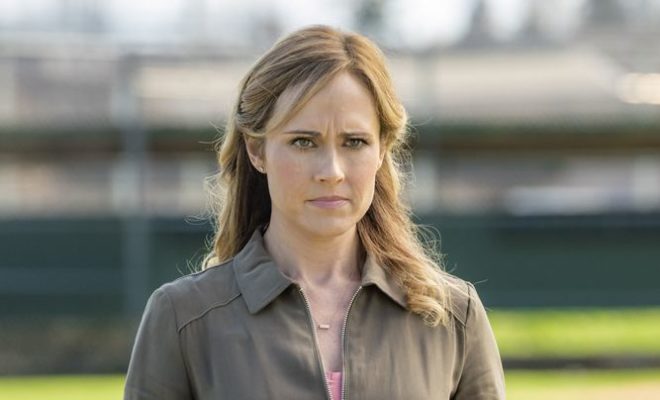 Interviews
Nikki Deloach – The Perfect Catch
By
|
By: Jamie Steinberg
Q) What are the recent projects that you are working on?
A) I went up to do The Perfect Catch in Vancouver for about five weeks and then I came home. We're doing press for the film, but I'm doing a lot of development which has been fun. I've got three projects in development right now. So, we'll see where that takes me. There are a couple things on the horizon that could happen in the next month or so, but I can't say anything because nothing has closed. I'm doing a lot of things I have wanted to do for years that I have been working at doing for years, but are finally starting to have some movement which is great.
Q) What did your experiences on the series "Awkward." mean to you?
A) It's one of my favorite topics! [laughs] Honestly, I have never missed an experience more than I miss our crew and just being there every day with this cast. Being in the skin and the ridiculous clothes of Lacey Hamilton. The pushup bra and all! I've never missed a working experience the way I miss "Awkward." It changed my life! It changed my life in terms of being an actor from the way I audition. I auditioned so differently for "Awkward," meaning I walked in the room thinking there was no chance in the world they were going to let me be the mom of a teenager. Not thinking that it's MTV and of course they will! [laughs] So, I went into the room in a very fearless kind of way like I have nothing to lose. I ended up not just getting it, but I had such a great experience with the creator Lauren [Iungerich] and with casting. So, it changed the way from the get-go that I audition as an actor and it changed the way I embody a character as an actor. I miss Lacey Hamilton every single day. Sometimes I find myself dreaming of new stories for her, not just with Jenna but with Aunt Ally (Barret Swatek) and Val (Desi Lydic). Valerie, Lacey and Ally we called them "Team Geriatric." We still have stories to tell and it just changed my life in terms of the work I want to do and how I want to spend my time. I had my first child on that show. We all went through so many experiences together. It will forever hold a special part in my heart. We're all trying to figure out how we can bring it back for a cool reunion, which we're all trying to make happen.
Q) Please tell us the premise for your film The Perfect Catch and about your character.
A) My character is named Jessica and she is a small town girl who never really left home. She's always done the right thing and took over her grandfather's diner when her family needed her to. She's a single mom who has kind of been left by her baby-daddy. He was a musician and left her. So, she's kind of stayed home and never left. She's always done the responsible thing. Life hasn't really turned out how she thought it would. In comes in one of her high school sweethearts, Chase (played by Andrew Walker) and he has had a totally different experience. He followed his dreams and became a professional baseball player. In a huge World Series game, he made a mistake that essentially got him dropped from the team. He comes back to his home town to lick his wounds and hide out and see if any other team is going to pick him up. He lived his life and yet it hasn't turned out the way he thought it was. She hasn't lived her dreams and her life hasn't turned out the way she thought it would. So, it's kind of these two worlds colliding and coming back together and him teaching her that it is never too late to dream. None of that success, money and fame means anything if you don't have family, friends and people to share it with. It' a really, really sweet story. I loved working on it. I love working with Andrew Walker. It's my second movie I've done with him. It's really cute and a great way for someone to spend a Saturday night.
Q) What made you want to be a part of the film? Was it reconnecting with Andrew?
A) The premise alone made me want to be a part of it. I have to tell you, I love being a part of the Hallmark family. I absolutely love it. They are the real deal. They practice what they preach from the top all the way down. Every single person at that network treats you with so much kindness and consideration. It really is an amazing family to be a part of it. So, I kind of would just say "yes" to anything that they wanted me to do. [laughs] Specifically, this movie I really loved because I thought it was different and involved sports. I'm a big baseball person. Also, because it was a two-hander. Usually in a Hallmark movie the woman carries the A-story and the B-story and she is in every single scene. This was more of a two-hander with Andrew. He really got to have a cool story and this arc that was really nice. That interested me as well. I thought it was really nice that not just women would want to tune in because there is something for men in it too. The chemistry with Andrew was immediate. When we first met, we kind of felt that in another lifetime he has probably been my brother like six different times. We fight like cats and dogs. We fight like brother and sister. We love each other like brother and sister. We just hit it off day one. Especially with a movie like this I was very concerned with who they were going to get to play the guy because there was so much history there. I definitely wanted someone that would be able to bring that to the table. When they said it was Andrew I was like, "That's perfect! We don't even have to work on that. It's just going to be there between the two of us." Hopefully, that shines through whenever you watch the movie.
Q) What did you find challenging about shooting the movie?
A) Actually, my character is a single mom who is trying to help coach her son on how to play baseball and she is supposed to be terrible at it. That was kind of hard because I actually played softball when I was younger. I was more of an athlete than I was a girly-girl. So, that was kind of hard just pretending like I was super bad at it. The other thing that was really difficult was we were up against tremendous weather up there. It literally rained every single day that we filmed except for one and that was one of our days off. It rained every single day and snowed for the first week to week and a half and it even hailed a couple of days. Half of our movie was exteriors so it was very, very difficult logistically. If we had a break in the weather for thirty minutes they would want us to run outside and try to get this scene. You would maybe have one or two takes and it was a scene maybe you had to learn on the spot because we needed to be able to get anything outside when we could when there was a break in the rain. Our crew was amazing. They had such great attitudes and our director was so positive. He just kept such a cool head. We managed to get out of it all in one piece and all still liking one another, which is hard to do when you have a really tough shoot.
Q) What were some of your most memorable moments from filming?
A) Not only was Andrew in it, but Lisa Durupt who plays my best friend in this movie we also had worked together. The three of us had done a movie before so having the three of us back together again was so much fun. Lisa has become one of my dearest friends. Not only is she such a comedic talent (she's so funny and so good) she is one of the nicest human beings. When we're together we do not stop laughing! We literally do not stop laughing together from the moment we begin the day to the moment we say good night to each other. So, that was really, really great fun just having the three of us together. Me getting to do a movie with someone who has become one of my dearest friends.
Q) What do you think it is about The Perfect Catch that will make it a fast fan favorite for Hallmark viewers?
A) I think the dynamics between Jessica and Chase is really fun. There is a lot of comedy in this one. There is a lot of fun moments. And there is baseball! There is a sports element that makes it really, really nice. People like sports movies, whether you are female or male. People like romantic comedies where the scene is something different. That's kind of what this is offering and I also feel like this is a little heavier with the guy story. Andrew's role is a little bigger. The Hallmark audience is in love with him so they are getting what they want – which is more Andrew Walker. [laughs] I really think it is something different that Hallmark did. I feel like we executed it really well. People will laugh. It's heartwarming and it's really fun.