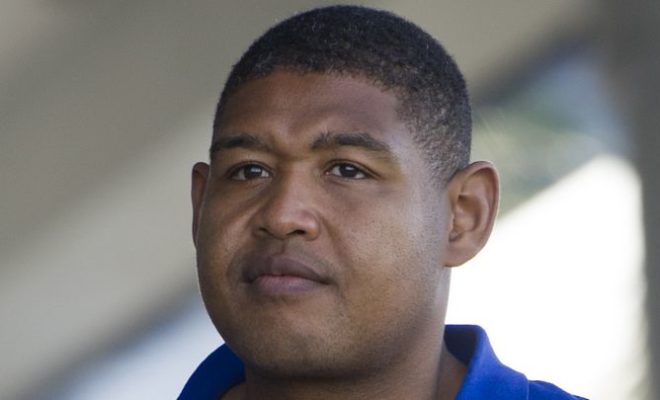 Interviews
Omar Miller – Ballers
By
|
By: Jamie Steinberg
Q) What are the recent projects that you have been working on?
A) I've been pretty busy. I do a series on the Tennis Channel called "Advantage Omar" that is a lifestyle series that follows grand slam tournaments where I eat and drink my way across the world. I'm going to go to the US Open next. I have my sports podcast called "Weekend Fix" on Uninterrupted.com, which is pretty great. It's myself and my brother and we're giving you our take on college sports. We tell you how it is and how we think it should be. We basically make you privy to conversation that takes place in the family living room. I am on "Ballers" every Sunday. So, it's been a very, very busy period.
Q) Have you always had a passion for travel?
A) Yes, since I was a kid. My father traveled a lot and that was for sure something he gave to me. We used to take road trips and all kind of stuff as a family. So, it was definitely something I got from him.
Q) How did your series "Advantage Omar" come about?
A) Tennis was a big part of my life. Unfortunately, you get to a place where you have to choose when it comes to sports and I was a baseball player. So, I choose baseball over tennis. Then, ultimately, I chose performing over both of them. But I've always loved tennis. Since I was a kid I've watched them play and I was a fan. I was at the White House in Congress to testify on the influence of arts in my life. We wanted to get them to stop cutting money from budgets of the arts. One of the guys who was there was actually the President of the Tennis Channel. We became fast friends and he gave me a call. Actually, I gave him a call! I gave him tickets to a tennis tournament and then he asked me what I can do for him since I was always giving him tickets. He wanted to make more content and try to get tennis more younger and more and more accessible. So, that's what we're doing. We're having a good time and traveling around the world showing people so much stuff happens around tennis tournaments. There is great stuff happening on and off the court so what Advantage Omar is about is showing more and more what happens off the court.
Q) You have been a part of iconic films like 8 Mile and Transformers. Do people often recognize you for specific work or thank you for being a part of their youth?
A) It is kind of across the board. I was at the airport yesterday and I got stuck there for four and a half hours. I had people coming up to me and it was a situation where I realized how blessed I am being kind of forced into the public eye. I really have been blessed. I had an eighty-year-old man come up to me and a little kid come up to me wanting to take pictures for different projects. That has been my career and that is the blessing of it. So, anything from 8 Mile to Transformers to "CSI" to now "Ballers" I've gotten to really represent all walks of life in my career. I've just been really blessed. Sometimes people come up and thank me for my work. Sometimes people just come up and start laughing. Either way it's all good!
Q) How was your character Charles Greane originally described to you?
A) When I first met with the creator of the show he told me Charlie was a good guy who was the heart and soul of the group and yet he is lost. He has a hard time making decisions, anything off the field. He's trying to transition into his life after football and it's really giving him a rough go.
Q) What continues to challenge you about playing Charles?
A) I actually hang out with a lot of professional athletes and I've seen this before. I've seen guys transition off of the field or court and into real life because you basically a modern day gladiator going into anonymity. For football players, they wear helmets. So, nobody knows who they are unless they are the quarterback. Their whole rights and identity are wrapped up into their work and when that is taken away from them or when they choose to walk away, that then (in turn) can be a very, very difficult transition. I like playing characters that are vulnerable and allow me to research and explore various parts of society and myself. To duplicate that is my job as an actor. It's real life and I'm replicating it. That's the situation that this provided. I thought it was really cool because in America's society very few things are more popular than sports and entertainment. IN this situation, we have sports, entertainment and money all tied up in one. So, I thought it had the potential to be a popular program and explore some very interesting parts of life. When you add elements like Dwayne [Johnson], Rob [Corddry] and [Donovan W. Carter]– all the guys – and Jazmyn [Simon] it's just been an amazing ride. I hope we keep riding for several years to come.
Q) Who are some of the guest stars this season that you can tease?
A) We kind of already started to roll them out! The first episode had Stephen Curry. That's a pretty big deal! I can tell you what, you can expect on seeing a lot of Hall of Fame NFL players. Chris Carter was on last week. As you know, this season's storyline deals with trying to get an NFL team to Vegas. He's going to have to schmooze and mingle with a lot of former and current players. That's the best I can give you.
Q) What have you taken from working alongside Dwayne Johnson on this series?
A) His work ethic is outstanding and also the way he treats people is really great. So, it's great to see someone who is at that height of his career and his life be that humble. It's just absolutely great!
Q) What have been some of your most memorable moments from filming "Ballers?"
A) It's just opened my eyes to a whole other walk of life. The last television show I was on was "CSI: Miami" and it's such a contrast, despite being set in the same city. The stuff you would shoot on "CSI" had very little to do with partying and XYZ. This show is about balling out. It's about excess and in this scenario I'm playing a married man who just had a baby so it's been such a great experience getting to explore. And that's what the beauty is – you get to explore. You get to learn different stuff. You get to try different stuff. I get to do research. The world of acting gives me access to an entire world. And that's just something I'll never be able to repay.
Q) You do sports, kids shows, "Ballers, etc. Is there a role or series you'd like to do that you haven't taken on yet?
A) Right now, to be honest, I'm trying to conquer the social and short form content of storytelling. And that's why I'm doing the "Advantage Omar" series and some other things in the works because I see the trends and where things are going. For a long time, I fought the idea of social media. Now, I want to swim with the sharks.
Q) You are a part of social media. Do you enjoy the instant fan feedback you receive to new episodes of "Ballers" and your various works?
A) I really love it. To be absolutely honest, I don't know anybody tweeting live with fans before me. When I first got on "CSI," Twitter had just started and I began to do it. Now, it's even in some people's contract. It's very interesting. With that, I love the fact that people feel so comfortable with me that they approach me. And I get approached all over the world every day. It doesn't matter if I'm in Morocco, London, Florida or Brazil, someone comes up to me and says how seeing my work has changed them for the better. And that's just a great feeling!
Q) What would you like to say to everyone who is a fan and supporter of you and your work?
A) Thank you! I'm doing my best. Know that. As much as I can, I fight the good fight to make this stuff as best as I can and it's a process. So, the support is noted and appreciated. Keep rolling with it.