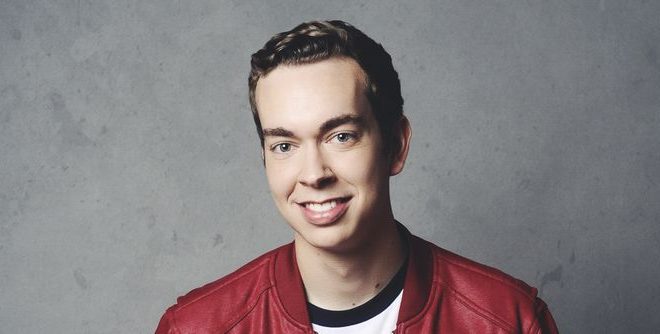 Photo: Birdie Thompson/Grooming: Jasmine Romero represented by Michelle Q Beauty
Interviews
Parker Coppins – Parker Plays
By
|
By: Tara Donahue
Q) Describe your YouTube channel in five words or less.
A) Comedy, gaming, improv, characters and skits!
Q) Tell us about your new show on Disney XD, "Parker Plays."
A) It's essentially my YouTube channel with a bigger team and it's definitely weird! It's a bunch of 20 and 30 somethings making family friendly comedy skits. You never know where that's going to take you.
Q) How is moving from YouTube to TV different?
A) It's incredible having a team of people that support you. Everyone is doing what they are great at, and it all doesn't have to be done by me! Originally, on YouTube I had to do everything from filming, to setting up the camera and lights, editing, thumbnail, Photoshop and artwork. Everything!
Q) Disney's really embracing the gaming culture. As a gamer myself, I love seeing it. How do you feel about it becoming more mainstream?
A) It's certainly a pro in my eyes. I'm a little bias when I say this, but the show is one of the best projects that I have ever worked on. With mainstream media, comes well-funded projects!
Q) Do you prefer console games or tabletop?
A) I play mostly PC games myself, but I'll put on a console game every now and then if I want to relax. It's hard to sink into a couch, when you are sitting in a gaming chair.
Q) I read that your subscribers on your YouTube channel are called "Jeffreys." What's the story behind that?
A) Well, long story short, I named a horse Jeffery in Minecraft and he became a prominent character in my series. With a personality and everything. Everyone loved it, and named themselves the Jefferies.
Q) You've done a lot of videos. Do you have a favorite? Or maybe your top three favorites, if it's too hard to narrow it down to one. 
A) That's like choosing my favorite child!  Anything that took me a long time to make usually tops it for me. I made a parody rap about Bane, Batman and Joker. I voice all the characters and it was just a fun project to work on.
Q) Besides Minecraft, what are some of your favorite video games to play?
A) I love the weird games that were made in 48 hours, by a guy living in his basement. The ones that just make almost no sense. They are so wonderfully bad that they are the best thing I've ever seen. I go out of my way to support those indie developers.
Q) In addition to your YouTube channel and now, Parker Plays, you've also done some other acting projects. Can you tell us a little about some of your other projects?
A) I worked on a show called "The Sugar Pine 7." It started as a normal daily vlog from a friend of mine, but we slowly developed our own characters and story lines of those characters. By the end of "Season One" we had a full story, with a murder! I won't spoil anything, but it certainly isn't child friendly!
Q) What is a dream project you would love to be a part of?
A) I would love to do a full feature film, playing a character that had something traumatizing happen in the past, but it's been many years since the event. It would be a challenge, but such a great change of pace.
Q) Any upcoming projects you'd like to tell us about?
A) Unfortunately, I can't say anything about my current big project. But I'm working on a fun parody music video about roasting Twitter to be posted on my YouTube channel very soon. So, that's something.
Q) What would you like to say to everyone who is a fan, and supporter of you and your work?
A) Thank you for making my life possible. Be yourself, be positive, be weird and make life how you want. If someone can play video games for a living, you can do anything!
FOLLOW PARKER COPPINS:
IG & Twitter: @ParkerGames