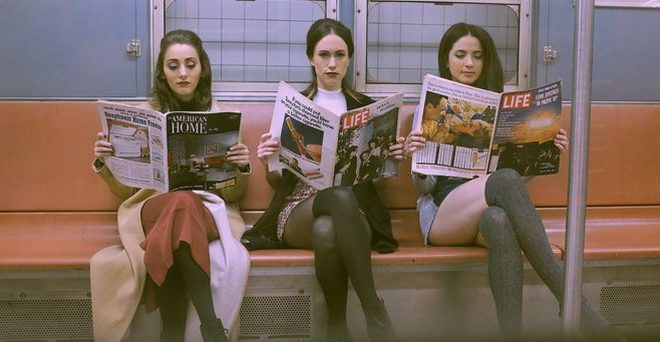 Interviews
PEP – As Lovers
By
|
By: Jamie Steinberg
Q) How would you describe your sound?
A) We usually advertise ourselves as "retro pop." It's vague, but we think it's the most inclusive way of describing our sound. Friends have given us some fun labels. We particularly like "Nu-Wop," "50s pop with an update and "doo-wop dreamsauce." Although, we've strayed from the classic doo-wop genre since the release of our first EP back in 2014. Sometimes bloggers describe us as "malt shop pop" or "bubblegum pop," but we think that's misleading given how our songwriting has developed.
Q) Who are some of your musical influences?
A) Oh man, this list is extensive. It would be much easier to answer if you limited the question to a genre and a decade so we could narrow it down! It's also a complicated question because we've been influenced by different artists at different stages in our career. At first we were primarily committed to the classic girl group and R&B sound of the late 50s/early 60s: Dion & The Belmonts, Shangri-Las, Lesley Gore, Little Eva, Smokey Robinson and Jackie Wilson to name a few. We also incorporate some funkier Motown elements into the songs, which you can feel in many of our bass lines.
Our next single "RUN," which will be out in the next month or two, was a reference to one of my favorite songs "It Ain't Over 'Til It's Over" by Lenny Kravitz. As a drummer, I'm also really inspired by groovy, percussion based dance music of the 80's such as Michael Jackson, Gloria Estefan, Prince, Paul Simon and Madonna. I love the Latin percussive elements that were so prominent during that time.
And as children of the 90's, there are inevitable references to 90's mainstream pop in our music, including Mariah Carey and The Spice Girls. Many people have pointed that out to us. Also, I just recorded two new songs, influenced heavily by rock bands Spoon and Haim. Random, I know. But there you have it.
Q) Talk about the story behind your new song "As Lovers."
A) "As Lovers" is our darkest track on the album. The lyrics are mysterious and even apocalyptic and the production and arrangement gives the song a dreamy and surrealistic feel. The lyrics are meant to convey the feeling of overwhelming intensity that you get when you watch a movie about two people who are maddeningly in love and metaphysically connected in spirit but face some crushing dramatic tragedy that pulls them apart. Now that I'm thinking about it, this song is really an indulgent way of living out my romantic fantasies. Growing up, I created elaborate stories in my head of being involved in that type of tragic love. I think the song is trying to convey an impression though, rather than a particular story itself.
Q) What do you think it is about the song that fans connect to?
A) I would love to ask them!
Q) How will the video play into the message of the song?
A) We wanted to put together a lyric video of archived footage that matched well with the song. We've always thought Betty Boop, while presumably meant to be playful and jolly, had an eerie and borderline psychedelic vibe. So, we looked up Betty Boop footage and were utterly amazed when we stumbled across this episode. It was as if someone listened to our song, had their own unique interpretation and expressed it visually. The video itself is bizarre and random. We have no idea what it's about. It's weird and twisted, but also classically bouncy and cartoonish. It actually makes more sense when you watch it to our song!
Q) What is your song writing process? Do you need music before you can create lyrics?
A) The writing process is different for every song. Originally, I would start on the drums and come up with a beat or rhythm I liked and go from there. "Baby Go On" and "Get Physical" are examples of songs that started out on the drums. But other times I begin with guitar, come up with a chord progression and follow with the melody and lyrics.
Q) How much of hand do you have in the production of your music?
A) Do you mean during the recording process? On our records, I'm either the sole producer or producing with someone else. I always use an engineer though. Producing and arranging is one of my stronger points, but I'm not nearly as technical as I'd like to be.
Q) What can fans expect from a live PEP performance?
A) Our live performances are super fun and sexy! We have two back-up vocalists who do Diana Ross and the Supremes-style choreography. The three of us come from a dance background and Ilana [Webber] is actually a choreographer so we knew dance moves would be a main component of the live set from the get-go. Also, I made the conscious decision from the start to have all band members be standing, which means the drummer is playing a custom stand-up kit. I wanted us all to be able to do the soul-step together at certain moments of the set. I saw all the band members do it once at a Sharon Jones show and it looked awesome. The entire band was in sync, swaying side to side, and it really enhanced the experience for me as part of the audience.
Also, we dress up for our performances. The girls and I try to match and each of our boys has his own signature style. Teddy [Williams] tends to wear vests and hats, David [Origlieri] rocks a mean blazer and Sharif [Mekawy] has this awesome piano neck tie designed by Jerry Garcia that he sports.
Q) Will there be an EP or full album coming in the near future?
A) Our debut LP will be released in May or June. We've already released our first single and music video off the album, as well as our second single "As Lovers." Definitely go check them out!
Q) Who would you most like to collaborate with on a song in the future?
A) In terms of bands we love who are similar in style, I'd say Meghan Trainor, Blair Alise and the Bombshells, Tennis, Deidre and the Dark, Lucius, Lykke Li, St. Paul and the Broken Bones, Camera Obscura, Nick Waterhouse, Leon Bridges and Cults. (Why not throw Hall & Oates and Madonna in there, too?)
But if I have free reign to think unrealistically and outside of the box on this one, I'd really love to collaborate with a super groovy hip hop/ R&B artist like The Weeknd (his last album OMG!), Dev Hynes or Pharrell.
Q) What would you like to say to everyone who is a fan and supporter of you and your work?
A) Stay in school (and thanks for supporting us)! [smile]
ALL QUESTIONS ANSWERED BY DRUMMER KARYS RHEA