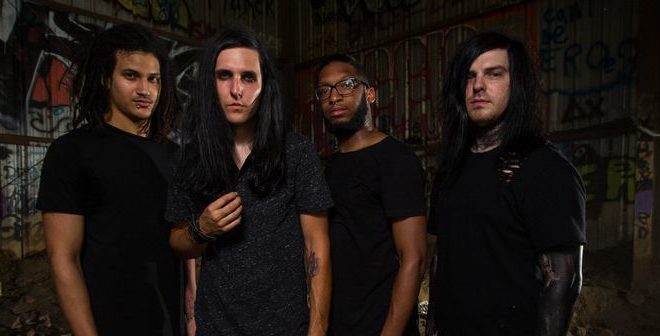 Interviews
Phantoms – Screaming on the Inside
By: Jamie Steinberg
Q) How would you describe your sound?
A) To put it simply, we call our sound "post-metalcore."  We are rooted in the post-hardcore and metalcore genres.  Through the years, we've expanded our sound to include elements of deathcore, black metal, alternative and nu-metal.  Our wide range of interests among the band blends into the music we write.  We've got hard-hitting breakdowns, catchy choruses, thoughtful lyrics and intense riffing.  This is also supported by a variety of symphonic arrangements that really fills out our songs.
Q) Who are some of your musical influences?
A) Each member of the band will definitely have different answers for this one, as we are all pretty different in our musical affinities.  For me, I still draw from my post-hardcore roots like The Used, Finch, Senses Fail, Taking Back Sunday, From First To Last and other bands along that vein.  I've also always been really into nu-metal bands like Korn and Rob Zombie that I also still take influence from.
Q) Talk about the story behind your new song "Stuck."
A) This song is about being in the frustrating situation of knowing where you trying to go, but not being able to get there.  Things aren't getting worse, but they certainly aren't getting better.  It's a very suffocating feeling.  It feels like you are living the same day over and over again.  Every step of progression feels like its followed by an immediate step back.  This song explores some of what was going on in my mind when I was going through this feeling.
Q) What do you think it is about the song that fans connect to?
A) I think we can all empathize with this feeling on any scale.  I want fans to see that they may not be the only ones dealing with this feeling.  It can be a very tough spot to be in.  I want people to really feel the song and embrace its meaning with the music surrounding it.
Q) Can you talk to us more about your latest single "There We're Once Birds That Sang?"
A) This song is about giving up on the idea of love. It's about being hurt by love many times before and not wanting to be hurt by it again. It explores the memory of how great it felt to be in that state, but now it's gone and inside it just feels like the ruins of what was once a great feeling.
Q) How did the album get the name Screaming on the Inside?
A) At first the line, "screaming on the inside," was just a lyric in our song "Dark Secrets (I'll Never Tell)."  When it came time to name the album, I was listening to that song and I really connected with that lyric.  I felt like that was how I was expressing myself throughout the album.  The idea of that line is based on being calm and having composure on the exterior, but on the inside, it's almost chaos.  It's a chaos that you are hiding from world.  We have so much going on in our lives and sometimes all we want to do is scream.  We keep it inside so no one else will know.
Q) What is your song writing process? Do you need music before you can create lyrics?
A) The songs are usually written separately from the lyrics, but they are still written in a similar fashion.  When it comes to writing the music, in most cases, I will come up with a riff and follow that idea through a chorus.  Then, I would send the idea over to [Anthony] Moten, who would add or expand on the idea and send it back to me.  We basically repeat this process until we have a full core of a song.  At that point, [Patrick] Gale will make any drum changes or additions.  Quincy [Jones] would also add his suggestions at this point to help make the song grow to its fullest potential.  When it comes to lyrics, I am always writing on a daily basis.  Sometimes it's just a line or two and sometimes it's a whole song.  When I write the rest of the song, I look at my lyrics I've written and get myself into the mindset I was feeling at the time and expand on that.
Q) How much of hand do you have in the production of your music?
A) We've been fortunate enough over the years to have worked with some really amazing producers who give us the freedom to do whatever we wanted with our music.  While in the studio, the producer almost becomes a member of the band at that time.  They've been genuinely interested in fine tuning our sound to really bring it to the next level.  Any suggestions they have had, we went for it and anything we wanted to try, they were more than willing to try.  So, we definitely have a lot of input for the production of our music.  However, the collaboration with our producers, really helps in getting the most out of each song.
Q) What can fans expect from a live Phantoms performance?
A) Fans can expect to see each member of this band having so much fun doing what they love to do.  They'll see a high energy performance that becomes contagious.  Whether you have seen us before or are seeing us for the first time, you will be able to see how much fun we are having up there and how much these songs mean to us, you will definitely connect with it
Q) Where are some of your favorite places to perform and what makes those locations so significant to you?
A) Two venues stick out to me in particular.  Of course, our hometown venue in Baltimore, MD called The Ottobar.  We have so many memories of that place and the fans always get really rowdy there.  There's such a high energy there that we really love.  The other is The Ground Floor in Williamsport, PA.  It's our home away from home.  The first time we played there, we got such a positive reaction.  The next time we played there, tons of fans were wearing our mercy and singing along to the songs.  The Fenstamakers really look out and provide for the bands which makes for a really enjoyable experience.
Q) What do you hope listeners take away from Screaming on the Inside?
A) The album is very diverse, both in meaning and musically.  I want people to be able to connect with the songs in a way that applies to their lives.  I touch on a variety of subjects that I know we all go through.  I like when I hear some of my favorite artists express themselves and put things into words I may not have thought of myself.  It brings me some clarity and makes me connect with the song that much more.
Q) Who would you most like to collaborate with on a song in the future?
A) Personally, I would love to have Bert McCracken from The Used feature on a song.  That would be a dream come true.  Another artist I'd like to work with again is Orion Stephens from In Dying Arms.  They have been our brother band for years and we've featured on each other records.  It'd be really cool to get a trend like that going.    I also would love to have Will Ramos of A Wake In Providence on a track.  We had the pleasure of touring with them last year and his vocals are some of the best in the scene in my opinion.  It'd also be really cool to feature guys like Tyler Dennen (Sworn In) or Chris Roetter (Like Moths To Flames).  I think either of their vocals would sound sick with our music.
Q) What album/band are you currently listening to and why do you dig them? 
A) I'm currently jamming a few bands right now.  I've been recently introduced to some German bands like Oomph!, Rammstein and Eichbracher.  I really like their approach and unique sounds they use in their music.  I'm also listening to the new Sworn In record.  I've always been a fan and they definitely didn't disappoint on this new album.
Q) You are a part of social media. Why is that such an important way for you to connect with your fans? 
A) Social media is a crucial aspect in interacting with our fans.  It gives us the opportunity to connect and share with fans all across the globe.  With how prominent social media is now, it's really the best way to stay in the loop with what's going on with us.  We stay very active on our personal pages as well as our band page so we can open that avenue to interact with everyone.
Q) What would you like to say to everyone who is a fan and supporter of you and your work? 
A) We like to thank everyone who has helped us get us to where we are today.  Whether you have been with us from the beginning or if you are a new fan, it's amazing the amount of support you guys have given us.  We also wanted to say to all of our fans and supporters to always fight for your dreams.  It's not going to be easy, but don't settle for anything less than what you want in life.  We've gone through a lot as a band and the thought of giving up was never on the table and never will it be.
ALL QUESTIONS ANSWERED BY JOE DEAK