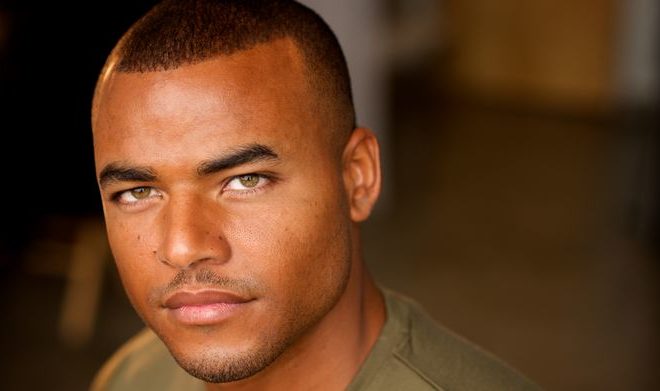 Interviews
Redaric Williams – The Quad
By
|
By: Jamie Steinberg
Q) What are the recent projects you have been working on?
A) I've been doing "The Quad." We just wrapped up the second season. I did a film that is currently on Netflix called Miss Me This Chrstimas. Then, the upcoming stuff is a film called Destruction Los Angeles that is a Lionsgate film that should be out soon. I did an independent film that I got to work with a really great guy named Roko Belic who is an Oscar nominated director. He put together his first scripted film that he directed and wrote as well. It's called Paradise and it will be out soon.
Q) How character Jason King on "The Quad" originally described to you?
A) It was pretty straight forward. He was a graduate student. When you shoot a pilot, you don't know if it is going to be picked up for series. I was actually doing a play at the time – "A Raisin In the Sun." In between that, I was able to shoot the pilot episode. So, it was kind of one of those things where I went in and everything encapsulated in that episode. So, all of the layers were revealed as the episodes went on. The initial snapshot of the character was that he was a graduate student that shoots first and asks questions later. He is quick to be driven by his emotions. He went from Connecticut and transferred for no other reason than his feelings for a woman – played by Anika Noni Rose.
Q) What was your audition like for Jason?
A) It was many auditions. I auditioned many times with call back after call back. I can't remember the scene I auditioned with, but it was pretty straight forward. A lot of the times as an actor you get the material based on who wrote it or what the character is like then you kind of drift further away from your natural essence. But I feel like it was a pretty neutral zone for where I was when I was auditioning. It was a comfortable audition.
Q) Was there anything you added to him that wasn't in his initial breakdown?
A) Just myself. Every character that I approach…I feel like that is one of the biggest mistakes actors make – and I've made this mistake myself in the past – is trying to add something and feeling the need to do something extra when really the hardest part of acting is not acting. It's being yourself. It's fleshing out a character that someone had a vision for, but then you're the physical interpretation. So, really the thing is being yourself as much as you can. Being as natural and honest to yourself as you can. So, every role that I get I don't necessarily try to change or bring anything to it. I just try to see myself in the role. So, it's just bringing myself.
Q) Were you familiar with any of your costars before joining the show?
A) Oh yeah. It's a great cast! Anika, obviously. I've been a fan of her work. My first scenes were with Anika as well. Ruben Santiago-Hudson, I was familiar with his work. It was really cool that he actually directed as the show went on and on. He directed one of the episodes I was in and that was a really cool experience. I wasn't familiar with him behind the camera. I didn't know that he was a well-versed director as well.
Q) What can you tease is in store for Jason this season?
A) Clarity. I would say clarity. It seems like Season One things were up in the air and indecisive. It can maybe seem that way in the beginning of Season Two, but as it plays out you'll see that he actually has a specific agenda. His character is developing as well and people at that age…He's an older student as a graduate student, but he's still learning and learning about himself. But I think there is still emotion there. I would say he's still driven by emotion, which can be good or bad. [laughs] I'd say that he is emotionally driven, which could be a good thing or a bad thing.
Q) What have been some of your most memorable moments from filming the series?
A) It's funny because some of the stuff in between the takes…"The Quad" is one of those projects with amazing writers and amazing cast and crew. Everyone is kind of there on set while we're filming. There is a lot of down time in between takes, just chopping it up and being around a really, really great crew. I think also though working with Rob Hardy, one of the creators of the show. He directed the pilot of the show and I think that was a really cool experience. It was my first time working with him. I just remember thinking I really liked his directing style. That's something I see myself ultimately wanting to pursue and explore. So, you look at different styles and directors and I just remember looking at how he worked and operated, knowing he had so much on his plate. But the way he conducted it was just a cool experience.
Q) You are a part of social media. Do you enjoy the instant fan feedback you receive to episodes?
A) Oh yeah! Of course. That's one of the best parts of social media – when people get to give you some feedback. Whether it is good, bad or different, it's just always good to get that.
Q) Is there anything else you want us to be sure fans know about Jason?
A) The first season he was wanting to do some stuff where you would definitely raise an eyebrow, but he's a human being. Just know that. There is a humanity to the character. It's funny because sometimes you don't know…Especially with TV it changes so much. One day you can be going one direction with a character and the next day another direction with the character. It all depends on how the writers are writing the stories. Just know that there is a humanity to the character regardless of the extreme ups and downs.
Q) What do you hope viewers take away from watching "The Quad?"
A) I would say an understanding of HBC life and some of the inner workings of HBCU's. I actually attended a traditional university and an HBCU and other colleges. I remember that it's an experience that I feel like is valuable. And it's something that's not highlighted. I don't think there has even ever been shows highlighting the HBCU experience and kind of getting a look at that. So, I would say the main thing is that when people watch the show it's not mainly for a specific character. We kind of get caught up in the storyline. Just take a step back, if you will – as much as you can while you're still watching the show and being entertained. Take a serious and holistic look at HBCU's.
Q) You frequently take on dramatic roles. Is there something about this genre that draws you to them?
A) That's kind of what I set out to do. My background is theater. I trained in New York for years and London as well. Coming from theater and doing a lot of theater, I like the gravity of drama and dramatic roles. I like how engaging they are. Comedy and things of that nature are good, too. But there is something about intensity about a dramatic role that is engaging and I've always been drawn to that as a viewer. So, that's what I saw myself leaning towards as a performer. It's funny though because the film I just finished was a romantic comedy and it was my first time ever doing a romantic comedy. It was my first time doing comedy, but I found that there are these nuances in comedy where you can actually be a dramatic actor. As long as you commit to the scene and you are believing what is going on, the actual situation creates the comedy and makes it funny. The same with comedic actors, I've seen them transition a lot with drama. To answer your question, it's because of all of my theater background and my entry point was theater. So, it's kind of based in drama and dramatic acting.
Q) What would you like to say to everyone who is a fan and supporter of you and your work?
A) I would say thank you, first and foremost. Thank you very much. I would say to continue…To be visible if you're on a TV show, screen or stage and people see that and see what you're doing it's interesting, but don't forget that everyone is doing something. I'm a fan of greatness in itself so just do great things, whatever it may be in life. Whatever it is that they know they are wanting to do, just continue with that and be great.