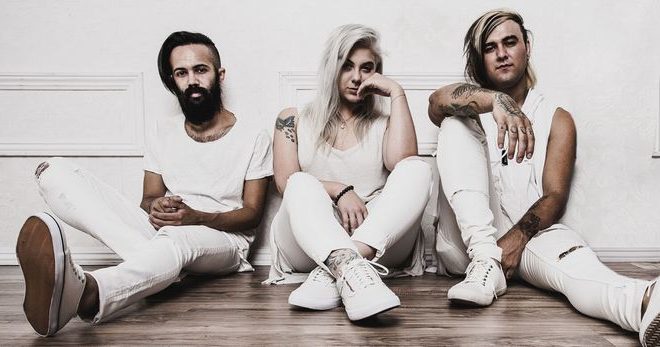 Interviews
RIVALS – Damned Soul
By
|
By: Jamie Steinberg
Q) How would you describe your sound?
A) It's a mix of dark pop with a hint of alt rock.
Q) Who are some of your musical influences?
A) We all really love 30 Seconds to Mars, Bring Me The Horizon, The Plot In You and Halsey as well.
Q) Talk about the story behind your new song "Low."
A) Writing "Low" was a little weird for me since it was written on a hypothetical situation. I tend to write about personal life experiences, but I wrote "Low" about a love story pretty much. It's about not giving up hope on a love, about believing you can get through even the toughest of times no matter what. Like during the bridge I say "Where are you, I tried, we might make it through" …Like, hopefully, we can save whatever it is we have.
Q) What do you think it is about the song that fans connect to?
A) I wanted to write a song that people could listen to and have hope in a relationship. I hope that they connect with the fact that it's about not giving up on love ever
Q) What is your song writing process? Do you need music before you can create lyrics?
A) It kinda depends. We've written songs so many different ways, but lately it's been Micket [Woodle] writing out demos usually we do a short intro/verse/pre/chorus to kinda see what we end up coming up with. Like for example, he'll write ten songs short like that and I'll go through and write to whatever ones just feel right or whatever ends up catchy/sick. Usually, it's like three to five of those and we just keep going. We wrote about forty songs for this last record like this. LP2 we wanna double it. Just to really make sure the next one is even better.
Q) How much of hand do you have in the production of your music?
A) A pretty decent amount, Micket tends to do most of the music stuff guitar/bass/ drums, but there are moments when we go to write vocals where I'll get things changed to be better suited towards what I wrote vocally.
Q) What can fans expect from a live RIVALS performance?
A) Energy. We're sort of known for being epic live set. We like to do crazy tricks and guitar swings and just get "Low." [wink]
Q) Where did your LP Damned Soul get its name?
A) I wrote Damned Soul in a dark place. I wrote it around the time I wrote "Moonlit." So, it's kinda one of the darker songs on the record. "I am a damned soul, ruined and defeated," kinda came from that.
Q) What songs off Damned Soul are you looking forward to performing live?
A) Oh gosh, a lot of them. [laughs] "Moonlit," "Reflection" and "Over It" is tons of fun to play. "Wild Things" because its just my "you can do it" song, which is super fun to sing to a crowd of people.
Q) What do you hope listeners take away from listening to your new LP as a whole?
A) That even when times are dark and life is really hard, remember there is always a bright side. A lot of the songs are kinda about me not really enjoying the stuff around me, but also understanding that it's okay that life isn't always perfect.
Q) Where are some of your favorite places to perform and what makes those locations so significant to you?
A) I love playing in Boston. I don't know what it is, but that city always gets me hyped. Also Fresno, CA just because were treated so well there, the fans and our friends who live out there never miss a show so we've kinda become this happy family.
Q) Who would you most like to collaborate with on a song in the future?
A) Ben Liebsch from You, Me And Everyone We Know. He's been a huge influence to me, not only lyrically but vocally as well. I'd love to get him back into music again just one last time to do a feature on our next record.
Q) What album/band are you currently listening to and why do you dig them? 
A) I've been super into the "emo rap" lately – Post Malone, Lil Peep and Blackbear to name a few. I don't know. It just gets you feeling which I LOVE and I've never even really been a rap person. [laughs]
Q) You are a part of social media. Why is that such an important way for you to connect with your fans?
A) It's because social media makes it easy to connect in general. I can reply to everyone. I see everything since I run our socials. Like I see every message, every comment, and I try to make sure I reply to everything if I can. It's such a great tool to make your fanbase more like a family then "fans" you know? I wanna know everyone by name (If I can remember, I have TERRIBLE memory. [laughs])
Q) What would you like to say to everyone who is a fan and supporter of you and your work?
A) We love you. Be strong, be yourself and be happy.
*ALL QUESTIONS ANSWERED BY VOCALIST KALIE WOLFE*