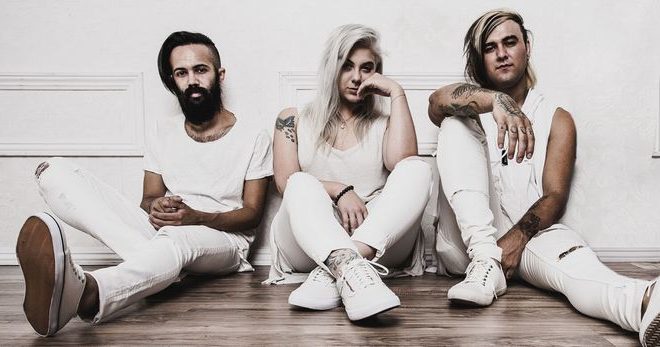 Features
RIVALS – Riding the Dark-Pop Wave
By
|
By: Lindsay Flanagan
Based out of Los Angeles, California, a trio of musicians who call themselves RIVALS are set to release their debut LP Damned Soul in 2018. Dubbing themselves as "dark-pop rock," the band has been compared to Paramore and Pvris. Translated for the…older listener…The band's sound might be reminiscent of the turn of the 21st century anthemic band Evanescence. Perhaps all of those comparisons are due to the fact that RIVALS is fronted by a female singer, whose vocals rival (pun intended) the rich, sweeping chords of Evanescence singer Amy Lee.
But make no mistake, singer Kalie Wolfe and her bandmates Sebastian Chamberlain and Micket Woodle aren't carbon copies of any of the above-named bands. RIVALS contend with those other bands with their own unique sound of dark-pop rock, something largely unheard of until they came on the scene, and their raw, bare and lay-it-all-out-there songwriting style. RIVALS pens songs that are completely transparent, allowing the listener to see right through to who the band truly is. With Damned Soul, the band's goal was to show "a darker side of who [they are]" and "what [their] demons looked like." What's more, Substream Magazine calls their music "monumental without feeling bubblegum, allowing the emotions to ruminate and not feel immediately cheapened by how unbelievably catchy each and every chorus is ." But pop music, at least for Wolfe, isn't a dirty word or a skeleton hiding in the closet. She told AXS that she loves Justin Bieber and Demi Lovato and that she likes most pop music. RIVALS have also cited bands like 30 Seconds to Mars, Bring Me the Horizon, and yes as music they can't live without. So, in a marriage of pop-inspired music with alternative rock the band is set to become the rulers of this dark pop-rock movement they are making waves in.
The band was formed in 2014 by Kalie Wolfe and Micket Woodle, who have known each other since they were thirteen years old. They had met each other through mutual friends and Wolfe had gone on tour with Woodle as a photographer for his prior band. When Woodle's band broke up and after hearing Wolfe sing, they decided to take a shot.  Together they wrote and recorded their EP Haunted/Hunted, which was released in 2015. Chamberlain joined them a few months after the EP release, whom they met once before he had officially joined the band.  Wolfe explained to website Hifinoise that she had posted on Facebook saying she was looking for a bass player and according to her, all Chamberlain commented was back the "girl emoji with her hand up and here we are two years later constantly touring together."
An interesting note about Wolfe is that, despite her powerful vocals, she didn't grow up wanting to be in a band. However, she says she knew the moment she wanted to do music. She also recently told Hifinoise she was photographing a friend's band, she remembers looking out at the sold-out show and having "this distinct memory… thinking, 'Wow, I need to do this,' and a year later [she] joined RIVALS." Chamberlain and Woodle have different memories of knowing when they wanted to be in a band; namely Chamberlain who was exposed to big shows through his mom, who at the time was dating someone who was in a big band and took him to see a show. Woodle remembers playing air guitar to a Lorne video. But no matter what avenue they took to find their way to the band, almost any music fan that is drawn to emotional lyrics and dark, edgy, music will appreciate the effort these three musicians have put forth to create RIVALS.
After the release of the Haunted/Hunted EP, what followed was months on tour with bands like Story Untold, Uh Huh Baby Yeah!, and Best Kept Secret. Before that tour, RIVALS could be seen on stage supporting festival-type shows like the Vans Warped Tour with bands such as Assuming We Survive, The Word Alive and Oceans Ate Alaska. And then in 2016 the band gained massive attention and a huge follower traction with what Strife Magazine calls calls "the most unique " cover of Twenty One Pilots' "Heathens," which became enormously popular in 2016 when it was released as the title track for the Will Smith and Jared Leto film Suicide Squad. Not only does the RIVALS cover feature the powerful female vocals of Kalie Wolfe, but it sounds like it could be an original RIVALS track. RIVALS pays homage to the Twenty One Pilots hit and by doing so, they acknowledge its place in music history as a work of art, which has become an anthem in the recent turbulent years in America. But perhaps the best part of the cover is that RIVALS proves their own place in music by adding their unique touch and style to the song. The cover has gained over 350,000 listens across streaming platforms, exposing the band to a wider audience. But as any good cover should, it introduces the band's own sound and fits neatly into their collection of original songs.
Touring is another way that the band is being exposed to new audiences and gaining more and more fans. They involve the audience—whether or not the crowd wants it (but who wouldn't?) or is prepared for it. Wolfe says that they are "extremely in your face" and they "just let go emotionally." Wolfe told AXS that her favorite thing about performing live "is getting to go into the crowd and yell my words into peoples' faces and they don't get mad at me." And, hopefully soon, more crowds will be yelling her words back at her as they are singing along to their favorite RIVALS songs.
In August of this year, the band teamed up with Artery Global International Talent Agency, a firm that is dedicated to helping artists achieve their career goals by offering their expertise and connections in the music touring business (and who represent big-named and well-established bands like Red Jumpsuit Apparatus). RIVALS then embarked on yet another tour, a six-week long stint in October and November with Knockout Kid, Story Untold and Rough Start. Then, on the second to last day of the tour, the band announced that they had signed with SmartPunk Records . The label, which is also an online vinyl store, heard about RIVALS through a mutual friend and contacted the band after hearing them and loving their sound. SmartPunk is a champion for independent music and releases not only their own artists' records, but rare vinyl albums as well. In addition to this momentous event in their career, RIVALS announced that they would be releasing their full-length album Damned Soul, which is due out via SmartPunk Records on February 2, 2018.
RIVALS' upcoming LP was produced by John Epsy, who has worked with the aforementioned band Red Jumpsuit Apparatus and Aaron Edwards. It was mixed and mastered by Cody Stewart, who plays drums in the band The Browning and who assisted in additional writing for drums on the RIVALS record. RIVALS also released their first single "Low" off the album, the lyrically eye-opening track that is "about liking or wanting someone—or being with someone—and just wanting it to work." The album has ten tracks and on December 13th they released the second single "Moonlit" via Substream Magazine. Wolfe said that the second single is about her noting, "It's about my past. It's about my future. It's about those around me. Those who've hurt me. Those I've hurt. I'm not perfect, I never will be, but all I can do is try to be the best version of myself." And that is a fantastic message to leave fans and also a great image to give of the band. They aren't perfect, which is actually perfect because the last thing the music industry needs is an artist who believes they are significantly better than those who support them. That is not the RIVALS band. On Wolfe's Facebook page, she posted, "Put your ego aside. Watch the locals. Get out of the green room. Talk to people." And that is something fans can appreciate—to connect with a band with home they have connected to through words and music.
You can find out more RIVALS on their website and social media platforms, which are listed below. The new album Damned Soul can be pre-ordered now and the new single "Low" can be instantly downloaded with the pre-order. The band spent considerable time on the road in 2017 so fans can probably expect to see them on tour again in 2018. According to the interviews cited in this article and fan comments on the band's social media accounts, the live show is something not to be missed: small venues, in-your-face and real.
Damned Soul Track Listing:
Over It
Low
Damned Soul
Gunslinger
Moonlit
Wild Things
Misery Memory
Reflection
Keep Going
To: Leila
Follow RIVALS on social media:
Website: https://www.wearervls.com
Facebook: https://facebook.com/wearervls
Twitter.com/WeAreRVLS
Instagram.com/WeAreRVLS
YouTube:https://www.youtube.com/channel/UCsfHlU-8BViogxOcx9qTQpA
Soundcloud: https://soundcloud.com/WeAreRVLS
Spotify: https://open.spotify.com/artist/03vjdLBThNbR0IEgMOUr9t
Apple Music: https://itunes.apple.com/us/artist/rivals/718366539