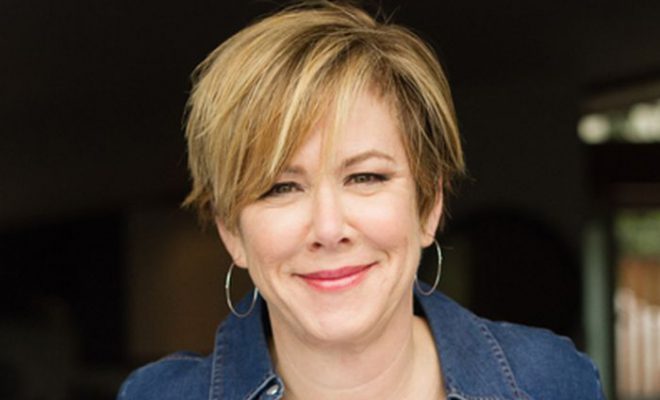 Mara Casey
Interviews
Romy Rosemont – Beyond
By
|
By: Lisa Steinberg
Q) You have developed quite the diverse demographic of fans.
A) It's been very interesting for me. I've got such a small following and I never look at it is…I just feel grateful to work and I would love to work more, to be honest. There is so much product out there, but it's gotten to be more of a business than it ever was. From a studio or network standpoint, you have to sell tickets and that comes from people more famous. So, thank you. It's really nice to hear that people actually value what you do and are affected by what you do. I grew up in the era of "The Partridge Family" and "Bewitched." Shirley Partridge was the coolest mom ever. So, to have someone tell me "you're my favorite mom" I'm like, "Thank you so much!"
Q) So many people embraced you through "Glee" as Finn's mom and then eventually as Kurt's mom. We feel like you're our mom.
Q) Which is amazing from where I sit because for me all I want to do is entertain and affect. I want to entertain, but also as corny as it sounds…A long time ago someone asked me why I want to act and I said "to make people laugh or to make people cry." I wanted to use what I do to make people feel. So, we're so fortunate as any kind of actors or artists. All we want to do is make it better. Especially with "Beyond," I made it my mission from day one that you could tell that we were a family. I've been really fortunate in my life that the people that I've worked with haven't thought I was a major pain in the ass. And I am. Even my family would say so. [laughs] They jump on board, whether it is my own personal enthusiasm or they just want to shut me up. I do not know which it is. [laughs] Believe me, I'm willing to admit that it could be both or either. With that being said, you want to believe that if you are going to lose yourself and spend an hour of your time in someone else's story. You want to believe the story and I think that is our job.
Q) What do you think it is about "Beyond" that has made viewers connect to it so quickly?
A) I think they are all interesting characters. I think actually it feels the parents are the least involved. So much of the first season is setting the story up so (speaking for myself and Michael [McGrady]) I think what it does in "Beyond" for the parents is that we're as real as we can possibly be, which brings in the viewers. For the other characters, "Beyond" and Freeform and the actors got fortunate that they hired really good people. So, you have got a good plot, great scripts and incredible actors that really bring it to life. They create these three dimensional characters in kind of a fantastical situation because with the Realm you have to really love the person to let yourself go to the Realm. So, I attribute it to that you always go back to the story, concept and scripts and then the actors. Peter Kelamis, who plays The Man In The Yellow Jacket, has just infused a whole other personality into that character. He's fantastic and so much fun! Erika Alexander who plays Schumacher is friggin' amazing! Martin Donovan is one of the best actors around. There are just these interesting people that you just want to learn about. They have just stepped into these characters and made it their own. It's that old saying "it takes a village" and I think it is the same for the show "Beyond."
Q) The episodes were made available early. Do you think that helped the series generate a fast fandom?
A) I definitely think that! I think that it is so readily available that you can get your "fix," which is why I think Netflix is unbelievably successful. They are doing a great job and people can watch it when they want to. For example, I was in Arizona and "Beyond" comes on at 10pm. By that time, I was doing something with my dad and I missed it. When you watch it in a nonlinear way week to week…When you have got that access the fandom builds up quickly because you are not waiting four or five weeks to see if they like that. You're actually waiting a day. Because if you like something, you're going to binge watch it. The fact it was picked up so quickly for a second season is because people wanted more and they found out really fast because everybody saw the entire season.
Q) What would you like to see happen in Season Two for your character?
A) I always throw out these ridiculous ideas to the showrunner just because I want to have more fun and more adventures. They always laugh at me. They say, "Show me one series where the mother kicks ass." I say, "It doesn't have to be in a superhero way." But that has to come from the fans, too, because the networks and studios also want to provide something that they know is fool proof. I always like to be surprised by characters though. I would have love to have Diane come face to face with Frost. That can still happen and hopefully it will. But I think it will be a fun little ride in the second season.
Q) What about Freeform has helped the series break boundaries?
A) Yes! I don't know if I can really answer that because you it is still a family network so certain things that one can do on another network that you can't do on Freeform since it is owned by Disney. You still have the people who are watching "Baby Daddy" or so many great movies they air that it might not be appropriate to watch a more adult show. So, I think that they are finding their way in that. I just don't know the answer. I think with this new administration they had a pretty successful year so hopefully we can move forward to do some things that Adam, the creator, wants to do and that would be awesome.
Q) How was Diane originally described to you and how has she developed since your original introduction to her?
A) I think that she was written in the pilot (which I loved) who was someone who made the choice at the demise of her own marriage to stand by her son. She maybe turned to the church for the support she wasn't getting at home. All of that is great. Fantastic. But that could have been a two dimensional character because if that's all you play then that is kind of like, "I've seen that before." I think try to infuse my own personality – how would I react to the situation? I don't have to worry about it being a different time period, all the things an actor has to focus on. When I step into a part like this…and it was the same thing on "Glee." I focus on how does this make someone feel? With "Beyond," I was trying to take those moments if this happened what does this feel like? Then, the performance that would then come out was then as authentic and real as it could be. Even the last episode, I wished the confrontation with Pastor Ian had been stronger. When it was all over I turned to the creator and said, "But why wouldn't I have said X, Y and Z?" I think the reason why I can't is because you only have forty-two minutes to tell a story on a one hour network show. And the show is about Holden (Burkely Duffield). We, as actors, want to participate as much as we can yet as a storyteller that is a question I needed to ask. It was interesting why not have someone who is smart rather than someone who is in the dark. Hopefully, that will evolve in Season Two. In the first season, the writers get to know you and how you talk. People get to know your personalities. I've always thought with television you come in the door and if you are not the part they know immediately. If they think, "Oh, I could see her," and then you act it then it is a question of whether your acting fits the part. I always air on the side of "let's challenge ourselves and have some fun!" It's so much fun to act with these particular actors on this how. Again, in a selfish way, I'd love to go head to head with Schumacher or Yellow Jacket. Even Yellow Jacket and I had a little thing in Episode Four, which the audience feels she could potentially have been in danger. Hopefully, we'll get more of that. I had that same thing with "Glee." I used to say wouldn't it have been interesting if Carol and Burt had a kid? We could have and then you add an element to the storyline where Finn and Kurt had to deal with having this baby. All of those yummy things that happen in life, but when I brought things like that up people would be like, "Well, you should write it." I'd be like, "Yeah, I know." But that just seems like so much work. Can't someone else just write it? [laughs] We all just want to be invited to the party – as actors and now as characters. I definitely have faith that will happen.
Q) There are characters here that have such different layers to them.
A) Absolutely! Because everybody does. That is just human beings, we're all so layered. That's what you want in your entertainment. We all love our popcorn movies, but they are still characters that we can invest in There is a purity to Burkely Duffield. He is an actor who is so lovely. Then, Jonathan Whitesell is so fantastic. But there is a darkness about Luke that you don't know and all of these yummy, yummy people. Martin Donovan as Frost is amazing. One of my favorite movies is Bridesmaids. I want to be friends with all of those women! It's because those characters are so full. It's one of those where you don't have to think and you can just be, which is so fantastic. I love them! I kind of feel that same way about X-Men or Avengers movie where you can just get lost in it. So, I hope people can do the same with "Beyond." Just get lost.
Q) What do you hope viewers take away from watching Season One of "Beyond?"
A) What we of course hope for that they carry through is a desire to know more and to uncover the very secrets in the world and in the Realm. We hope the connections they have made with all the characters or their favorite characters continue to grow through the subsequent seasons. The reason we all love shows like "Friends" is because they become our friends. It was brilliant writing, but also we hope that what the fans carry into Season Two is that they just keep wanting more from these characters. We can only hope we can deliver. I have a good feeling that we will.