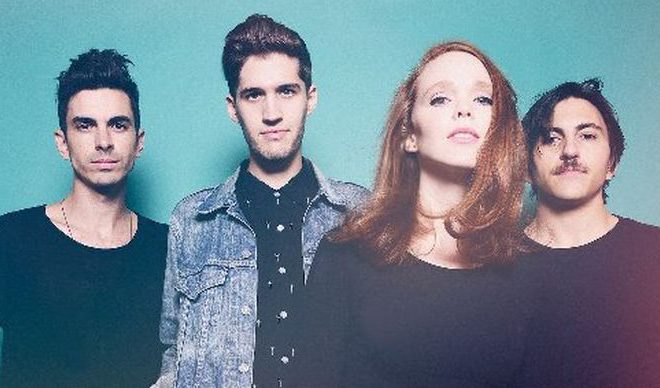 Features
Royal Teeth Are Anything But Amateur
By Lindsay Flanagan
There is a little band with a very big sound from the jazzy state of Louisiana. You may have caught them on "American Idol," on "Last Call with Carson Daly" or heard bits of their song "Wild" on a commercial. Perhaps you've seen them out on the road with bands like The Summer Set, American Authors or The Mowglis. If you haven't heard them yet, this is your alert: Royal Teeth rocks.
Although their music has been compared to big names like Neon Trees and Imagine Dragons, the four-piece band (comprised of vocalists Gary Larsen, Nora Patterson, drummer Josh Hefner and guitarist Thomas Onebane) has its own unique sound. Led by the complementary vocals of Larsen and Patterson, their music is rounded out with the experimental and exceptional guitar from Onebane and phenomenal percussion by Hefner. Royal Teeth states they "make music for adventures" and one listen of any of their songs is certainly a unique and adventurous experience.
Formed in Louisiana in 2010, the band has undergone various changes with record labels and personnel lineups, but one thing has remained the same—their sound has stayed unique – not purely rock, not quite folk yet definitely electronic dance-pop. The name Royal Teeth comes from a combination of two names—Gary Larsen had Teeth in his band name idea and Joshua Wells (former bass player) had Royal in his. "We didn't like each other's," Larsen says. "So, we combined it to make Royal Teeth. We decided to keep it because it sounds like a play on words: Royalty."
They first released their EP Act Naturally in 2011, which was then re-released in 2012 after the band was picked up by Dangerbird Records. They followed up the EP with their first full length album, Glow, in 2013. Both Act Naturally and Glow were led by the single "Wild ," a catchy and rousing anthem that proclaims "I believe that I can make you scream…for me." And, indeed, it does. "Wild" went— well—wild and so did the growing fan base. Not only did it become the band's first hit, it was selected by Samsung for their S5 Galaxy launch commercial. It was picked up by other brands as well and even by the TV series "90210." They even achieved the band international interest when it was featured as a track of video game FIFA 2013. It also gained the band attention from fellow Louisianan Harry Connick, Jr., who invited them to be a special guest on "American Idol."
Glow features not only "Wild," but many other songs that have given the band an ever-growing fan-base who are drawn to unique sound that is easily identifiable as Royal Teeth. With clear guitar riffs and electronic foundations, songs like "Stay," "Pick Up the Phone," "Monster" and "We Can Glow" have become classic Royal Teeth tracks. The album also features the stripped-down and lyrically heart-wrenching duet between Larsen and Patterson, "Waiting Here For You," which evokes the longing for a lost or unrequited love: "How long will you take/'cause I've been waiting here for you/will you try to come my way/'cause I've been waiting here/I'm waiting here for you."
Perhaps the best juxtaposition on the album is the placement of song "Waiting Here for You" right before "Mais La," which is (as Larsen explained in an interview with Artist Direct ) "a Cajun French expression. It has a meaning that's a little hard to explain. It can mean a couple of different things. It's almost like, 'Oh well!'" The original idea for the song came from Steve Billeaud, a former member of the band, about Louisiana and New Orleans in particular. Upon collaboration with the full band, the song grew to be about two people who meet in the city and their experiences there. "Mais La" may very well be, next to "Wild," their signature song for it showcases where their roots are. Royal Teeth's music is very like the idea of Louisiana itself—bright, colorful, energetically loud, beautiful and never fails to pull a crowd out of their seats to dance.
Royal Teeth spent much of the years 2012 through 2014 touring extensively, promoting their album by playing countless shows and festivals. They appeared on stage at coveted festivals such as Austin City Limits, Bonnaroo, CMJ, SXSW, Firefly and Bunbury. They were also invited to play in their home state at the New Orleans Jazz & Heritage Festival and the Voodoo Experience. The band chose to buy their way out of their deal with their label Dangerbird Records and later signed with the major label Elektra Records. However, the label and the band had differing timelines. Elektra didn't have a representative to work with the band right away and the band felt unsure about their future . They had already experienced significant delay with the Dangerbird buyout and they didn't want to wait until Elektra had time for them. So, they parted ways with the label. After stepping back and taking a break from any new releases, they shared "Kids Conspire" in early 2016. They released their third record independently, the EP Amateurs, on November 18th through Round Hill Records .
The EP builds on what the band has already established with their previous two recordings, which propelled them from an upstart indie band to a fully-fledged rock band. The tracks prove that despite the title Amateurs, the band is anything but that—their songwriting skills and performances have matured with every record. But this is the first record in three years and it's the first that has been written and recorded with the current lineup. Former members Andrew Poe, Steve Billeaud and Joshua Wells contributed to the first two records and Wells did play bass on the Amateurs record, but is no longer part of their regular lineup. According to Josh Hefner, the newest member of the band, Thomas Onebane, is "a game-changer creatively. He's a secret weapon. We spent a little more time in the studio – more experiments, more fine-tuning." Additionally, Patterson contributed to more of the writing on this record than their previous ones. She says , "I was able to contribute more and really find my place in the writing process. Through writing Amateurs, we gave ourselves a necessary reminder to push through any doubts or setbacks we might have and to keep doing what makes us happy."
The record opens with another single that is slated to be an anthem for the pop-rock genre, the aforementioned new single "Kids Conspire ." The song explores the feeling of being able to take on the world and the starry-eyed hopefulness of youth, accompanied by energetic beats that beg to be danced to: "The kids conspire/and leave their bodies on the ground/ their minds get higher/and they are never coming down." There are a few tracks on the new EP; however, that explore subdued moods, tones and lyrics that showcase the band's growth and maturity by delving into darker realms than previously addressed in their songs. "Only You" declares: "Put your money where your mouth is/say it to my face/you should have listened when I told ya, told ya/stop giving me the colder shoulder/I wanted something to believe in/that was a mistake." Additionally, "Villain," one of two songs driven mostly by Larsen's vocals on this record, addresses the idea of being assigned the role of the "bad guy" in a relationship that is going south, but accepts it: "I'm going to cut you loose/I'm better without you." The title track , however, is the energetic, upbeat, poppy, classic Royal Teeth, where they affirm that they "have dreams and they are gigantic."
The new tracks will sound even better performed live. The full Royal Teeth experience—and adventure—is seeing them live. A live show is completed with extra percussion by Larsen where he will most likely take his drum into the middle of the crowd and play. The crowd will then jump around him while confetti is shot from cannons. Royal Teeth's records are one thing—seeing them perform live is a whole other experience, one that leaves the crowd energized yet breathless. Watching them perform live on YouTube  is fun see, but it won't do the live performance justice. The band will be on tour  with Rooney this winter and again in the new year with Safety Suit.
A taste of that colorful and bright energy that their music and live performances bring can be found on the cover art that is featured on Royal Teeth's records. The art sets the scene for the musical experience and can also be found on their tour posters, t-shirts and other band merchandise. Perhaps this is because much of it is original artwork designed and illustrated  by Nora Patterson. Patterson graduated with a BA in Interior Design from the University of Louisiana at Lafayette in 2010, the same year she joined the band.
In addition to listening to the tracks on their records, head over to YouTube  to listen to the unreleased single "Rich." Likewise, go back to the Act Naturally EP and listen to their cover of The Knife's "Heartbeats." Both feature the lush vocals of Patterson backed by Larsen and showcase the percussion that has become a signature feature in their music.
Amateurs Track Listing:
Kids Conspire
Is It Just Me
Paper Cut
Amateurs
Villain
Only You
Kids Conspire (Extended Version)
Glow Track Listing: 
Hold Me
Vagabonds
Wild
Yellow Paper
We Can Glow
Stay
Pick Up the Phone
Honey
Monster
Waiting Here for You
Mais La
Act Naturally Track Listing:
Wild
Heartbeats
My Donna
For Keeps
Act Naturally
Royal Teeth is on Facebook , Twitter and Instagram.
Their music can be found on Spotify, Soundcloud  and Bandcamp.
http://www.bandsintown.com/RoyalTeeth
https://www.youtube.com/royalteeth
https://www.facebook.com/royalteeth/
twitter.com/royalteethmusic
https://www.instagram.com/royalteeth/
https://royalteeth.bandcamp.com