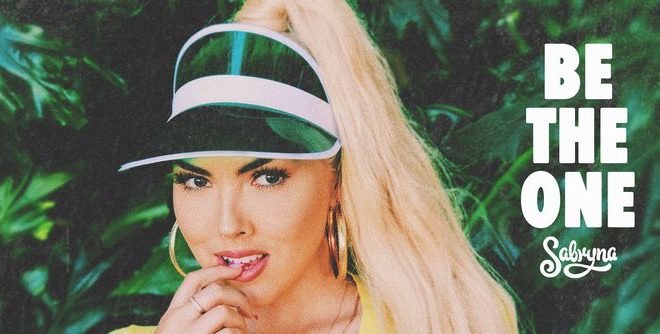 Interviews
Sabryna – Blonded
By
|
By: Jamie Steinberg
Q) What are the recent projects that you are working on?
A) Yes, I was so excited to be a part of filming the pilot for the new TV show "The Four" with DJ Khalid and P. Diddy. It was so much fun and I met such amazing people.
My EP "BLONDED" is also being released Nov 24th…Finally!  I can't wait for my fans to hear it!  We are also releasing a documentary featuring the behind the scenes of the past year and the making of the EP. Lots of amazing stuff happening. I'm blessed to be stressed!
Q) As a musician, how would you describe your sound?
A) It's definitely pop, but with an RnB twist.
Q) Who are some of your musical influences?
A) Growing up, I was very inspired by strong female vocalists like Whitney Houston, Christina Aguilera and Mariah Carey. Lately, I've been listening to a whole range of music. I'm also really inspired by old 90's movies and my life experiences.
Q) Talk about the story behind your new song "Be The One."
A) "Be The One" is about asking someone to prove their worthiness and love for you. I wrote it with my producer Hannabil. It's also a really fun summer tropical record, definitely one of my faves on the EP.
Q) What do you think it is about the song that fans connect to?
A) I think the beat/production is really captivating and catchy. That's what hooks you in at first and then the lyrics are really well thought out and impactful.
Q) What is your song writing process? Do you need music before you can create lyrics?
A) The songwriting process always varies a little every time. But I generally like to start with the music and then build a melody and lyrics that fit into that. It all about the vibe/mood of the record.
Q) You'll be opening for Becky-G and Jeremih at the Capella Music Festival on December 8th! What can fans expect from a live Sabryna performance?
A) Yes, I'm so beyond excited for this performance!!! You can definitely expect high energy, fun outfits and just an all round good time!!  It's gonna be so much fun.
Q) What songs off your Blonded EP are you looking forward to performing live?
A) I think I'm most excited to perform a song called "Sweetest of Dreams." It's more of a moody record and when we recorded it I pictured myself singing it to a stadium…So, hopefully we can make that vision come to life!
Q) What do you hope listeners take away from listening to your new EP as a whole?
A) I hope that they can get to know me a little better and I can forge a stronger deeper connection with my fans though this EP. I also hope they just really enjoy the music and it plays a role in their everyday lives!
Q) Who would you most like to collaborate with on a song in the future?
A) There is honestly so many people I'm dying to work with. I'm a huge Justin Bieber fan so that would be a dream. I love a lot of DJs too like Calvin Harris and Diplo. I think we would have a really strong collab together.
Q) You are a part of social media. Why is that such an important way for you to connect with your fans?
A) Social media is an incredible tool and platform that allows me communicate with my fans. I'm thankful for it because it has really given me so many opportunities. I don't think I'd be where I am right now without social media!
Q) What would you like to say to everyone who is a fan and supporter of you and your work?
A) I just want to say how grateful I am for you! Your support means the world to me. I read all of your messages and I truly value each and every one of you. Thank you for being a part of this journey with me! [smiles]