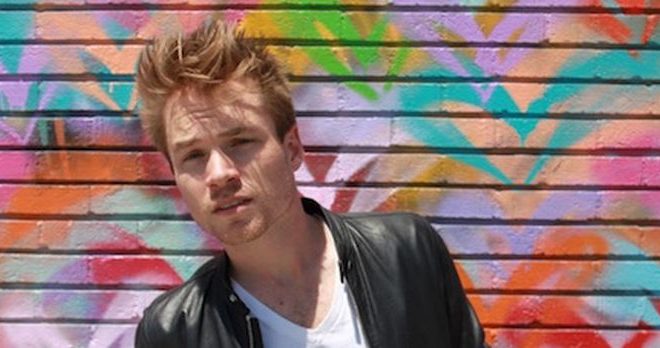 Interviews
Sam Clark – Out of Reach
By
|
By: Jamie Steinberg
Q) How would you describe your sound?
A) Singer/Songwriter, Pop sometimes leaning towards country.
Q) Who are some of your musical influences?
A) Right now I'm listening to a lot of classics from the 60s like Roy Orbison, Simon & Garfunkel, Van Morrison, The Beatles, etc. But I'm also digging HAIM, Alt-J, Phoenix, Paramore and a bunch more top 40 stuff too.
Q) Talk about the story behind your new song "Out of Reach."
A) I was on Rodeo Drive in Beverly Hills when I came up with the first two lines of lyric: "I wanna touch you like I'll never see / I wanna listen like I'll never speak." Being overstimulated by the excess of this high end shopping destination I paused for a moment, closed my eyes and these lines just came to me.
I was single when I wrote this song and had been writing more melancholy/introspective love songs. I wanted to write a more hopeful song, something I'd want to sing to the love of my life. The next time my songwriting partner Bill and I caught up for a session he had a chord progression/riff he'd come up with and I knew it would match perfectly with these lyrics. I translated his piano riff to my guitar and the rest of the song just flowed out of us. The song was finished in a few hours and really helped cement our creative partnership.
Q) What do you think it is about the song that fans connect to?
A) I aim to write honest songs with real meaning to me that hopefully speak to others on a deeper level. I also like my songs to be catchy without compromising their lyrical content. I'd be very happy if that's what has attracted people to this song.
Q) How does the video play into the message of the song?
A) I wanted to honor the song by showing multiple forms of love in the video and I had some special visitors in town (my parents). So, I wrote a concept that included them. The video starts with me coming home on my birthday to an unexpectedly empty house where I find a clue which leads me on an adventure towards a beautiful surprise.
Q) What is your song writing process? Do you need music before you can create lyrics?
A) Most songs I write come from some kind of aching desire in my soul and then a melody/lyric/title idea is formed. From there it can go any number of different ways. Some songs flow out as stream of consciousness and other times it can take three hours to find the right word/line. However, when the song comes into being, it needs to be authentic and I try to listen to my heart more than my head to guide this.
One of my favorite songwriting tricks is to play with the vowel/consonant sounds that naturally want to come out with each melody/chord progression. Sometimes the songs seem to almost write themselves that way.
Q) How much of hand do you have in the production of your music?
A) I've always been involved on some level, but I was definitely more actively involved with production on this single than any other song I've released.
Q) What can fans expect from a live Sam Clark performance?
A) Acoustic, melody driven songs. Depending on the show, some live looping. Generally, there'll be a whiskey nearby.
Q) Where are some of your favorite places to perform and what makes those locations so significant to you?
A) I've performed to rooms of fifteen and crowds of 15,000. Both are super enjoyable in their own way, but I think the music I'm currently working is most fun in an intimate environment.
Q) Will there be an EP or full album coming in the near future?
A) I have close to two full albums of songs written. If I don't get too busy with acting in the next few months, I hope to start producing an EP or LP.
Q) Who would you most like to collaborate with on a song in the future?
A) Oh wow, tough question…I'm really digging HAIM's latest releases. That would be awesome.
Q) What album/band are you currently listening to and why do you dig them? 
A) Is this why teachers used to tell me to read all the questions before starting to answer them? [laughs] There's just something really real and honest about HAIM's music. It's catchy without compromise and the arrangements they put together are beautiful.
Q) We recently saw you performing in Grease Live! What did you take away from your experience?
A) It's very rare to work with so many talented people from Broadway, TV, film and music on one production and I'm so grateful to Tommy Kail for believing in me and including me in what is the most incredible experience in my career thus far. It has pushed me to be a better, more rounded performer and inspired me to keep my chin up during the hard times.
Q) You are a part of social media. Why is that such an important way for you to connect with your fans?
A) I've played music in multiple countries around the world. Social media allows me to regularly interact with these people, all over the world, who make my career possible.
Q) What would you like to say to everyone who is a fan and supporter of you and your work?
A) Thank you so much to those who have been there from day one all the way to those who have been fans for only one day. Your support keeps me going. Oh, and don't forget to request songs you'd like me to cover on my YouTube!
Watch "Out of Reach"