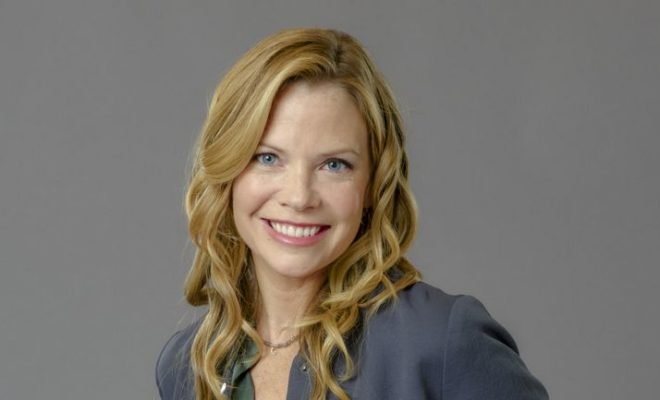 Interviews
Sarah Jane Morris – Love Struck Cafe
By
|
By: Marc Regen
Q) Tell us about your character Megan Quinn in the Hallmark TV movie Love Struck Cafe.
Sarah: I play Megan Quinn, a young woman who left her small town to pursue her dream of becoming an architect. After landing in Chicago in a job she doesn't love at a commercial development company, she is sent back to her small town to try and convince a holdout to sell her property so the company can build. In the meantime, she is also forced to help out her father in his cafe after a fall and face her high school sweetheart and the feelings she may still have for him.
Q) Do you and your character Megan have things in common?
Sarah: Well, I was a waitress like her many years ago!  I am a lot like my character in that I want to have it all…the career, the family and an overall good work/life balance. I could certainly relate to going "back home" and having to face the changes that happen in life as you grow up.
Q) What was your favorite scene with your costar Andrew Walker?
Sarah: Working with Andrew was a blast. There were so many scenes together that I could not just pick one. We had fun shooting a scene in the cafe one day with some of the other supporting characters. It was a long scene so we spent a lot of time all hanging out together.
Q) Does the title Love Struck Cafe mean exactly that? Did Megan meet Andrew's character in a coffee shop and fall in love?
Sarah: Not exactly, but I also don't want to give away the movie. You will have to watch it.
Q) What did you enjoy most about working with Hallmark for this film?
Sarah: This was my first time working with Hallmark. It was a great experience. It would be cool to work with them again. The movie was filmed in Canada and I just love the Canadians. I told my mom, "I think these are my people!" I am from the South and there is something about Southerners and Canadians that I love. The locations were beautiful as well. It was fun to get to work on something with a bit of comedy as well and bring my goofy side to the character.
Q) What do you think it is about Love Struck Cafe that will make it a fan favorite film?
Sarah: Well, everyone loves these Hallmark movies, right? Plus, Andrew Walker costars in it! He has done a bunch of Hallmark projects and everyone loves him. That could definitely make it a fan favorite. I like that there's a more modern fairytale take on the ending. People will feel satisfied in a way that might seem a little different from some Hallmark movies.
Q) How do you manage motherhood and being an actress?
Sarah: When I'm working I'm not able to give as much to my family. Luckily, I have a very supportive husband and we are very fluid and flexible in our parenting. We take turns being the default parent. Like right now, I am the default parent while he is off working in Canada. I'm also working so I've had to hire some help, but my kids are also flexible and understanding. We joke though that sometimes when you're solo parenting you end up giving one hundred percent. Well maybe it's more like eighty percent, but when we're both there giving fifty percent it doesn't quite add up to a hundred and stuff starts falling apart!
Q) Do you have any advice for fans that want to follow in your acting footsteps?
Sarah: I would say don't go into the business with a time frame. Don't say, "I will give it one year or two years," because it rarely happens that way. You have to expect that it will take time. If you look at my career, it is almost like I had a marathon. There are also times when I am not working. I am auditioning and whatnot. I came to LA with really one goal and that was it. I'd say to younger people wanting to be an actor, don't give up. If you start feeling like you aren't getting any work, do something else for a bit – be it philanthropy or a new skill. Anything to give you a feeling of something new. I feel like when I'm working hard I squeeze the sponge out so much that there's nothing left and I have to go fill it up again with new and exciting experiences. My rule is live my life first. The work will follow.
Q) What are some of the other projects you are working on?
Sarah: I just finished up working on "The Night Shift" on NBC. No one is sure about a next season or what that would even mean for me, but it would be great if that happened. There is a film project up in the air that may happen, but I don't feel like I can divulge about it just yet. I'm also active in my theater company and keep busy with my job as a parent. Aside from that, I will just be auditioning and searching for my next project. Who knows, maybe another Hallmark movie if people like this one!
Love Struck Café airs on Hallmark Channel on Saturday Oct 14 9/8c