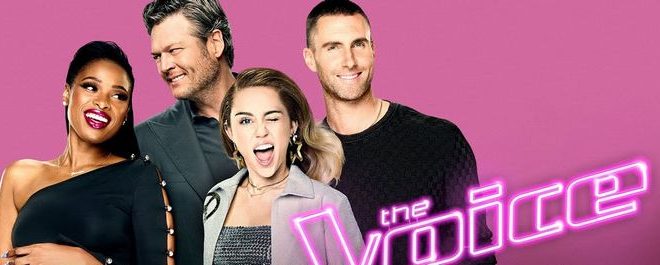 Interviews
Shi'Ann Jones and Ashland Craft – The Voice
By
|
By: Jamie Steinberg
Q) Shi'Ann and Ashland, I'd like each of you to talk a little bit about what it was like working with your coaches.  Did you help choose your own songs?  What did they say to you after you were eliminated?
Ashland Craft:    Yes, so the experience working with Miley was obviously extremely amazing.  Luckily, she was a very hands-on coach.  And so, she was involved in everything, from the song choice to wardrobe.  It was just every little thing she wanted to be hands-on with.  And that was a great thing to have because that's what I really wanted out of this experience.  And we would kind of collaborate on song choices.  She would give me ideas.  I would give her ideas.  And we would just kind of go back and forth and talk about our likes and dislikes for each song. So it was always more of a collaborative effort than anything.  And I thought that was kind of cool that we both got to give our input on the song, and then make a decision from there.  So I'm really thankful that she was such an invested and hands-on coach.
Shi'Ann Jones:   Jennifer is amazing and was an absolutely amazing coach.  She understands me.  And she knows what she wants me to wear, like she talks to wardrobe.  And she tells the makeup people to glam me up and make me look like a star.  She is always involved with the songs.  And she chooses the songs for me.  And I'm just thankful for that.
Q) I just like to know what was going through your mind when it was announced you had fallen into the bottom three with Davon.  Were you nervous to sing your survival songs?  And after taking the stage, what did you predict was going to happen?  And I guess we can start with Shi'Ann?
Shi'Ann Jones:   I wasn't like nervous.  What was going through my head, basically, I was like, "Well, if I do go home, I'm just going to be satisfied, and I'd get to see my brother, friends and family again."  And Davon is a performer.  He's really good.  And all I wanted to do was just do my best.
Ashland Craft:    Yes.  So it started kind of dwindling down.  And once I kind of came to the realization that I was probably going to be in bottom three, I really just kind of looked back on my experience.  And I was satisfied to say that I had really accomplished everything that I wanted to out of this whole thing. And so, I was honestly kind of excited to sing my last chance song, obviously not for the reason that we were meant to sing the song for but just because it was a song that really showed a side of me that nobody has really gotten to see yet on the show. So, I was just kind of excited to put that out there and just lay it all out there for one last shot.  But yes, I'm satisfied with my performances on the show.  I'm satisfied with how far I've made it.  I definitely didn't think I'd make it this far.  And so, I couldn't be more grateful.
Q)  I have a question about the voting.  Did the show give you guys an idea, a general idea of like where you guys are kind of placed at, for instance, like last week's votes, like just to give you an idea, so you know like where you stand, going into the next week?
Ashland Craft:    No.  We don't really receive that information.  We just have like the general public information, as far as like iTunes.  We don't get actual numbers.  But we see like the iTunes sales, obviously, on the charts.  But yes, we don't get any more information than, really, anybody else does. So we just kind of have to go into it, giving it our best shot, really.
Q) Ashland, you did come out with a slightly different – you gave us, like you said, you showed a different side this week.  How comfortable were you with that or uncomfortable, and how much preparation did you have, and like anything you'd change about that performance, in looking back?
Ashland Craft:    I was actually pretty comfortable with the song because when I gig back home, I do a lot of country music, country rock, but I also do a lot of bunch of older rock hits too.  So it was kind of right up my alley, even though it wasn't really country.  But the cool thing about it was getting to put my own little spin on it to make it sound more like a country song. And so, as far as changing anything about it, I really can't think of anything that I would change about it.  I feel like I left everything out there, which is what I've tried to do every single time.  And I was satisfied as well with the performance.  So yes, I think it was great.
Q) Shi'Ann, what are you going to do next and really wants you to be encouraged as you take those next steps.
Shi'Ann Jones:   Thank you so much.  What I would do next is just basically work on my inner self and would just want to see what the outcome is going to be.
Q) Ashland, now that you're finished with the show, what do you see yourself doing next?
Ashland Craft:    For me, my next step, obviously, going home.  I have a band back home that I started putting together before I actually started the show.  And so, the plan is to go back home with them and start planning out our gigs and our shows.  And I hope that songwriting will be a major part of my life for the next year or so.  You know, that's something I really would like to work on. And so, yes, it's just going to be a bunch of collaborative writing, and playing shows, and trying to make a bigger name for myself than I have already, and hopefully traveling around outside of South Carolina and inside South Carolina.  I want to play at my hometown as much as possible.  But yes, I just really want to make great music and give people a great show.
Q) Have you done much songwriting?
Ashland Craft:    I actually haven't.  That's my weak point, I would say, as far as the music goes.  That's something that's kind of struck me as a challenge.  So, now that I know a lot more people in the industry that are amazing songwriters, I can count on them to bounce ideas off of.  And so, I'm really going to try to do that within the next year or so.
Q) Ashland,  Miley commended you last night on how much you've been able to accomplish from the entire competition.  Without getting into too much detail though, she acted like you've overcome a lot to get to live shows.  So could you talk a little bit about that, like why was the journey a struggle for you at times?
Ashland Craft:    I wouldn't really say it was a struggle.  It was just a little bit of a challenge because I haven't competed since I was maybe 14 years old.  And so, I've always been in an environment where people came to the venue just to see me.  And so, being put in a situation where you're having to win people over in the audience, you know, that have never heard you before, it was a little bit intimidating. So it wasn't necessarily a struggle.  It was just more of a challenge for me to make sure that I was not only singing my best but I was performing my best.  And I would say that it's very obvious to see, throughout the progression of the show, how much I turned into a performer instead of just a singer.
Q) Shi'Ann, do you feel like your age affected your experience on The Voice at all?  Because I feel like many young artists come on the show, and they want to prove that age is just a number, but I can only imagine how intimidating it must have been for you to get up on that stage every week with the level of talent out there, at only 15 years old.  Do you know what I mean?
Shi'Ann Jones:   Yes.  Not at all.  I don't think it was about my age because there were some young people on here too, like Addison, she's 16, just only one year away from me.
Q) Well I guess I mean not whether it affected the votes but just your overall experience on The Voice being such a young contestant, you know, singing against people much older than you, with a lot more experience.  Did that make like the week a little more nerve-racking or intimidating?
Shi'Ann Jones:   Most definitely, and sometimes, but not really, because I'm just doing like I used to do in contests, well just only one, because I won the last one I did in like elementary school.
Q) Shi'Ann, what have you learned about yourself over the course of this experience?  And how are you going to use what you've learned going forward with your life after the show?
Shi'Ann Jones:   I have learned that I am a strong woman. And I have learned just to be myself.  And I'm going to use that because, in this business, you're going to have to have like a little bit of strength because there is going to be some downfalls.
Q) Shi'Ann, your coach, Jennifer, was in a real tough position.  She knew she was going to lose one of you.  But I couldn't help but notice her reaction.  It kind of seemed like she was disappointed by – you know, when the votes came in.  Did you get any type of feedback with that?  And I don't know if you know what I'm talking about.  But she kind of seemed like she was kind of shocked.  I mean but I kind of didn't understand what was going on with that.  Can you give us some insight for that?
Shi'Ann Jones:   Well after that, she was like, "You know what?  I love you.  And you were born to do this.  And you have a whole career ahead of you in life."  And she said that I got to keep on going, because she had some downfalls, and just don't stop here because this is only the beginning.
Q) Shi'Ann, I know we've talked before about – you've talked quite a bit about how important your family is to your experiences, especially to your musical aspirations.  And just if you could talk a little bit about what it meant to kind of help represent them, and also, what it meant to have so much support back home in Kentucky; Bowling Green, specifically?
Shi'Ann Jones:   It meant a lot to have support, all the way from Bowling Green, Kentucky, because they're like my family now.  And, you know, it's just amazing to have heartwarming people surrounding you and loving you, because they love what you're doing, and they feel like you're brave enough to go and pursue your dreams.  And it just means a lot to me.  And I love them for that.
Q) I'd like to know how both of you girls feel about your song choices for a Monday night's performance show.  Looking back, do either of you wish you had picked a different song?  Ashland, we can start with you.  You know, for example, you said last night you would plan to show America a softer side of yourself the following week.  So do you wish you had taken that opportunity earlier?
Ashland Craft:    I do wish that would have happened this week. I will say that.  But I think Miley really wanted to make this a bigger performance because I think Janice leaving made her worried, obviously.  But I do say I wish I would have gotten the chance to show that.  But I definitely wouldn't take anything back, obviously, like I'm just super proud of my performance from Monday, and it was everything I wanted it to be. And when I first heard that I was doing the song, I automatically had like a picture in my head of how it was going to go.  And it went exactly like that.  So I wouldn't change that part of it.  So I'm satisfied with my performance.  But I do wish I would have gotten the chance to show that softer side of me.
Q) And how about you, Shi'Ann?  How about your song choice?
Shi'Ann Jones:   Well, in the beginning, I did want to change it.  But Jennifer was like, "They need to see the superstar inside of you," because they already know that I can sing.  And I think that I did really well.  There isn't anything that I would change.  I think it was a beautiful performance.
Q)  Were either of you surprised to be in the bottom this week?  Ashland, you can go first.
Ashland Craft:    I was shocked.  Yes.  I would say that.  I think we all would be because, as a whole, we look at each other as such talented musicians.  And honestly, when it comes time for the eliminations, you know, we all are just dumbfounded by who we think would be in the bottom because we have no clue.  But, unfortunately, that's in America's hands.  And we have no control over that, really.  So I was a little surprised.  But you take everything as it seemed to you and you kind of run with it.  And so, I'm just – I'm grateful that I've got as much exposure and experience as I did.  I came into this competition hoping for a chair turn; I've got three.  And it was like, "Okay.  Maybe I'll get one performance or one more performance on TV," but yet, I made it all the way to Top Ten.  So, at this point, you know, I'm not complaining at all for how far I've gotten in this competition at all.
Shi'Ann Jones:   I was surprised a little bit, because, everyone is a target.  We don't know who's going to go home.  And there's going to be four people going home next week.  So everyone is a target.  But I feel really satisfied about myself because I do know that I did my best and there's nothing that you can do.  You just have to do your best.
Q) I'd like for each of you to just make a prediction.  Who do you think will win The Voice this season?
Ashland Craft:    Honestly, that is a very hard question for me because there's way too many people that I would take as winners.  I don't think I could just pinpoint one honestly because everybody is so good.  And we're all in our own lane, as far as the music that we're doing.  And so, it's really hard to kind of separate that and pinpoint a winner out of those because everybody's so amazing.  So, honestly, I don't have an answer for you.
Shi'Ann Jones:   It's kind of hard for me because they are phenomenal singers.  And they have different backgrounds with singing.  I don't think I can name one either because they're just phenomenal.
Q) So it sounds like you girls don't even think there's a frontrunner right now, just because everyone has their own lane?
Ashland Craft:    Yes, for sure, it's very hard to even think of who would win.  I think the biggest thing is the fact that it's in America's hands, so everybody has a different taste in music.  So it's really just what America is feeling, you know?
Q)  I wonder if you could talk a little bit about what it was like to be on a team that was nearly all-female?
Ashland: Absolutely.  It was the most, I feel like the most uplifting and encouraging team that could have ever been placed in front of me and beside me.  It's like when we first got the chance to watch our Blind Auditions, we all sat in a room, and we just hugged and cried, because we were all so proud out of each other. And when you think about an all-female team, your mind automatically goes to like cattiness and drama.  But there was absolutely none of that, like every single girl on the team was just amazing.  And so, it really just enhanced the experience even more.  So I would not change it at all.  It was cool to be a part of this first all-female team on The Voice.  And I was blessed to be a part of it.
*CONFERENCE CALL*