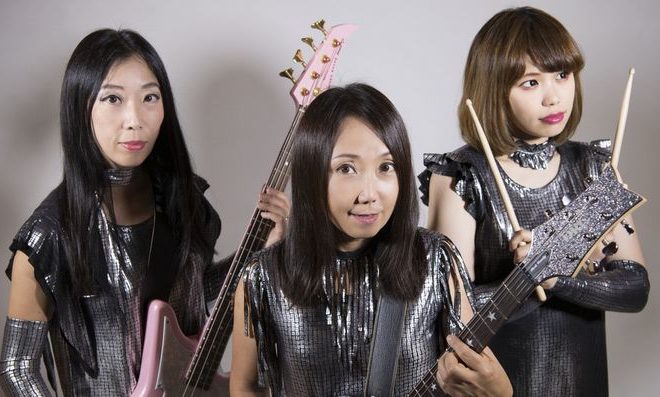 Interviews
Shonen Knife – Adventure
By
|
By: Arlene Allen
Q) What do you like best about touring the US?
Naoko: Seeing and meeting a cheerful friendly audience at every city.
Q) What is the secret to Shonen Knife's incredible longevity? How did you celebrate your 35th anniversary last year?
Naoko: I don't know if it is a secret or not, but I don't set up any goal for band activity. I'm just coping with daily tasks and never look back. Thus, I didn't have any celebration on the anniversary. I don't count how many years have been passed.
Q) Do you ever still perform as the Ramones tribute band, The Osaka Ramones?
Naoko: Since Osaka Ramones was played with our former members Ritsuko [Taneda] and Emi [Morimoto], I've never played with the present members.
Q) Did you know as children that you wanted to be in a band?
Naoko: No, I didn't. I wanted to be a painter or a novel author.
Q) How has your latest album, Adventure, differed from your previous work?
Naoko: It is inspired by 60's and '70's classical rock including Hard Rock. Our previous album Overdrive has the simile concept, but Adventure improved and expanded a lot.
Q) What are your favorite songs to perform live?
Naoko: Recently I like "BBQ Party" or "Wasabi."
Q) Who are you currently listening to and who would you say your latest influences are?
Naoko: I listen to disco, funk, R&B music like Earth, Wind & Fire or Con Funk Shun because I like music, which I can't make by myself.
Q)  How did you enjoy your visit to Miami? I heard Naoko saw an alligator!
Naoko: I could stay in Miami only 18 hours, but on the way from Orlando to Miami I saw a wild alligator. It was so cute. I wish I could stay in Miami more.
Q) What do you hope listeners take away from your music?
Naoko: I hope people get happy and have smiles through our music.
Q) What are the band's plans for the future?
Naoko: We will play at a music festival Sled Island in Calgary Canada in June and Japanese shows are decided in July.
Q) Who would you love to go on the road with? Who's your dream tour mate?
Naoko: My private jet airplane.
Q) What would you like to say to everyone who is a fan and supporter of you and your music?
Naoko: Thank you so much for your kind support. Please enjoy Shonen Knife music and get happy.
ALL QUESTIONS ANSWERED BY GUITARIST-VOCALIST NAOKO YAMANO