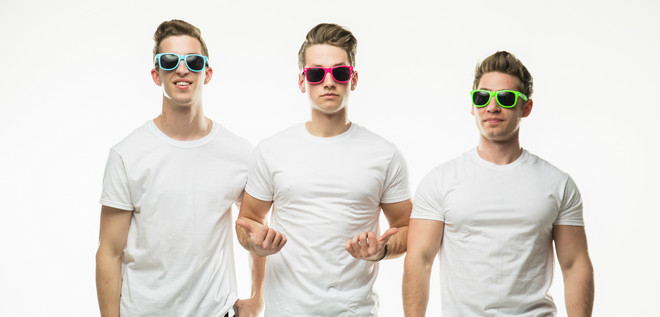 Interviews
Skyward Story – Hey!
By
|
By: Lisa Steinberg
Q) How would you describe your sound?
Brandon: We're really proud of how our sound has developed.  This new music has a very pop rock sound and would feel at home on the radio, but you can definitely tell where we've come from.  Our pop punk background is still evident in the instrumentation and some melody as well.
Q) Who are some of your musical influences?
Scott: We all grew up loving pop punk bands like blink 182 and Green Day, and heavier rock and metal like Avenged Sevenfold and Breaking Benjamin.  While writing this new music we spent a lot of time listening to the radio and combined inspiration from there into our roots to create this new sound.
Q) Talk about the story behind your new song "Hey!"
Aaron: "Hey!" is a song that we wrote after noticing that all of the new songs we had come up with thus far were all love songs.  We got to joking about it and making fun of ourselves as we often do and our "stupid little love songs" became a thing.  We ran with the idea and now you can hear the result in "Hey!"
Q) What do you think it is about the song that fans connect to?
Aaron: I think our fans connect with the 3rd person aspect of us talking about the "stupid little love songs" that have been written by us in the past. I think our fans like how we've pointed that out about our past music. Also, broadly speaking the song is about addressing ourselves with a sense of humor and not taking ourselves to seriously which is a message that we love and fully believe.
Q) What is your song writing process? Do you need music before you can create lyrics?
Brandon: Our song-writing process is very organic.  One of us will bring something to the table for all of us to dig into, whether it's a chord progression, riff or simply a lyric and we'll all feel it out and build onto it together.  Everything we do is together and we feel like that's one of the reasons our music stands out.
Q) How much of hand do you have in the production of your music?
Scott: We have our hands in fully every step of the way.  No matter what instrumentation (or vocals) are being done, we're all right there, listening, coaching and giving suggestions.  Again, our music turns out the way it does because we all are involved and care and have a passion for creating it.
Q) Is there an EP or album coming in the near future?
Aaron: We don't want to give anything away, but MAYBE. [wink]
Q) What can fans expect from a live Skyward Story performance?
Brandon: A good time!  Fun is contagious, you'll never see us enjoying ourselves more than when we're on stage and you'll feel that from the audience.  We try to involve everyone and give them an experience that they'll never forget!
Q) What do you hope listeners take away from your music?
Aaron: I hope that listeners will be happy and uplifted after listening to our songs. We write our music from a positive standpoint that hopefully our fans will appreciate.
Q) You are a part of social media. Why is that such an important way for you to connect with your fans?
Scott: Social media is very important for us because we don't get to see our fans on a daily basis. Outlets like Twitter and Instagram give us the opportunity to talk with fans all over the country and it helps them keep up with us and what we are doing from day to day.
Q) What would you like to say to everyone who is a fan and supporter of you and your work?
Brandon: It can't be said enough but THANK YOU.  Thank you to everyone who supports us in what we do.  From a simple follow to buying our merch to coming to our show.  We love what we do so much and we want to be able to do it for the rest of our lives.  Everyone who supports the band in any way gives us life and the words "thank you" will never be enough.  We'll give back to you with our music, with our performances and with the family and community we build together!