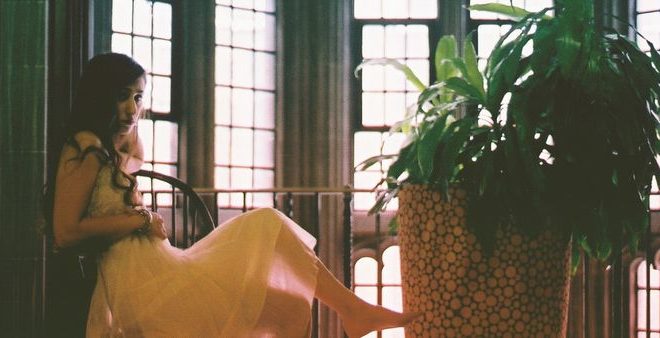 Laura Lynn Petrick
Interviews
STACEY – First Move
By
|
By: Lindsay Flanagan
Q) Can you tell us about your background in music?
A) I grew up playing classical piano, through the Royal Conservatory in Canada, often playing piano recitals and school talent shows. I started writing and singing much later when I moved out to go to university. A couple years later I released my first EP and I've been honing my craft and working on music since!
Q) Can you share with us a little bit about your songwriting process? 
A) I write everything on piano, usually singing non-sensical things to try and find melodies on top of what I'm playing. It's very improvisational and a game of refinement. It's a chase for a hook. Once I find a hint of a melody I like, I build it out, playing slight variations to find the best iteration of each piece, until I have a song. I use my iPhone demos to capture everything so I can go back and listen to everything. 
Q) You have stated that some of your influences are Carole King, Marilyn Monroe and, in general, 1960s Hollywood and California. Could you share with us what specifically about these people and this time period is so inspirational?
A) In terms of sonic inspiration, the 60's California singer-songwriter movement is just something that I always come back to. I never get tired of those records. In terms of aesthetic, I really romanticize old school glamour because I find it mesmerizing. It was also a time where the tabloid standard included more variation in terms of body types. I also associate California with being eclectic…artists flock there to let their freak flag fly and fully embrace their artistic nature. There is freedom in that that I yearn for as an artist that is still working a day job. I'm aiming to move out there eventually and 100% embrace my inner hippie/weirdo artist self.
Q) In the feature we wrote, we stated that you aren't a reincarnation of anyone past or present—at least, not musically or physically, no matter how much your style and voice conjure images of 1960's Hollywood starlets. We added that spiritually might be a different story, but we'd have to ask you. So, that's our question! Do you believe in any type of reincarnation, spiritually or otherwise?
A) I'm really not sure. I believe in different kinds of energies existing around us because that's something I've felt. How that manifests in terms of people's universal compass, I don't know! If it exists though I hope I come back as a happy cat so I can blissfully sleep in the sun all day.
Q) Do you think that fate had a hand in helping you connect with your producers, Alan Day and Derek Hoffman, since Mr. Day found you on Instagram and Mr. Hoffman's studio happened to be right across the street from your apartment?
A) I do believe that. I definitely am a believer in the right place, right time, universe aligning scenarios.
Q) You created an awesome Facebook group called Toronto Women in Music Collective. Can you share with us about how that came about? Is it musicians exclusively, and women exclusively, or are you open to other art forms and genders?
A) It's women and non-binary individuals working in music in general, not musicians only! So, we have members that work all over the industry (at labels, radio shows, booking agencies, publishers, etc.). It was really organic. I had run into a few female musician friends in one week back in 2014. They were all pursuing different things and so was I. I decided to invite all my lady musician friends over for a BBQ – there were six of us. We had an incredibly inspirational evening, talking about shared experiences, learning from each other. I made the Facebook group that night and slowly it grew. I started booking speakers, corralled a core team and we began throwing showcases too. There's around 1300 people in the group now.
Q) Your new EP, First Move, is set to release on September 15th. Can you tell us a little bit about the process of writing and recording this EP in comparison to your first EP, which was released nearly four years ago?
A) I think the biggest difference in the two EPs in terms of process was my level of experience. With my self-titled EP I was younger and had never recorded so I challenged things far less. That process was smooth and we recorded it really quickly. I'm thankful for Alex Bonenfant who sprinkled a particular dreamy vibe into the very minimal instrumentation that made it more ethereal. I really didn't have ideas beyond the piano and vocals at the time. This time around I came with references, ideas, direction and better trained ears. We experimented more with sounds. I found nuance in the mixes. My writing process didn't really change, but I think I developed a bit more awareness towards song structure and production overall.
Q) Your latest release from the EP is the song "Trouble Is," which you called the "darkest side" of your EP: a "modern ode" to a "Gatsby soirée" with lyrics that "tumble out in a masochistic confessional," "à la 50 Shades of Grey." That's heavy! But it's a gorgeous, emotional almost epic. Can you tell us a bit more about why you felt this song and its message were important to memorialize in song?
A) I started to notice my own romantic patterns that were problematic. It's a mind vs. heart song; when you know what your heart wants isn't really a good idea and your mind is saying "this person is no good for you & is treating you poorly," but you never listen and wind up hurt. It happened enough times that it just came out in this song. I started to wonder if there's something in me that is excited by the turmoil. Dark for sure. I wanted to address it head on, almost calling myself out.
Q) You also stated that you recorded "Trouble Is" in one vocal take. Wow! Can describe what that was like and the reason it only took one take? Was it an artistic move on your part, to capture it almost "raw?"
A) I hadn't really mentioned this prior since it just didn't really come up…But all of the songs were actually one vocal take. It was an accident. Every day that we started a new song in the studio, I'd start by laying down the piano and then doing one scratch vocal in the control room — not even in the vocal booth. They were meant to be throwaway's, just to have a guide to build the song around. But because I didn't think we were using them I was so relaxed and the performances came out really naturally. When my actual vocal days came, I kept redo-ing them to try and match the scratches because I liked how they sounded.Eventually, we were like, "Why are we doing this if we like the scratch vocals?" So, we ended up using them for every song.
Q) Can you tell us more about the significance of the rose emoji you add to your name on your social media platforms? 
A) A rose is beautiful, lush with color, melancholic, romantic and nostalgic all at once. It's the emoji equivalent of my music.
Q) What's next for STACEY? Do you have plans to record a full-length album in the future?
A) Yeah! I'm starting to write for a full-length now. I feel like it's time to have a larger body of work.
Q) Will we be able to catch you on tour in the U.S. anytime soon?
A) I'll be playing Rockwood Music Hall in New York on September 29!
Q) Speaking of tours, who would you love to share the stage with?
A) Tame Impala or Tobias Jesso Jr.
Q) What musicians are you listening to these days?
A) I love the new Lana record. The new Alvvays record. The new Washed Out record. The new Daniel Caesar record.
Q) What do you hope listeners take away from your music?
A) That it's okay to feel everything and to be honest about how and what you feel.