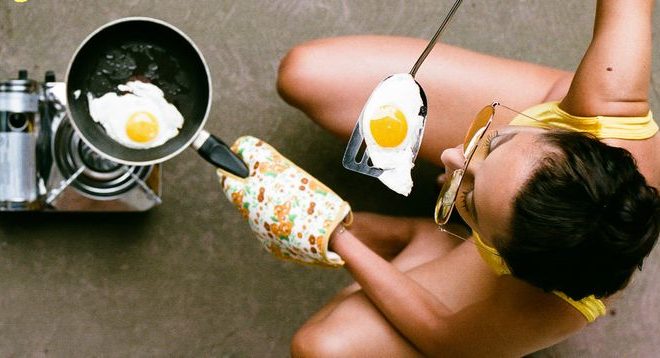 Interviews
Stellina – EXTRA SUNNY
By
|
By: Lisa Steinberg
Q) How would you describe your sound?
A) My sound is celestial, high soprano vocals paired with hip hop and dance genre cues, with a twist. It's experimental at times, referential at other times. I want my music to be fun and spiritual.
Q) Who are some of your musical influences?
A) When I was younger Mariah Carey, Madonna, The Doors, Jimi Hendrix, Michael Jackson, Chopin and Ella Fitzgerald were usually playing at my house. I grew up with Hammond B3 organ thanks to my Dad. I was also classically trained and performed in a professional children's chorus. So, yeah, choral music is definitely an influence. Like every Christmas I listen to Benjamin Britten's "A Ceremony of Carols" and totally geek out on the harmonies. I sang second soprano – we got to do all the difficult harmonies, you have to have a psycho ear for that. Maybe that's why I love chords so much. [laughs] As I got older, 90s – early 2000 hip hop and rap, Italian artists like Mina and Lucio Battisti and chill out music from Ibiza became super important to me. I fell in love with Spanish acoustic guitar, trumpet and rap. This is probably why right now Kendrick Lamar is everything for me. I have too many influences, to be honest. Music is just beautiful because it is in everything – jazz is heaven, though. I get upset when I think about all the music out there that I haven't heard yet! #WTF
Q) Talk about the story behind your new song "EXTRA SUNNY."
A) "EXTRA SUNNY" is a creepy reggae song about casual sex. I wanted to write a power-anthem of sorts for myself to celebrate my sexuality, especially from my perspective of identifying as a woman. In "EXTRA SUNNY" the girl doesn't catch feelings and is in charge. I have reflected a lot on the fact that my perspective in the song isn't typically the status quo when it comes to casual sex, which is something that needs to change. I think the idea of women being in charge of their sexuality cannot be mentioned without talking about consent as well as double-standards and stereotypes. I hope this song encourages more conversation about these things, but more importantly adds to the growing impetus for people to actually take action in helping women to reclaim their power over their sexuality. I wrote this song in May 2017, but it feels like it is even more relevant in this moment given everything that has been coming to the forefront lately.
Q) What do you think it is about the song that fans connect to?
A) From what I've heard, they all seem to love my vocals and want to hear more of them, especially the last moments of the song where we used my voice as an instrument to create textures and tones. I'm really flattered, actually, because it took so much courage for me to share my voice with the world. I think they also love the imagery of the two eggs and the idea of being extra sunny – like extra happy.
Q) What is your song writing process? Do you need music before you can create lyrics?
A) Personally, I like to start with chords on the piano. The producers I've worked with so far like to start with their laptops. I think there is beauty in both. We come together to form a greater product. Lyrics come from melodies usually for me, but sometimes I just sit and write poems that later turn into song lyrics. I write every day in a journal. I've done that since I was in grade 5. I've got lots of lyrics to draw from. [laughs]
Q) How much of a hand do you have in the production of your music?
A) A huge hand. [laughs] I make all the final decisions. I fund my music so even if someone gives me an amazing idea in terms of production, it won't appear in the final cut unless I decide that it fits. I'm getting even more decisive as I write more. I'm open to the infinite options, but at the end of the day they have to feel right. I'm working on what that "feels right" really feels like, for me. I don't want to make production decisions out of fear. Fear that the song won't be popular, fear that I don't know what I'm doing, that someone knows better, fear that it won't be on brand for me, etc., etc., Fear is a silly thing.
Q) What can fans expect from a live Stellina performance?
A) When the universe is ready for me to do so. I live in a flow – I don't fuck with it and put my own agenda on it.
Q) What songs off your Star Seventeen EP are you looking forward to performing live?
A) I cannot wait to perform an acoustic version of "CHOOSE LOVE," actually.
Q) What do you hope listeners take away from listening to your new EP as a whole?
A) That this is just the beginning. I've already grown so much as an artist since I sang those first melodies. This EP is of a specific moment in my life when I was embarking on a spiritual journey and discovering myself as an artist. It's Stellina as a new-born – fresh out the womb, learning how to breathe on my own, developing a personality, making mistakes. It's all there, raw and vulnerable.
Q) Where are some of your favorite places to perform and what makes those locations so significant to you?
A) I haven't performed as Stellina yet, but I have performed at Roy Thompson Hall many, many times when I was younger and it is my fav place. I see it from my bedroom window every morning when I wake up. Who knows, maybe I will have a concert there one day that would be cool.
Q) Who would you most like to collaborate with on a song in the future?
A) Kaytranada. Like, I'm ready, Kevin. Let's do this. [laughs]
Q) What album/band are you currently listening to and why do you dig them?
A) Right now I'm listening to Alicia Keys Songs in A Minor You can learn so much from the classics. I love the piano, since I play. I've always gravitated towards artists who play piano. I also listen on repeat for like, days or weeks, depending. I think I had To Pimp A Butterfly on repeat for the entire month of April 2015, 8-10 hours a day, and I never got sick of it.
Q) You are a part of social media. Why is that such an important way for you to connect with your fans?
A) I mean, these are the people who have been here since day one. I meet the most interesting people on social media, it's a beautiful thing. I consider my social media my way to help others. Every day I write to tons of my followers/friends on social media. We talk about their struggles, life advice, etc. I even meet some of them for coffee – I've met so many amazing people this way – and I usually learn so much from them. Even if they were hoping to learn from me, they always give me so much in return. My social media is my way of spreading love and the message that we are all connected. It is my holy place. I used to have a negative relationship with social media when I was running a business out of it. I was stuck in comparison narratives and doing things just to get likes. Now, I just stick to being authentically me. I don't pay attention to algorithms or follower count. I just am beauty, love, kindness and co-create a loving space with my higher self.
Q) What would you like to say to everyone who is a fan and supporter of you and your work?
A) I hope to inspire them to look deeper within themselves to find the loving, kind, beautiful person that they were put here on earth to be. Success, joy and happiness is in abundance. I want them to watch me and be inspired, not feel jealous or feel worse about themselves. I want them to feel so loved because they are. I love them more than they ever know. Every day I think about them and send them so much love. I never judge them. Ever. I want them to feel that.