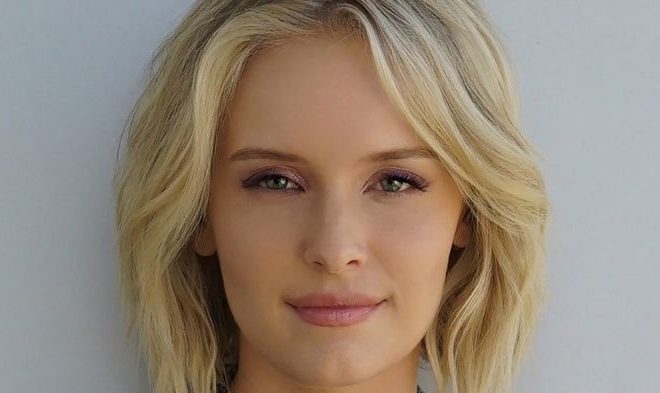 Interviews
Taylor Black – ADDicted
By
|
By: Lisa Steinberg
Q) What are the recent projects that you are working on?
A) I just worked on Woody Allen's Untitled 2018 film project in the role of Dana in NYC in September! It was a surreal experience!  I also have a guest star on FOX's "Lucifer" airing this fall!  This past August, I did a fun guest star on NBC's new supernatural snow "MidnightTexas" where I got to play a succubus! I had a blast. [smiles]
Q) Please tell us the premise for the film ADDicted and about your character.

A) ADDicted is about college student, Drew Dawson (Luke Guldan), who is struggling with an over-bearing mom and the pressures of challenging college life and getting kicked off the football team due to plagiarism. He is highly dependent on Adderall, which leads to mounting complications moving forward…
My character is the loyal and concerned best friend of Drew's girlfriend Ashley (Lauren Sweetser), who also becomes dependent on Adderall, leading to scary consequences.
Q) Before filming, did you do much research on ADD and addiction to Adderall?

A) I personally did not do much research on ADD or Adderall because my character Kristin actually does not know much about the side-effects of Adderall besides the fact that her best friend is pushing herself too hard and using Adderall to enable her unhealthy habits.  Although I do not have personal experience with Adderall, I saw a lot of my peers in college using it due to the pressure of competitive academics.
Q) Was there anything you added to your role that wasn't originally scripted for you?
A) Dan [Jenski] definitely let us do some light improvisation in every scene, but I can't think of anything that particularly stands out which I personally added.
Q) What did you find the most challenging aspect of your portrayal?

A) There is a scene where Kristin confronts Ashely in her bedroom.  It was an emotional scene for both of us which we could both relate to.
Q) What was it like filming at Missouri State University?
A) It was an amazing immersive experience. [smile] We really enjoyed shooting in the classrooms, sorority houses, etc. It felt great to have an authentic university experience rather than all "fake" sets. All of the students were incredibly nice, welcoming and excited about the movie.
Q) What advice did director Dan Jenski provide you during filming that you took to heart?
A) He just had a natural calm and encouraging demeanor, which always helps actors to feel comfortable and confidently get lost in their roles.
Q) What were some of your most memorable moments from filming the movie?
A) My most memorable moment was shooting the scene in Ashley's bedroom where Kristin confronts her out of sheer concern for her friend. It was memorable because Dan and our producer Jess [Moffett] both got emotional after we performed the scene.  I was happy we were able to conjure up powerful emotions. We improvised almost the whole scene.
Q) What did you personally take away from your experience on the film?

A) It made me realize how important it is to be there for our friends. Playing the character of Kristin reminded me how important it is to sometimes show tough love for the special people in our lives and to be honest with them even when they don't want to hear it…
Q) You are a part of social media. Are you looking forward to the fan reaction you'll be receiving?
A) Sure! [smiles]
Q) What would you like to say to everyone who is a fan and supporter of you and your work?
A) I would like to say thank you and I appreciate the support and encouragement. I hope to hear from any fans of my work through social media!  It's always fun to hear reactions to the projects you put your heart into! [smiles]