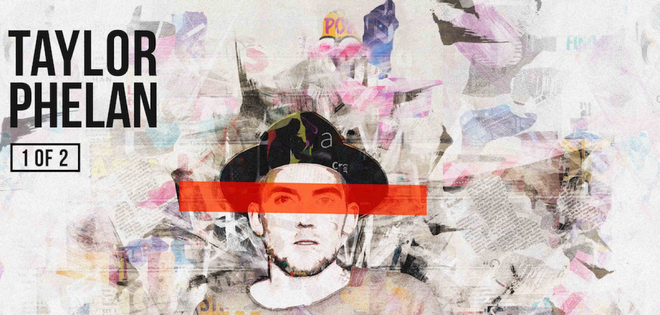 Interviews
Taylor Phelan – 1 of 2
By
|
By: Jamie Steinberg
Q) Your new album is called1 of 2. Where does the title come from?
A) I tend to overthink things and I just couldn't handle the stress of coming up with an album name!
Q) Talk about the story behind your new song "Settle Down."
A) We're living in such a tense time right now. Everyone is on edge for good reason! But when we're afraid and we disagree, we tend to dehumanize the person on the other side and look for someone to blame. "Settle Down" is in the middle of all of that asking for a little compassion. If we could just breathe deep, we might find a compromise.
Q) What do you think it is about the song that fans connect to?
A) I think it's really timely. Everyone can relate to it right now. I just hope that the listener can truly see where the song stands as opposed to hijacking the words to coincide with their personal agenda.
Q) How does the video play into the message of the song?
A) The music video creatively looks at dehumanization in corporate America. While there are political undertones to the song, the message can be applied to any arena – a marriage, workplace, politics, etc. It's a human nature issue that's being addressed.
Q) What is your song writing process? Do you need music before you can create lyrics?
A) For me, no two songs are created the same. I've worked both ways before!
Q) How much of hand do you have in the production of your music?
A) I'm involved at every step. I love collaboration so I am by no means the only voice in the room, but I am a very hands-on artist.
Q) What do you hope listeners take away from listening to 1 of 2?
A) In almost every song I'm talking about how we respond to the world around us. Every song presents some kind of challenge that confronts our perspective.
Q) How do you plan on celebrating the album release?
A) High fives all around.
Q) You're currently on tour. What can fans expect from a live Taylor Phelan performance?
A) A lot of times when people go to see a "solo artist" they expect a guy on stage with an acoustic guitar or backing band. That's not the case with this. The live experience is pretty involved.
Q) Where are some of your favorite places to perform and what makes those locations so significant to you?
A) There have been a lot of fun cities that I've enjoyed quite a bit, but Kansas City, Chicago, Phoenix and Lancaster, PA are the ones that stick out to me!
Q) Who would you most like to collaborate with on a song in the future?
A) I think Ryan Tedder is a great pop guy. He'd be fun to get in the room with and write a few tunes. It'd be fun to collaborate with a DJ producer – Kygo or someone like that. I'd love to work with Brandon Flowers, Justin Vernon or Marcus Mumford on something in the future. Really love what those guys do.
Q) What album/band are you currently listening to and why do you dig them? 
A) I've been listening to The War On Drugs quite a bit recently. The Killers are always a go-to for me and I also love Kodaline.
Q) Is there anything else you want be sure fans know about 1 of 2?
A) It's the first of a two-part release. Surprise!
Q) What would you like to say to everyone who is a fan and supporter of you and your work?
A) Honestly, we haven't even tapped into what's truly possible here! Let's build this together by sharing the music and talking about it. Thanks for your support and hopefully we'll cross paths!